Evans Planning Inc.
The Town has received proposed Official Plan Amendment and Zoning By-law Amendment applications.
Current Status
Property Description
The subject lands is located at 12599 and 12563 Highway 50, and 2 Industrial Road, on the east side of Highway 50 and the north side of Industrial Road, south of McEwan Drive West.
Town File Number(s): POPA 2021-0003 and RZ 2021-0008
Project Name: Evans Planning Inc. on behalf of 12599 Hwy 50 Ltd.
Location - 12599 and 12563 Highway 50 and 2 Industrial Road, Ward 5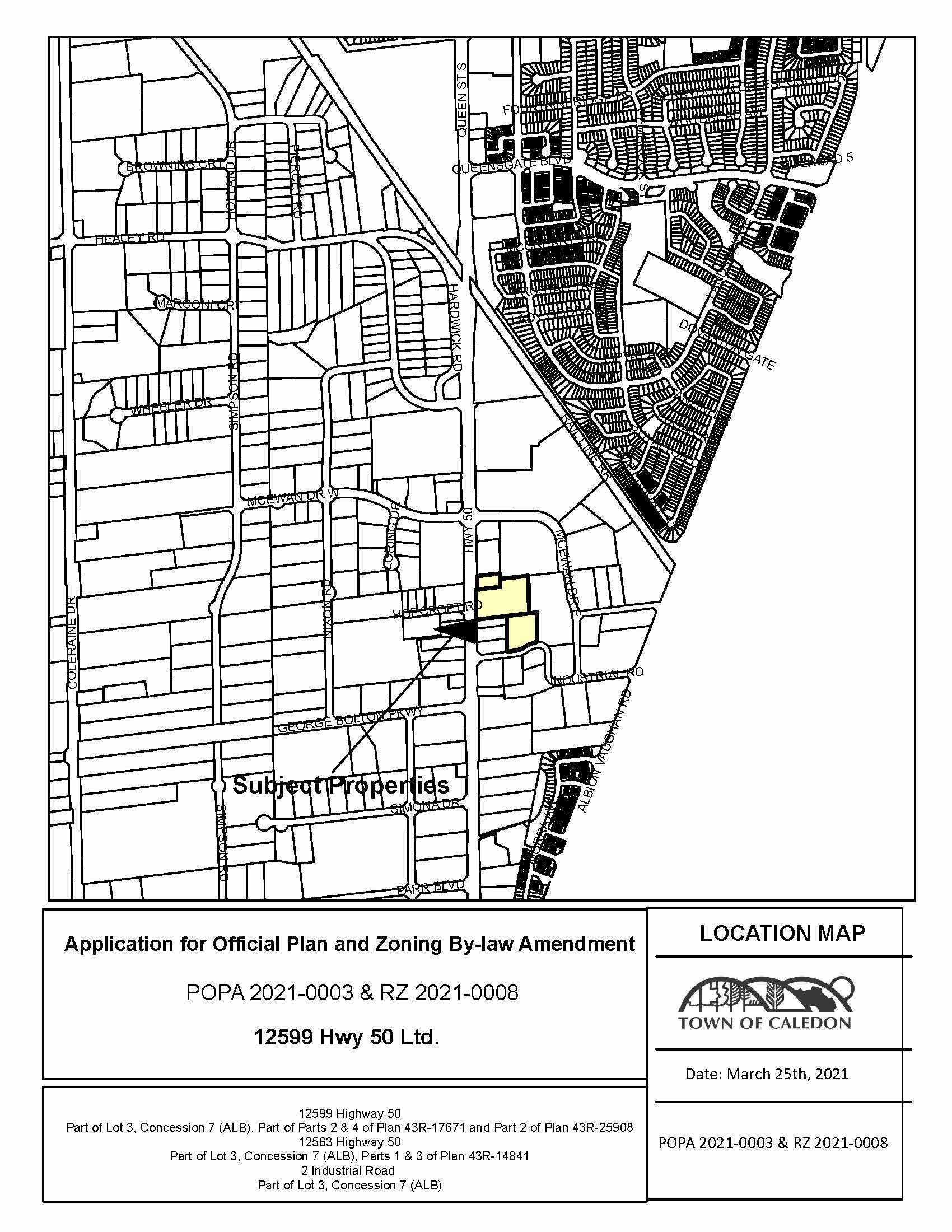 Official Plan Amendment
The Official Plan Amendment proposes to amend the designation from Bolton Highway 50 Commercial Area and OPA 190 to Special Residential Area.
Zoning By-law Amendment
The Zoning By-law Amendment proposes to amend the zoning of the property from Bolton Highway Commercial (CHB) Zone, Bolton Highway Commercial exception 389 (CHB-389) Zone and Unserviced Industrial (MU) Zone to the Multiple Residential (RM-XXX) Zone with site specific permissions to implement the proposed development. The intent of the zoning by-law amendment is to introduce site specific standards, including but not limited to, permitted uses, maximum building area, minimum building setbacks, minimum landscape area, minimum privacy yards, minimum play facility area, maximum building height and minimum parking requirements.
Updates and notices
Notices
Public Comment Response
Material Submitted
Official Plan Amendment and Zoning By-law Amendment Application Form
Floor Plans (A202-A353)
Elevation Drawings (A401-A417)
Section Drawings (A501-A503)
Perspective Drawings (A601-A605)
Shadow Study (A701-A704)
Stage 1 Archeological Assessment
Contact us, or make an appointment to visit Town Hall to view studies not available online, or previous versions.
Lead planner
Aleah Clarke, MHBC
On Behalf of Development Review Services, Planning Department, Town of Caledon
905.584.2272 x. 7338
aclarke@mhbcplan.com
Additional resources
For more information about this matter, or to provide comments, feedback or ask questions, please contact the Lead Planner at Town Hall from Monday to Friday, 8:30 a.m. to 4:30 p.m.