12544 Highway 50
The Town has received proposed Zoning By-law Amendment and Site Plan Control applications.
Current Status
Property Description
The subject lands is located at 12544 Highway 50, west of Highway 50 and south of Hopcroft Road.
Town File Number(s): RZ 15-08 and SPA 15-67
Project Name: nArchitecture on behalf of 2353219 Ontario Ltd.
Location: 12544 Highway 50, Ward 5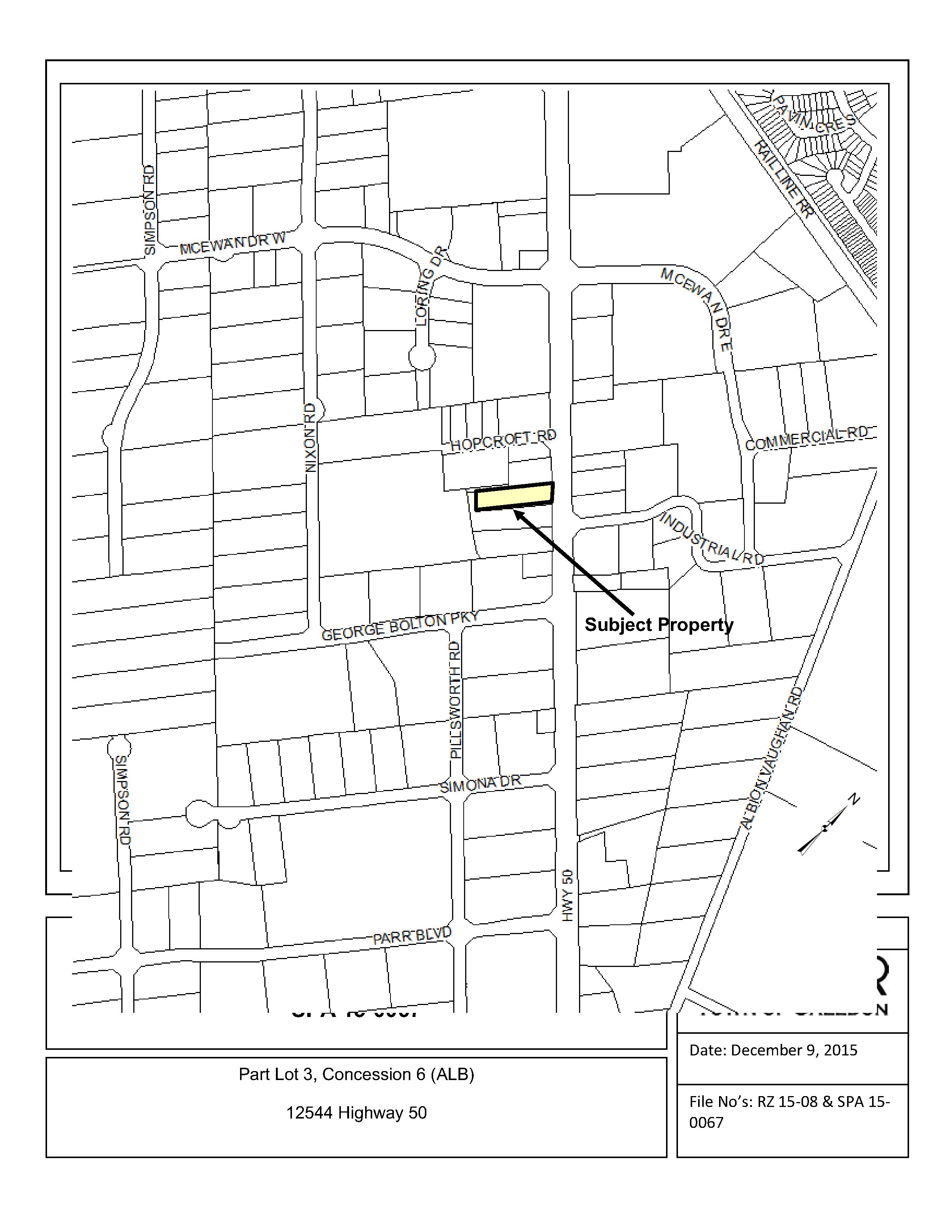 Zoning By-law Amendment
The Zoning By-law Amendment proposes to amend the zoning of the property from Bolton Highway Commercial (CHB) to Bolton Highway Commerical Exception XXX (CHB-XXX) and Environmental Policy Area 1 (EPA1) to implement the proposed development. The applicant seeks to introduce site specific standards, including but not limited to, permit a convenience/retail store with offices at the front of the property with a motor vehicle washing establishment and motor vehicle body shop at the rear of the site.
Updates and notices
Notices
Notice of Application - December 22, 2015
Notice of Public Meeting - March 28, 2019
Staff Report heard at Planning and Development Committee - April 23, 2019
Material submitted
Lead Planner
Adam Wendland, MCIP, RPP
Senior Planner
Development and Design
905.584.2272 x. 4024
adam.wendland@caledon.ca
Additional Resources
For more information about this matter, or to provide comments, feedback or ask questions, please contact the Lead Planner at Town Hall from Monday to Friday, 8:30 a.m. to 4:30 p.m.