16054 and 16060 Airport Road
The Town has received the proposed Official Plan Amendment and Zoning By-law Amendment application on January 28, 2020, for lands municipally known as 16054 and 16060 Airport Road.
On June 21, 2022, and August 24, 2022, the applicant submitted materials in support of a revised development proposal. The proposal now includes an adjacent parcel known municipally as 16068 Airport Road.
As outlined in the Planning Act, since the original Statutory Public Meeting did not consider all lands that are now part of the most updated proposal, another Public Meeting is required.
Property Description
The subject lands are located at 16054, 16060 and 16068 Airport Road.
Town File Number(s): POPA 2019-0007 and RZ 2019-0010
Project Name: Weston Consulting on behalf of Ganni Properties Inc.
Related Town File Number(s): SPA 2019-0066
Location - 16054, 16060 and 16068 Airport Road, Ward 3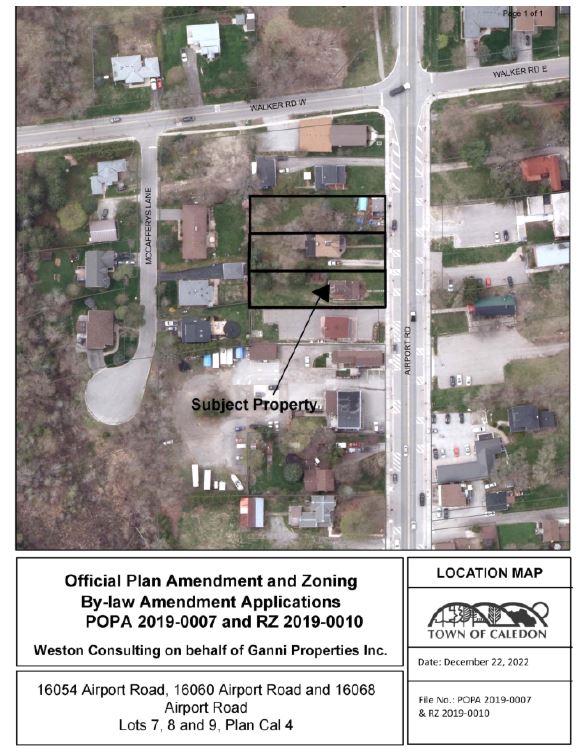 Official Plan Amendment
The proposed development proposes to demolish the existing structures and amend the Official Plan for the subject lands located at 16054, 16060 and 16068 Airport Road for the purpose and effect to permit a one-storey restaurant with a drive-through service facility, and two retail/commercial units.
Zoning By-law Amendment
The Zoning By-law Amendment proposes to change the zoning from Village Commercial (CV) to Village Commercial Site Specific Exception (CV-XX) to facilitate the proposed development.
Updates and notices
Lead Planner
Valerie Schmidt, GSP Group Inc.
On Behalf of Development and Design, Planning Department, Town of Caledon
519-569-8883
vschmidt@gspgroup.ca
Additional information
For more information about this matter, or to provide comments, feedback or ask questions, please contact the Lead Planner from Monday to Friday, 8:30 a.m. to 4:30 p.m.