16054 and 16060 Airport Road
An applications has been received by the Town of Caledon for Official Plan Amendment, Zoning By-law Amendment and Site Plan applications.
Current Status
Property Description
The subject lands are located on the west side of Airport Road, south of Walkers Road West in Caledon East.
Town File Number(s): POPA 2019-0007 and RZ 2019-0010
Related Town File Number(s): SPA 19-66
Location - 16054 and 16060 Airport Road, Ward 3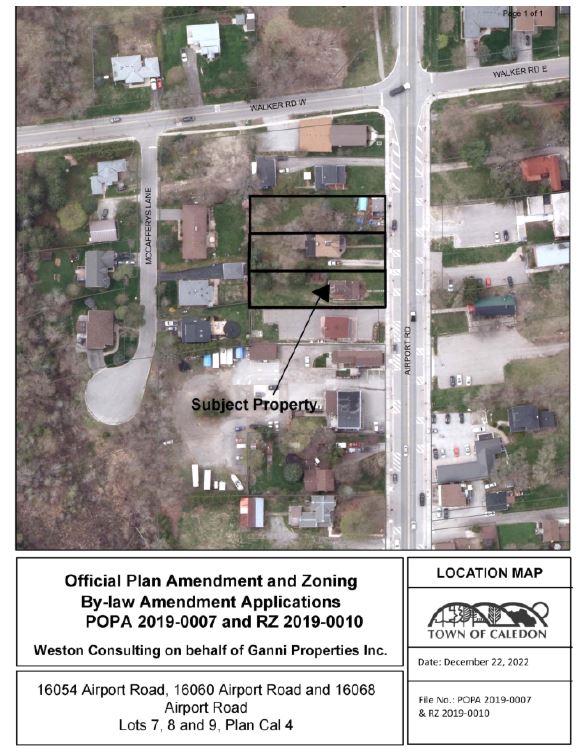 Zoning by-law amendment and official plan amendment
Weston Consulting on behalf of Ganni Properties Inc. has made an application to amend the Official Plan to permit a drive-through accessory to a restaurant and to amend the Zoning By-law from Village Commercial (CV) to Village Commercial - Exception XX (CV-XX) to permit a Drive Through Service Facility associated with a Restaurant (Tim Horton's), and other site works.
Updates and notices
Lead Planner
Valerie Schmidt, GSP Group Inc.
On Behalf of Development Review Services, Planning Department, Town of Caledon
519-569-8883
vschmidt@gspgroup.ca
Additional information
For more information about this matter, or to provide comments, feedback or ask questions, please contact the Lead Planner from Monday to Friday, 8:30 a.m. to 4:30 p.m.