0 Highway 9
The Town has received proposed Draft Plan of Subdivision and Zoning By-Law Amendment applications.
A Public Meeting is scheduled to be held on May 11, 2021
Current Status
Property Description
The subject lands is located at 0 Highway 9, on the south-east corner of Highway 9 and Mount Pleasant Road.
Town File Number(s): 21T-08001C and RZ 08-05
Project Name: Rob Russell Planning Consultants on behalf of 1685078 Ontario Inc.
Location - 0 Highway 9, Ward 4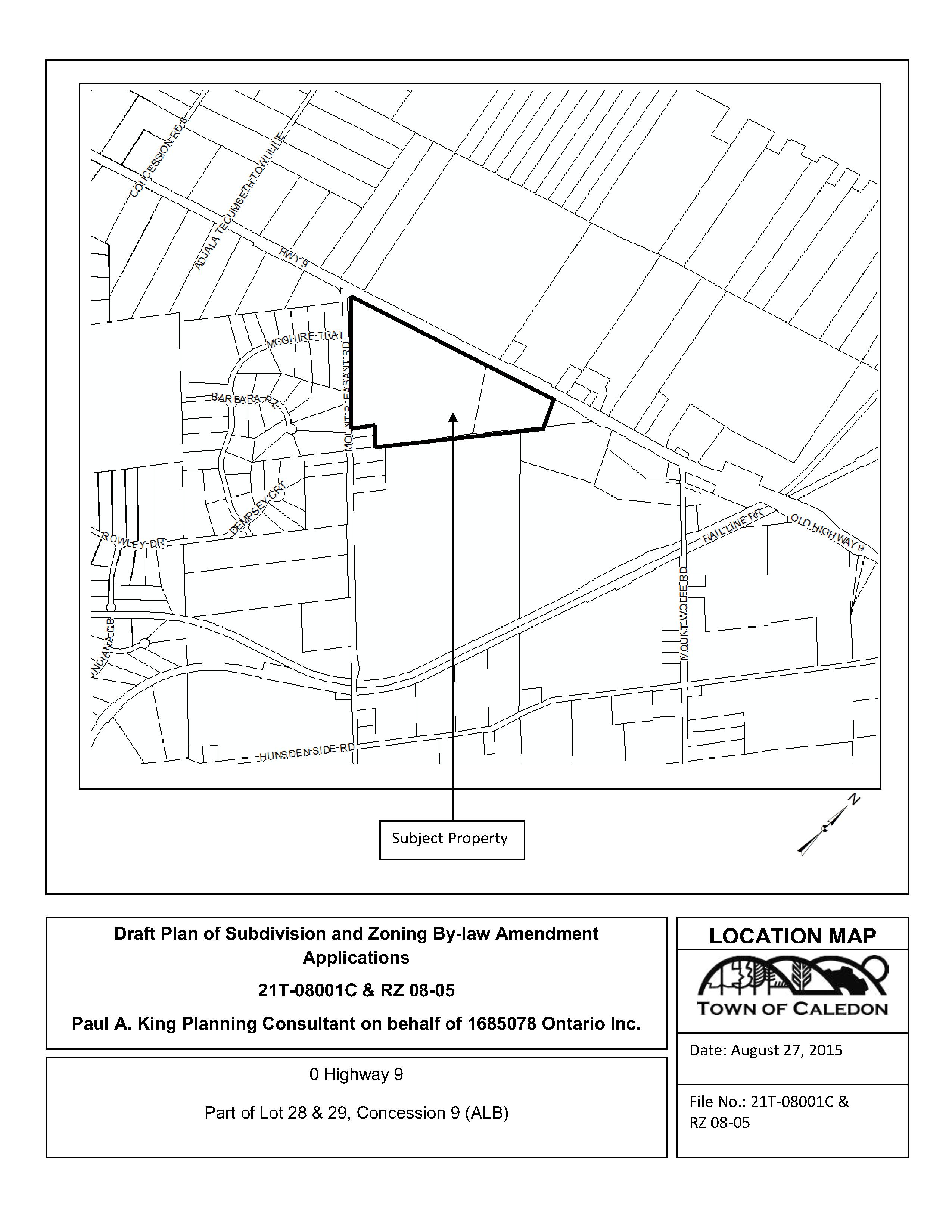 Draft Plan of Subdivision
The proposed development proposes To establish a plan of subdivision on the subject land consisting of 22 estate residential lots, reforestation areas, an extension of Walter Brown Drive (Street A) from the Beaverhall subdivision to Mount Pleasant Road, a block for stormwater infrastructure, and blocks associated with widening/reserves along Highway 9 and Mount Pleasant Road.
Draft Zoning By-law Amendment
The Zoning By-law Amendment proposes to rezone the lands from Rural – Oak Ridges Moraine (A2-ORM) and Environmental Policy Area 2 Zone – Oak Ridges Moraine (EPA2-ORM) to Estate Residential – Exception XXX – Oak Ridges Moraine (RE-XXX-ORM) and Environmental Policy Area 1 – Oak Ridges Moraine – Exception XXX (EPA1-ORM-XXX) to permit site specific uses and standards to implement the proposed plan of subdivision.
Updates and notices
Material Submitted
Contact us, or make an appointment to visit Town Hall to view studies not available online, or previous versions
Lead Planner
Valerie Schmidt, MCIP, RPP, GSP Group
On Behalf Of Development Review Services, Planning Department, Town of Caledon ​
519-569-883
vschmidt@gspgroup.ca
Additional information
For more information about this matter, or to provide comments, feedback or ask questions, please contact the Lead Planner at Town Hall from Monday to Friday, 8:30 a.m. to 4:30 p.m.