84 Nancy Street
The town has recieved applications for a proposed Official Plan Amendment and Zoning By-law Amendment.
Current status
Under appeal to the Local Planning Appeal Tribunal (LPAT)
Important Message Regarding Local Planning Appeal Tribunal (LPAT) Proceedings and COVID-19:
The Government of Ontario's Emergency Order made under the Emergency Management and Civil Protection Act retroactive to March 16, 2020, will affect proceedings before the Local Planning Appeal Tribunal (LPAT), including suspending timelines, hearing events, and any period of time to initiate or take a step in a proceeding. The suspension will be in effect until the declaration of emergency is lifted and the limitation periods are no longer suspended under O.Reg. 73/20.
For general information concerning the Tribunal, including the LPAT appeal process, you can visit the LPAT website, or you may contact the Tribunal's offices at (416) 212-6349. Furthermore, for specific questions about how Ontario's Emergency Order is affecting LPAT proceedings, you may contact the Tribunal's Deputy Registrar, Evelyn Dawes, by emailing LPATRegistrar@ontario.ca.
Property description
The subject lands are located on the south side of King Street West, West of Queen Street South.
Town File No.: POPA 19-02 and RZ 19-03
Location - 84 Nancy Street, Ward 5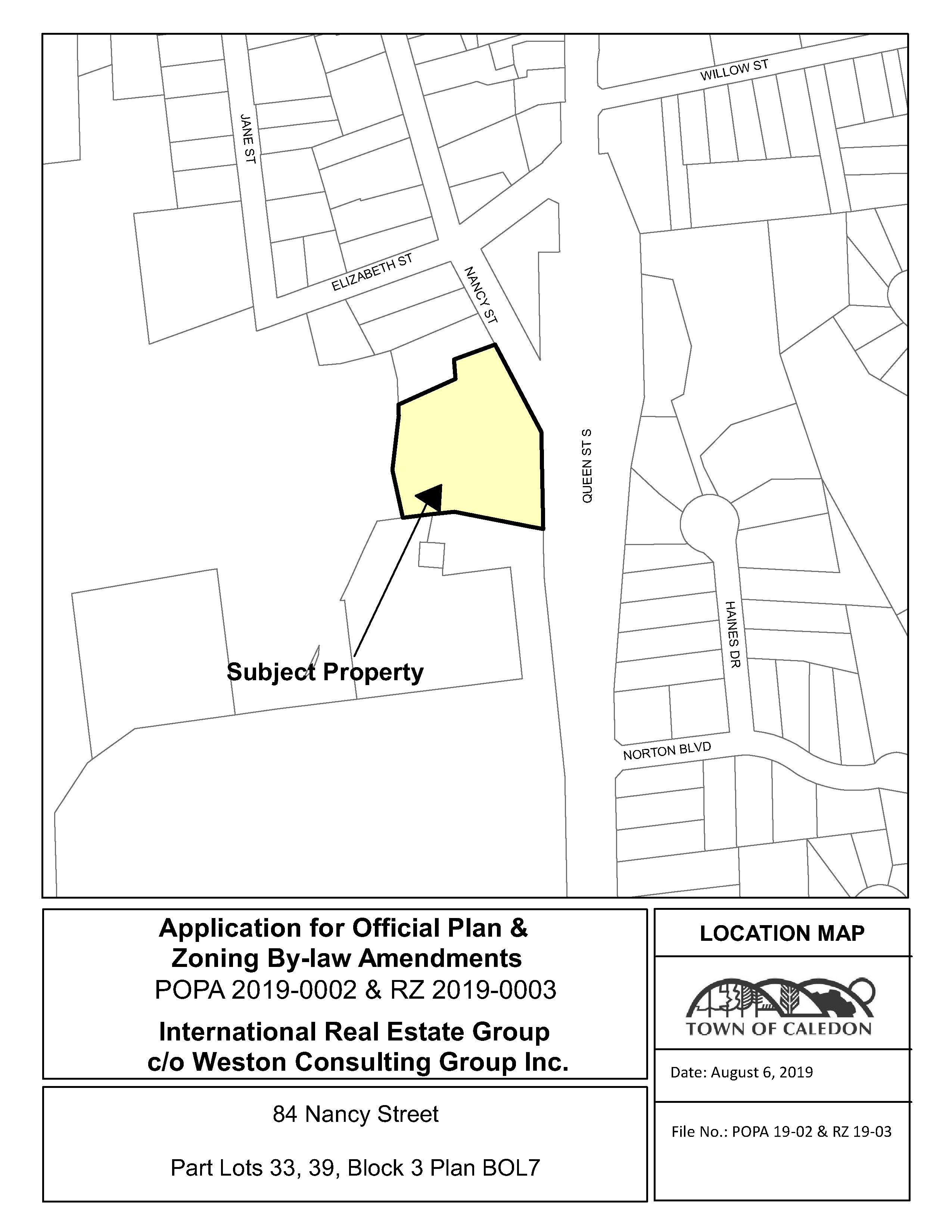 Official Plan Amendment
The Official Plan Amendment proposes to re-designate the lands Environmental Policy Area to High Density Residential.
Zoning By-law Amendment
The Zoning By-law Amendment proposes to rezone the lands from Environmental Policy Area 1 and 2 (EPA1 & 2) to a site-specific Multiple Residential-Exception zone (RM-XX).
Updates and notices
Lead Planner
Carmine Caruso, MCIP, RPP
Senior Planner
Development and Design
905-584-2272 x.4258
carmine.caruso@caledon.ca
Additional information
For more information about this matter, or to provide comments, feedback or ask questions, please contact the Lead Planner at Town Hall from Monday to Friday, 8:30 a.m. to 4:30 p.m