Tropical Land Developments
The Town has received proposed Draft Plan of Subdivision and Zoning By-law Amendment applications.
Current status
Property Description
The subject lands is located at 0 Mount Pleasant Road, on the west side of Mount Pleasant Road, north of Hunsden Sideroad and south of Highway 9.
Town File No.: 21T-18002C & RZ 2018-0006
Project Name: Tropical Land Developments
Location - 0 Mount Pleasant Road, Ward 4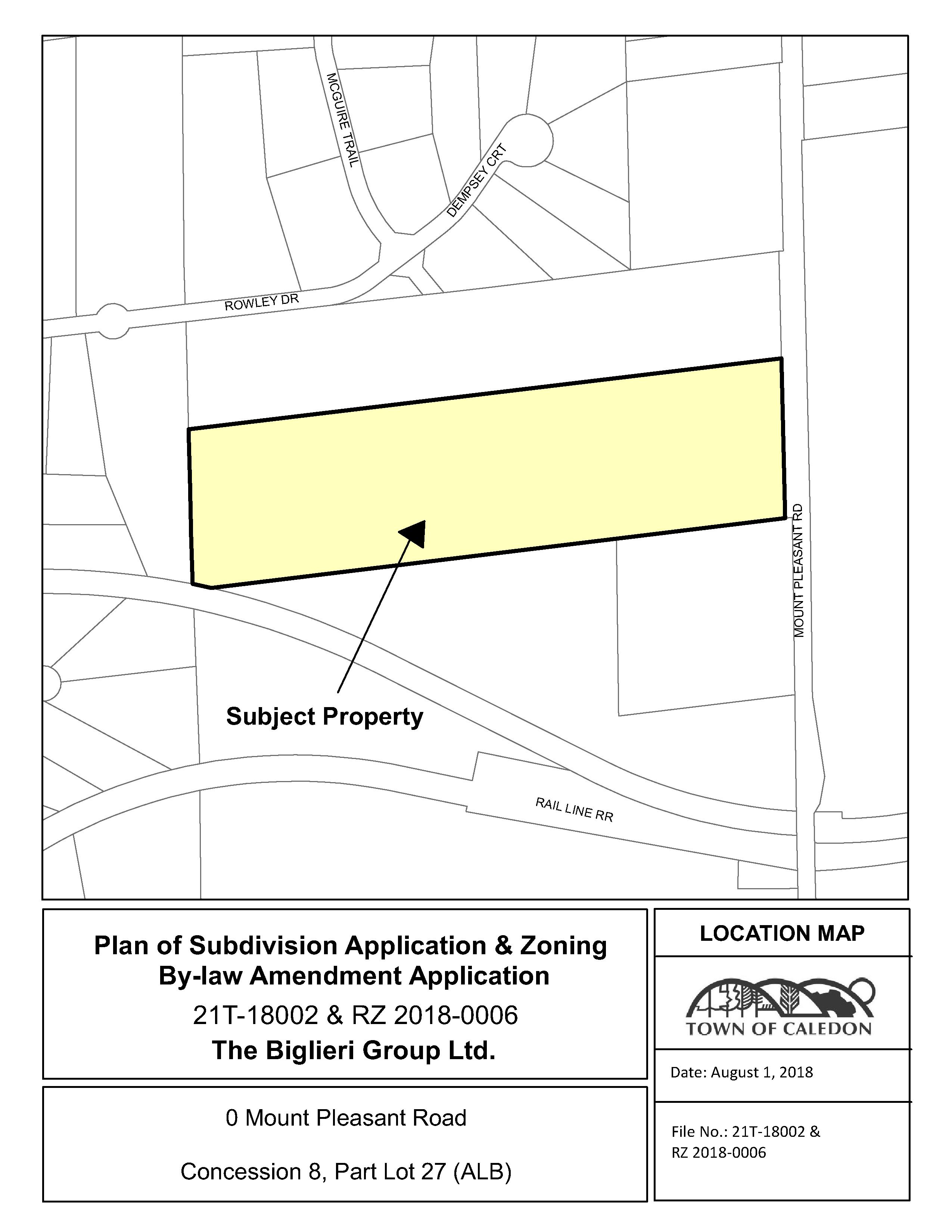 Draft Plan of Subdivision
The proposed development proposes an estate residential plan of subdivision proposing 8 estate lots and a future road/trail.
Zoning By-law Amendment
The Zoning By-law Amendment application proposes to rezone the subject lands from Rural - Oak Ridges Moraine (A2-ORM) and Environmental Policy Area 2 - Oak Ridges Moraine (EPA2-ORM) to Estate Residential with exceptions (RE-X), Environmental Policy Area 1 Exception 404 (EPA1-404) and Environmental Policy Area 2 - Oak Ridges Moraine (EPA2-ORM) to permit the proposed development.
Lead Planner
Stephanie McVittie, Acting Manager, Development Review Services
905.584.2272 x. 4253
stephanie.mcvittie@caledon.ca
Additional Resources
For more information about this matter, or to provide comments, feedback or ask questions, please contact the Lead Planner at Town Hall from Monday to Friday, 8:30 a.m. to 4:30 p.m.