12290 Hutchinson Farm Lane
The Town has received proposed Draft Plan of Subdivision and Zoning By-law Amendment applications.
Current Status
Grading is occurring on site.
Property Description
The subject lands is located at 12290 Hutchison Farm Lane, West side of Hutchinson Farm Lane and Highway 10 (Hurontario Street), North of Robertson Davies Drive and Virginia Drive.
Town File Number(s): 21T-17007C and RZ 17-11
Project Name: Caledon 410 Developments Limited (Fieldgate)
Location - 12290 Hutchinson Farm Lane, Ward 2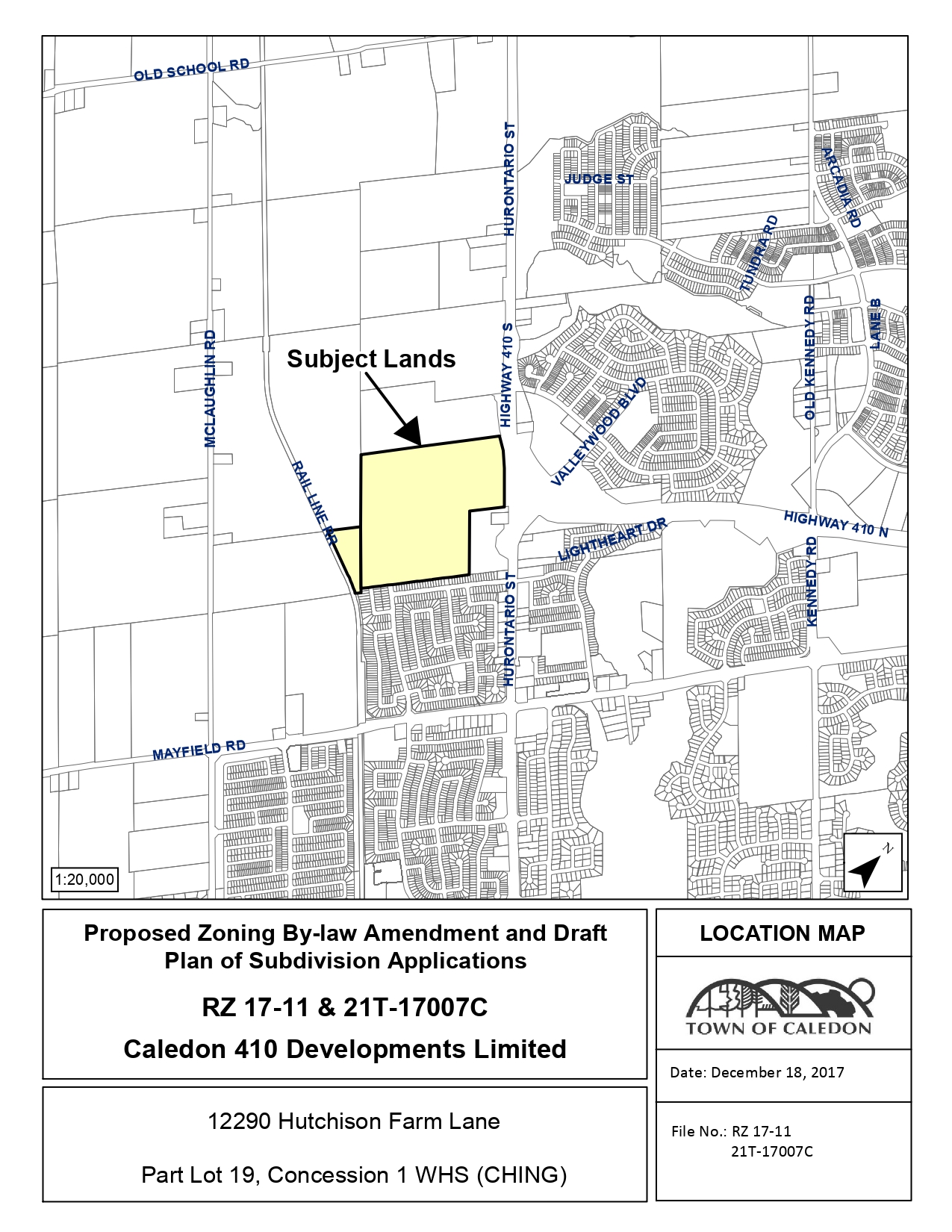 Plan of Subdivision
The proposed development proposes 552 residential dwelling units comprised of single-detached dwellings and townhouse dwellings. In addition, the Plan of Subdivision proposes to create a commercial block, transit hub, institutional facility, stormwater management facility block, as well as various blocks for environmental protection (woodlot, wetlands and buffer areas) and open space (park and greenland corridor) purposes.
Zoning By-law Amendment
The Zoning By-law Amendment proposes to amend the zoning of the property from Agricultural (A1) to Mixed Density Residential Exception AAA (RMD-AAA), Institutional (I), Commercial Exception BBB (C-BBB), Environmental Policy Area 1 (EPA1) and Open Space (OS) to permit the proposed development.
Updates and notices
Material Submitted
Application Forms for Zoning By-Law Amendment
Application for Sustainable Residential Home Strategy
Noise Impact Study
Letter RE: Site Specific EIS Requirement for the Fieldgate Developments Lands
Contact us, or make an appointment to visit Town Hall to view studies not available online, or previous versions.
Lead Planner
Carmine Caruso, Senior Planner
Development and Design
905.584.2272 x. 4258
Carmine.caruso@caledon.ca
Additional Resources
For more information about this matter, or to provide comments, feedback or ask questions, please contact the Lead Planner at Town Hall from Monday to Friday, 8:30 a.m. to 4:30 p.m.