2068 Mayfield Road
The Town has received a proposed Draft Plan of Subdivision application.
A Public Meeting is schedule for April 12, 2022
Current Status
Property Description
The Applicant has applied for a Draft Plan of Subdivision on the subject lands which are generally located at the northeast corner of the intersection of Mayfield Road and Chinguacousy Road.
Town File Number(s): 21T-21003C
Project Name: Glen Schnarr & Associates on behalf of Mayfield Station Developments Inc.
Location - 2068 Mayfield Road, Ward 2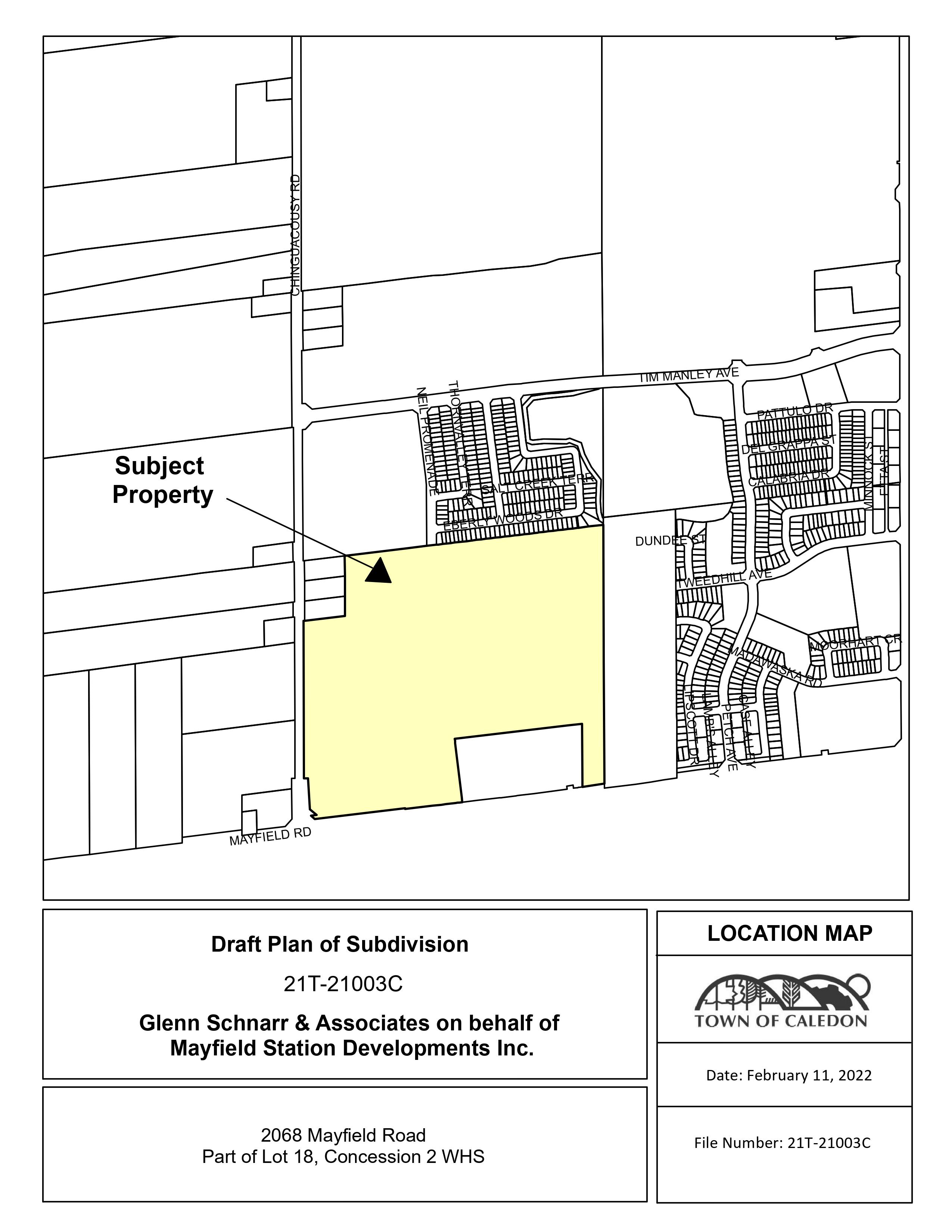 Draft Plan of Subdivision
The development proposal contemplates the construction of 551 residential units in various built forms; with a mixture of single-detached dwellings, semi-detached dwellings, rear-lane townhouses and townhouses. The proposal also includes the construction of a mixed-use block at the intersection of Chinguacousy Road and Mayfield Road, along with a Stormwater Management Pond along Mayfield Road.
One road connection is proposed along the southerly portion of the subject lands to Mayfield Road and two road connections are proposed along the westerly portion of the subject lands to Chinguacousy Road. Eight roads and 2 laneways are proposed to provide internal connections to the rest of the development. A Walkway is also proposed along Mayfield Road.
Updates and notices
Material Submitted
Contact us, or make an appointment to visit Town Hall to view studies not available online, or previous versions.
Lead Planner
Alex Martino
Intermediate Planner, Development
905-584-2272 ext. 4019
alex.martino@caledon.ca
Additional information
For more information about this matter, or to provide comments, feedback or ask questions, please contact the Lead Planner at Town Hall from Monday to Friday, 8:30 a.m. to 4:30 p.m.