13290 Nunnville Road'
The Town has received proposed Official Plan Amendment, Zoning By-law Amendment, Draft Plan of Subdivision, and Draft Plan of Condominium applications.
Current Status
Property Description
The subject land is located at 13290 Nunnville Road, at the end of the cul-de-sac on Nunnville Road and south of Old King Road.
Town File Number(s): POPA 2022-0003, RZ 2022-0004, 21T-22003C & 21CDM-22003C
Project Name: WSP Canada Inc. on behalf of Bolton Summit Developments Inc.
The Town of Caledon is in receipt of the above-mentioned applications to facilitate the development of 15 three-storey townhouse dwelling units on an internal private road.
The subject lands are located within the settlement boundary of the Rural Service Centre of Bolton and is designated Low Density Residential and Environmental Policy Area on Schedule "C-2" Bolton South Hill Land Use Plan within the Town of Caledon Official Plan.
Location - 13290 Nunnville Road, Ward 5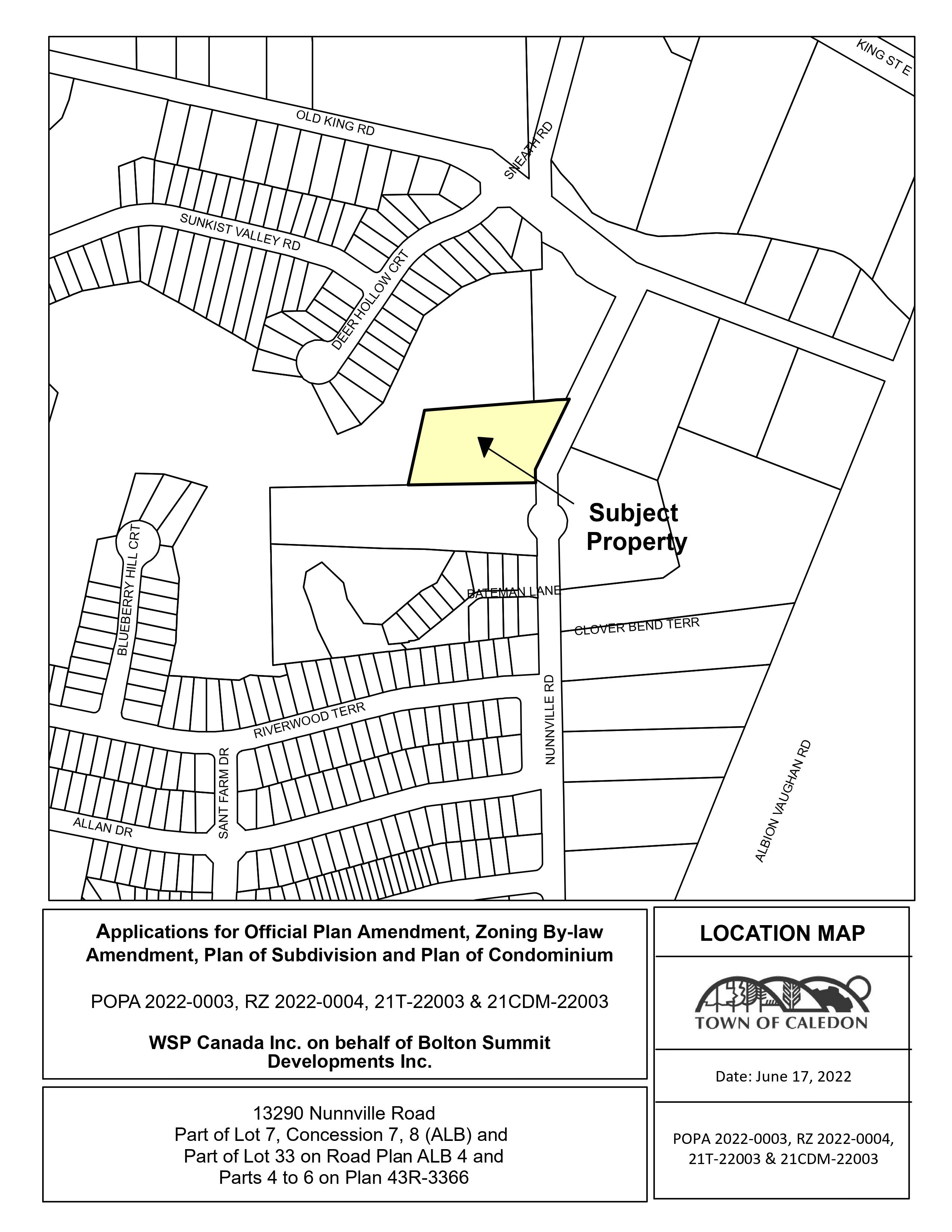 Official Plan Amendment
The proposed Official Plan Amendment proposes to amend the designation from Low Density Residential Area to Medium Density Residential Area.
Draft Plan of Subdivison
The proposed development proposes to facilitate the development of a plan of subdivision consisting of 1 residential block.
Zoning By-law Amendment
The Zoning By-law Amendment proposes to amend the zoning of the property from Residential One – Exception 56 (R1-56) to Residential Townhouse – Exception XX (RT-XX) with site specific permissions to implement the proposed development.
Draft Plan of Condominium
The proposed development proposes to establish common elements including the common element road, sidewalk and parking areas.
Updates and Notices
Notice of Application
Public Comment Response
Materials Submitted
Contact us, or make an appointment to visit Town Hall to view studies not available online, or previous versions.
Lead Planner
Aleah Clarke
On Behalf of Development, Planning Department, Town of Caledon
905.584.2272 x. 7338
aclarke@mhbcplan.com
Additional information
For more information about this matter, or to provide comments, feedback or ask questions, please contact the Lead Planner at Town Hall from Monday to Friday, 8:30 a.m. to 4:30 p.m.