Mayor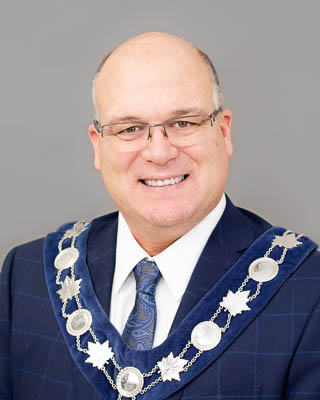 It is my privilege to serve the residents of Caledon. Our Town Council is dedicated to protecting and promoting Caledon's interests in the Region of Peel and improving the quality of life in our community.
For more information about Council, view our meeting agendas and minutes.
Contact the Mayor
Please feel free to email me or call me at 905-584-2272 x 5130 if you have any questions.
For community news and updates, I encourage you to follow me on Facebook, Twitter or subscribe to my blog.
Join my mailing list
Sign up for my newsletter for regular news updates.
Birthdays and Anniversaries
Is your birthday or anniversary coming up? I would be happy to provide a certificate of recognition. All you need to do is fill out our Birthdays and Anniversaries Form.
Request a proclamation
You can also receive recognition through an official proclamation. Find out how to submit a proclamation request.
Special Event Invitation
Have a special event coming up? You can invite the Town of Caledon's Mayor to attend.
Please allow five business days for us to respond to your request.
Biography
Mayor Allan Thompson brings a unique brand of passion to municipal leadership and a strong commitment to citizen engagement, collaboration and service delivery innovation. His vision is a connected, sustainable and inclusive community where we are all #CaledonProud.
Mayor Thompson was first elected to public office in 2003 as a Caledon area Councillor and then elected as Regional Councillor in 2006. On December 2, 2014 he was sworn in as the seventh Mayor of the Town of Caledon and is currently serving his second term.
Mayor Thompson is a lifelong resident of Caledon, a proud husband, father and multi-generational farmer.
Education
Mayor Allan Thompson attended Mayfield Secondary School in Caledon and took an Advanced Agricultural Leadership Program at the University of Guelph.
Committee involvement
Mayor Thompson sits on the following Town of Caledon Committees:
Grant Review Committee
Volunteer Recognition Selection Committee
Mayor Thompson belongs to the following Committees in the region:
Greenlands Securement Subcommittee
Growth Management Committee
Poverty Action Group
Association of Municipalities of Ontario (AMO) - Chair of the Rural Caucus
SWIFT Board Member, Executive Board Member