Customer service
We are open Monday to Friday from 8:30 a.m. to 4:30 p.m. We are located at 6311 Old Church Rd. To contact us, dial 311 or send us an email. For after-hours emergencies such as downed trees on roads or flooding contact the Region of Peel. For power outages or to report downed wires contact Hydro One or view the Hydro One outages map.
Service in any language
With the growing and changing population in Caledon, Town staff are here to serve you in any language. Our new virtual translation service makes it even easier for residents to find answers to their questions. Available at Town Hall and all recreation centres.
Share with your family and friends that all they need to do is:
Let Town staff know that they need translation services, and in what language
If over the phone, wait to be connected to the appropriate translator – audio only. If in person, staff will provide a tablet that will be connected to the appropriate translator – audio and visual.
Give us a call or drop by. Let us help you in any language.
Customer Service Standards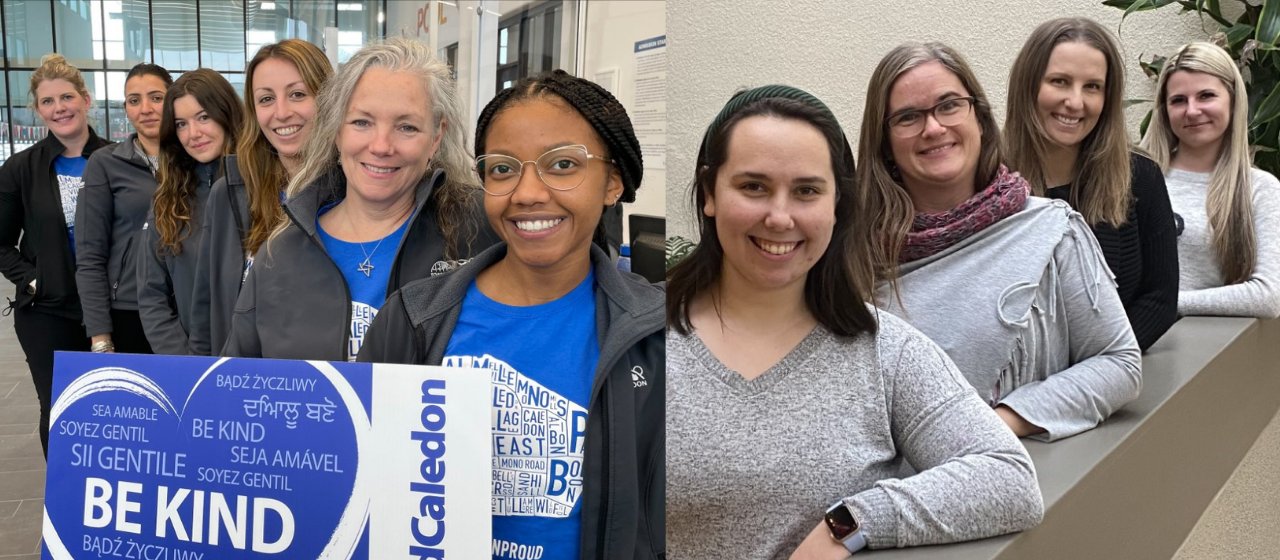 The Corporation of the Town of is committed to delivering exceptional, equitable and accessible customer service. Staff will provide the best customer service possible and are empowered to make decisions to ensure that each customer experience is meaningful, fair and respectful.
Equally, our customers are responsible for behaving in a respectful manner to promote an environment that can be shared by all. The success of the Town depends on our ability to work and perform functions in the most effective and efficient ways, balancing the needs of the individual with the overall needs of the town.
Scope
This policy applies to all forms of customer service by Town employees to each other and the community and includes but is not limited to online, electronic, print and verbal communications.
The Service Excellence Guidelines are communicated to all staff to ensure consistent service delivery that is:
Courteous
We treat every client as a priority.
We demonstrate empathy, and kindness in everything we do.
We treat clients respectfully, and in return, will expect to be treated the same.
We anticipate needs and offer assistance.
We project a positive image and energy.
Accurate
We take the time to understand your needs and don't make assumptions.
We explain the 'why'.
We have a thorough understanding of our organization and the services we provide.
We provide accurate, honest and consistent information based on our professional expertise.
Responsive
We provide timely responses to all of our clients.
We encourage opportunities to improve our business and make the best use of our resources.
We work as a team to build partnerships across all areas.
We will take ownership of our mistakes and take corrective measures.
Easy to Navigate
We address your need the first time you connect with us, whenever we can
We make our services available 24/7.
We navigate our business for you.
Procedure
The following customer service standards shall be followed by town employees;
Respond to voicemail and email within one business day
Update voice mail with an out of office message and alternative contact
Check voice mail daily, unless there is an extended absence notification
Ensure auto response to all generic inboxes indicating response times and level of service
If unable to respond fully within the required amount of time, provide a response time estimate based on the complexity of the inquiry and availability of staff. Total time should not exceed 15 business days.
Attend to walk-in customers immediately
After-hours inquiries
All after-hours high priority or public safety issues should be directed to the Town's after-hours emergencies call handling service (Region of Peel).
To maintain work/life balance, respond to general inquiries received during non-business hours (evenings, Saturdays, Sundays, and statutory holidays) within two business days of the next business day.
Responsibilities
Employees are responsible for:
Being familiar with Service Excellence Guidelines
Complying with this procedure
Customer Conduct Policy
The goal of this policy is to provide a positive, safe, and supportive approach to promoting acceptable and appropriate customer conduct. The Town of Caledon (the Town) encourages respectful and considerate relationships between the town and its customers.
This policy also describes how the Town manages unacceptable conduct by customers.
Scope
This policy applies to all forms of communication by members of the public to Town employees and includes but is not limited to online, electronic, print and verbal communications.
Purpose
Providing excellent customer service is important to the Town delivering high quality programs and services. Town staff, volunteers and anyone acting on behalf of the Town are expected to conduct themselves in a respectful manner.
Equally, customers are responsible for behaving in a respectful manner to promote an environment that can be shared by all. This policy is not intended to deal with generally difficult customers, the Town recognizes customers are unique with varying interests and concerns.
This policy applies to customers whose conduct is unacceptable. Determining whether particular behaviours or demands are unacceptable requires all circumstances of each case to be taken into account.
In most situations, the key difference is whether the conduct has a negative impact on Town staff's ability to provide programs and services to others and that causes distress or disruption without proper or justified cause.
Reporting unacceptable conduct
For the purposes of this policy, unacceptable conduct is any action by a customer, which because of its nature or frequency, has a disproportionate and unreasonable impact on the Town, staff, other customers, services, time and/or resources.
Some examples of what we might consider to be unacceptable conduct are listed below. The list is not exhaustive, nor does one single action on its own necessarily imply that the customer will be considered as unacceptable:
Unacceptable behavior
Verbal; including threats, profanity, rude or inappropriate language, attempts to goad or incite anger in others, harassment, discrimination
Physical; including aggressive or intimidating approaches to another individual, throwing articles in a deliberate or aggressive manner, physical striking of another individual
Illegal activity including illegal consumption of alcohol or drugs, theft, possession of weapons, vandalism
Any act that violates Town permits, policies or by-laws
Any act that gives rise to concern for public safety
Unacceptable demands, persistence, lack of cooperation
Demanding responses within an unreasonable timeframe and not within the Town's Customer Service Standards
Insisting on outcomes that are not possible or appropriate in the circumstances
Demanding services that are of a nature or scale that cannot be provided by the Town
Unwillingness or refusing to accept the Town cannot provide a particular service or action on a particular issue
Persistently contacting the Town about the same matter when it has been considered and dealt with
Repeatedly sending phone calls, voicemail messages, visits, letters, emails after being asked not to do so
Contacting different staff seeking a different outcome or response
Arguing frequently about a solution in the face of valid contrary explanations
Refusing to cooperate with the complaints investigation process while still wishing their complaint to be resolved
Making unjustified complaints about staff who are trying to deal with the issue or filing complaints about staff that are frivolous or vexatious in nature
Making excessive demands on the time and resources of staff with a high volume or frequency of correspondence, or mingling requests with accusations and complaints
The Town recognizes the decision to deem a customer's behaviour, or request for information as unacceptable could have significant consequences for the customer, including restricting their access to Town programs, services, and/or property.
As such, this policy outlines clear examples of unacceptable behaviours and demands as well as steps for staff to follow. Before deciding to apply any restrictions, we will ensure that:
The complaint or request for information has been dealt with properly and in line with the relevant procedures, and
Staff have made every effort to satisfy the request or resolve the complaint
When these have been applied and where appropriate as a result of a repeated pattern of unacceptable conduct or a single significant incident, staff will follow the process outlined in the Customer Service Complaints Procedure
The decision to classify someone's behaviour as unreasonable, could have serious consequences for the individual, including restricting access to Town services and staff in accordance with the Notice of Prohibitive Entry Policy.
Definitions
Customer – includes but is not limited to residents, individuals, business, not-for-profit organizations, stakeholders, community and corporate organizations that interact with the Town and its employees.
Frivolous – means a complaint that is reasonably perceived by the Town to be (a) without reasonable or probable cause (b) without merit or substance, or (c) trivial.
Vexatious – means a complaint that is frivolous and which is pursued in a manner that is reasonably perceived by the Town to be (a) malicious (b) intended to embarrass or harass the recipient, or (c) intended to be a nuisance.