Asset Management
The Town of Caledon is forecasted to reach 108,000 residents and 46,000 jobs by 2031. Being one of the fastest growing municipalities in the Peel Region, it is critical to understand the health of the Town's existing infrastructure and current challenges to continue to deliver a diverse array of services to its residents and plan effectively for a sustainable future.
The Town's Asset Management Plan will help provide clarity on the current state of infrastructure. This will further help make informed and effective investment decisions regarding renewal, upgrade, operations, maintenance, replacements or disposal of the Town's current assets.
Asset Life Cycle
A good Asset Management program ensures sustainable delivery of these services and enhances the quality of life of the residents by making the best decisions about our assets over its entire lifecycle.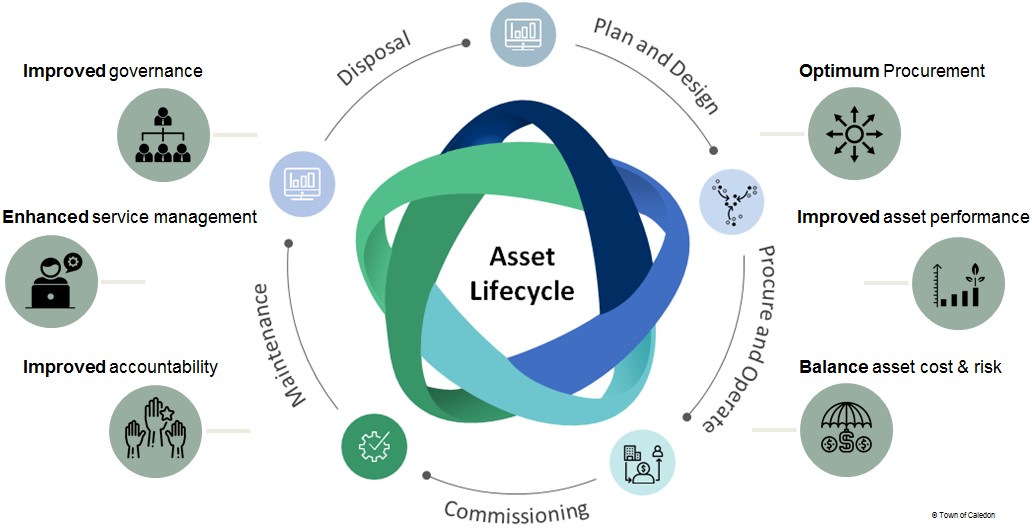 Asset Management in Caledon
Caledon's asset management plan provides an insight into the overall condition and state of the infrastructure, its needs and priorities, to provide maximum value and benefit to the residents of Caledon with their tax dollars. Asset Management supports Council priorities by increasing the overall condition of the Town's assets for public use.
What is an Asset
An asset can be anything that is tangible or intangible that an individual or a group is responsible for or uses.
What is Asset Management
Asset Management is an integrated approach involving different business units such as finance, operations, maintenance, engineering, planning and other business practices. The objective is to effectively manage existing and new infrastructure to maximize benefits, reduce risk and optimize cost while providing satisfactory levels of service to the residents.
Key Principles
The key principles of Asset Management are:
Providing required levels of service
Integrating asset management with corporate planning
Informed decision making
Accountability, responsibility & transparency
Sustainability
Why Invest in Asset Management
Asset Management is critical to the growth and progress of the Town. It is important to invest in asset management because it supports:
Financial sustainability
Evidence-based decision making
Delivery of services in accordance to the needs of the community while managing associated risks
Growth and demand management
Asset Management Policy
The Town's asset management policy outlines the commitment for establishing the framework for asset management at the Town of Caledon and communicates the Town's leadership, responsibility and duty with regards to asset management to its managers, employees and stakeholders.
Contact us for an alternate version of this document