6939 King Street
The Town has received proposed Official Plan Amendment and Zoning By-law Amendment applications.
Current Status
Property Description
The subject lands are located at 6939 King Street. The lands are located on the south-west corner of King Street and Centreville Creek Road.
Town File Number(s): POPA 2020-0003 and RZ 2020-0011
Project Name: Weston Consulting on behalf of Swaminarayan Mandir Vasna Sanstha Canada
6939 King Street, Ward 3
Location - 6939 King Street, Ward 3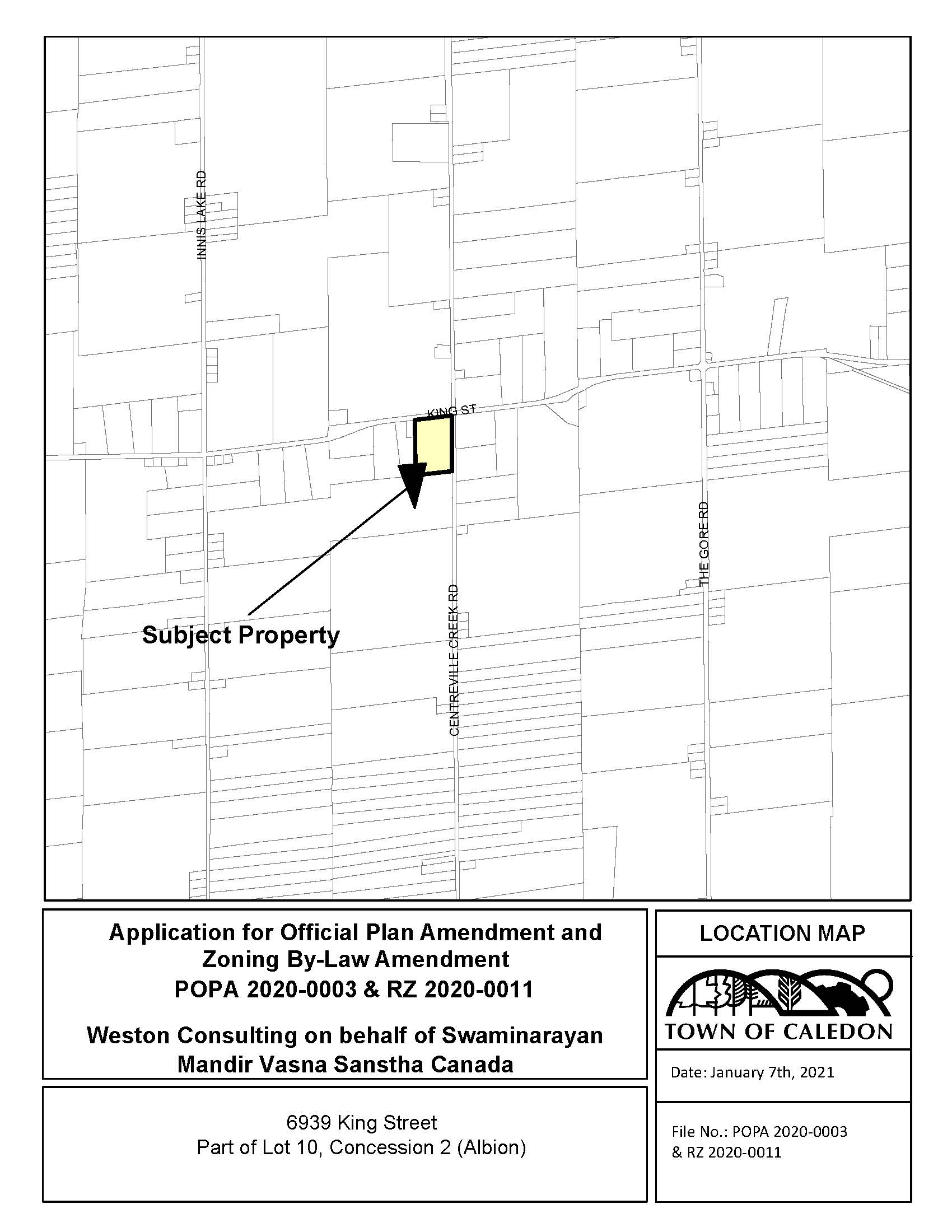 Official Plan Amendment
The Official Plan Amendment proposes to redesignate the lands from Prime Agricultural Area to Rural Lands to permit the establishment of a place of worship.
Zoning By-Law Amendment
The Zoning By-law Amendment proposes to rezone the lands from Small Agricultural Holdings (A3) to Institutional – Exception XXX (I-XXX) to permit a place of worship and site specific standards to implement the development.
Updates and notices
Notices
Material Submitted
Pre-Consultation (DART) Meeting Form
OBC Data Matrix
Cultural Heritage Impact Assessment
Contact us, or make an appointment to visit Town Hall to view studies not available online, or previous versions.
Lead Planner
Toula Theocharidis, MCIP, RPP, Meridian Planning Consultants
On Behalf of Development and Design, Planning Department, Town of Caledon
905.532.9651
toula@meridian-vaughan.ca
Additional Resources
For more information about this matter, or to provide comments, feedback or ask questions, please contact the Lead Planner from Monday to Friday, 8:30 a.m. to 4:30 p.m.