10795 Highway 9
An applications has been received by the Town of Caledon for a Zoning By-law Amendment (Temporary Use).
Current Status
Refusal Decision appealed by applicant on January 10, 2022 to the Ontario Land Tribunal.

Applicant has appealed the refusal decision on the application. For more information on the appeal, please visit the Ontario Land Tribunal's website.
A Case Management Conference is scheduled for November 15, 2022 at 10:00am. A formal notice to those who have requested notification will be provided by the Town.
The Town will appear at the Case Management Conference to seek party status and oppose the applications as per Council direction received on December 6, 2021 Planning and Development Committee and ratified by Council on December 14, 2021.
Property description
The subject lands are located at 10795 Highway 9, at the south of the t-intersection of Tottenham Road and Highway 9. The property is 3.94 ha (9.76 ac) in size and is currently being used as a contractor's facility.
Town File Number(s): RZ 2020-0001
Location - 10795 Highway 9, Ward 4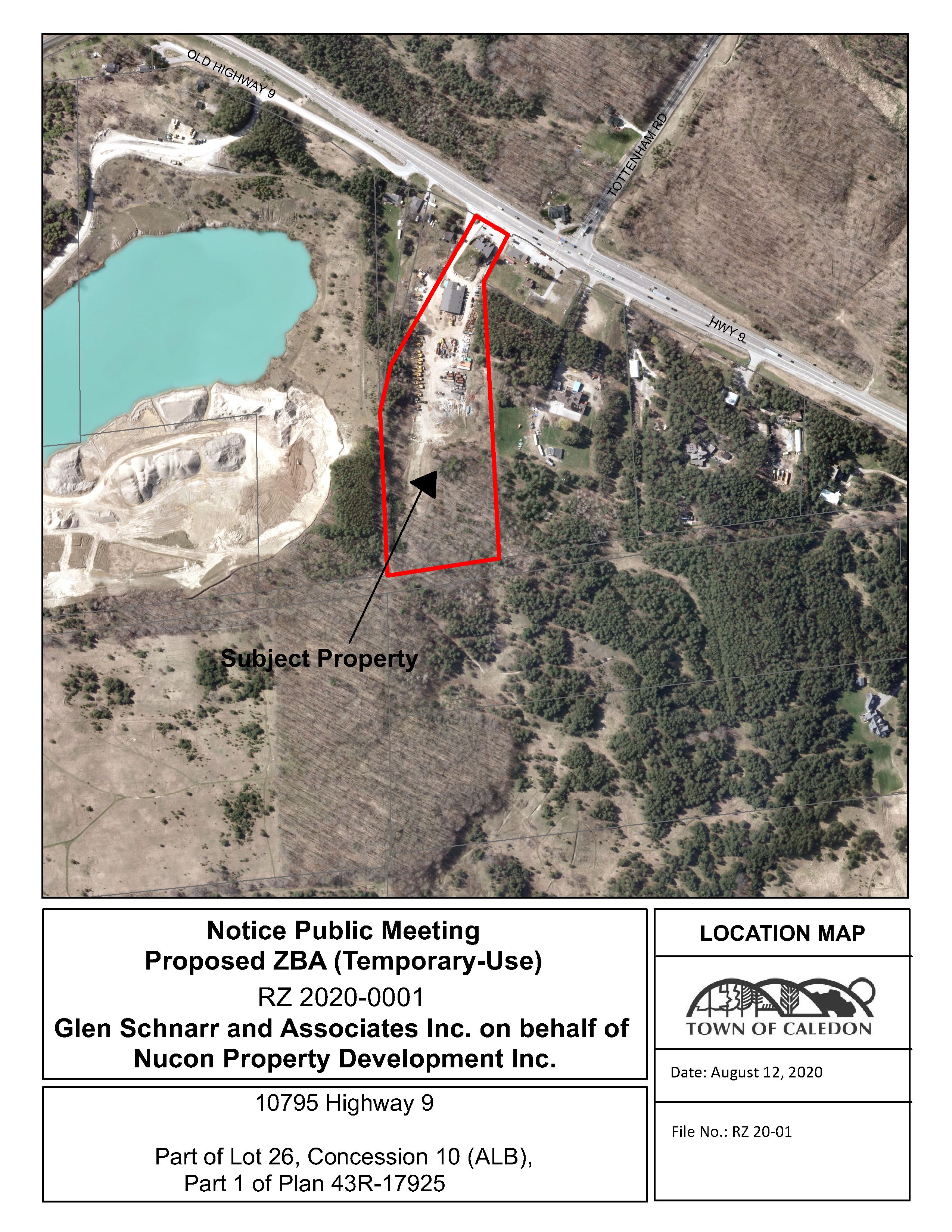 Zoning by-law amendment
Glen Schnarr and Associates Inc. on behalf of Nucon Property Development Inc. has made an application to amend the Zoning By-law for the subject lands located at 10795 Highway 9 from Rural - Oak Ridges Moraine (A2-ORM) and Environmental Policy Area 2 - Oak Ridges Moraine (EPA2-ORM) to Rural - Oak Ridges Moraine - Temporary Use XX (A2-ORM-TXX) and Environmental Policy Area 2 - Oak Ridges Moraine - Temporary Use XX (EPA2-ORM-TXX) to permit a business office, contractor's facility, open storage, and other site works for a temporary duration of three (3) years.
Update and notices
Lead Planner
Toula Theocharidis, Meridian Planning Consultants
On Behalf of Development & Design, Planning Department, Town of Caledon
905-532-9651
toula@meridian-vaughan.ca
Additional information
For more information about this matter, or to provide comments, feedback or ask questions, please contact the Lead Planner at Town Hall from Monday to Friday, 8:30 a.m. to 4:30 p.m.