News and Notices
Posted on Wednesday, July 27, 2022 11:57 AM
Happy and safe Civic Holiday long weekend.
Please note, Town of Caledon offices and non-emergency services including recreation, library and Provincial Offences Courts, in Orangeville and Caledon East, will be closed on Monday, August 1, 2022.
For after-hours emergencies such as downed trees on roads or flooding, call the Region of Peel at 1-800-563-7881. 
To report an urgent issue about a stray domestic animal (certain conditions apply) or a...
Posted on Thursday, July 21, 2022 01:19 PM
July 15th the Region of Peel, City of Brampton, Town of Caledon and City of Mississauga announced the acquisition of approximately 51km of the former Orangeville Brampton Railway corridor which run from the Caledon-Orangeville boundary to just north of Streetsville. The rail corridor will eventually be converted to a continuous trail linking the municipalities and unifying the Trans Canada Trail system.
There are no timelines yet for the completion of this project. The former Orangeville...
Posted on Wednesday, July 20, 2022 03:01 PM
Project Name: Outdoor Fitness Equipment at North Hill Park
Work includes installation of outdoor fitness equipment area within North Hill Park 14051 Hwy 50, Bolton. No road or park closures will be in place throughout the duration of construction. Users of the park can expect construction noise for the duration of the project.
Contract No.: 21-136
Project Location: North Hill Park – 14051 Hwy 50, Bolton
Contractor: Arenes Construction Ltd. & Hoogs Installations Ltd.
Anticipated...
Posted on Wednesday, July 20, 2022 12:22 PM
Golf Canada and Osprey Valley announced a major partnership and bold vision today to build a new Home for Canadian Golf – a momentous project that will see the National Sport Federation relocate its corporate base of operations to TPC Toronto at Osprey Valley in Caledon, Ontario.
In addition to Golf Canada's national headquarters and the Canadian Golf Hall of Fame and Museum, the vision for the Canadian golf campus on the grounds of TPC Toronto at Osprey Valley will feature the national headquarters...
Posted on Tuesday, July 19, 2022 07:28 PM
Council Highlights is a summary of major discussion items presented at Council meetings - circulated immediately following each meeting. You are encouraged to quote from and/or copy this information. Please refer to the minutes at caledon.ca/agenda for an official record of the meeting.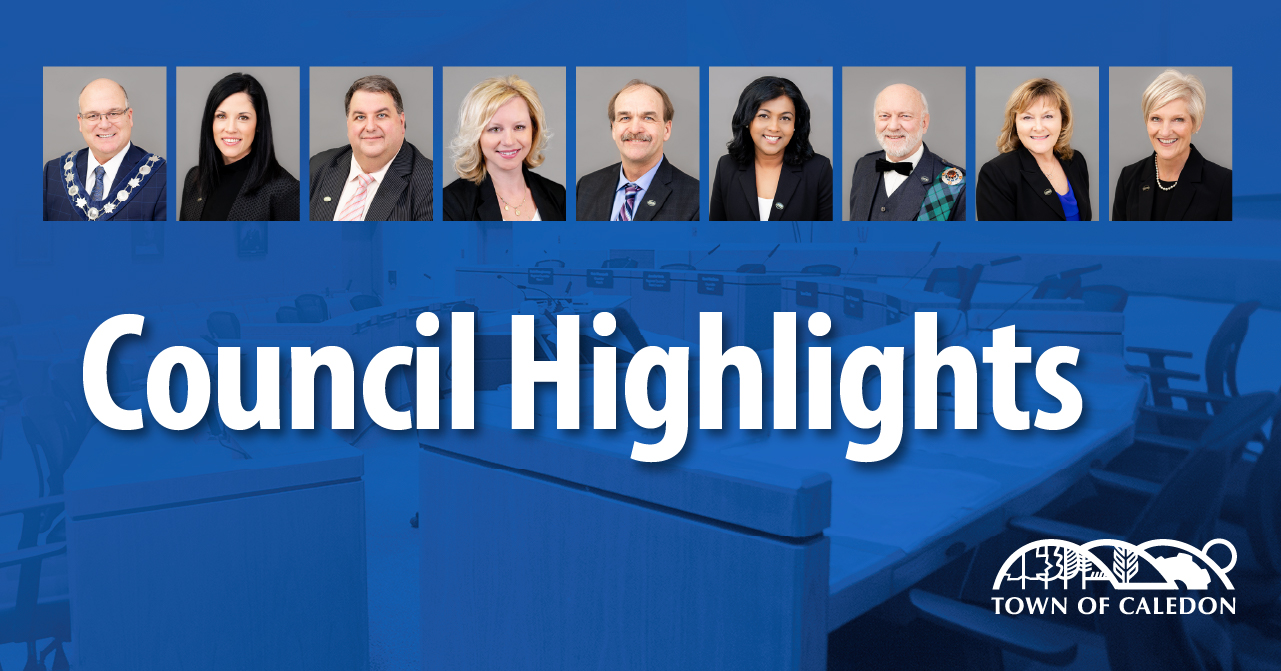 Roadmap to Planning and Development in Bolton
Council approved a roadmap to guide growth and development in Bolton, driving better planned communities and ensuring the right infrastructure is in place....