Notice of Passing: Interim Control By-law at Heart Lake Road and Highway 410
This is to inform you that on July 19, 2022 Town of Caledon Council passed an Interim Control By-law (By-law 2022-071) for a portion of the property located on the west side of in Heart Lake Road north of Mayfield Road and Highway 410 (lands identified as Academic/Research Campus and Prestige Industrial on Official Plan Schedule B Mayfield West Land use Plan).
Purpose and Effect
The Interim Control By-law restricts the use of land within the specified area for a period of one year (to July 19, 2023), to undertake a land use study to:
Land use compatibility including the range of uses permitted given the adjacent residential subdivision,
Noise mitigation and visual and noise buffering; and
Transportation network.
The Interim Control By-law generally restricts development with the exception of the following:
Those uses which lawfully existed as of July 19, 2022 can continue to be used for such purpose
Council has the authority to extend the period during which the by-law will be in effect to a total period not exceeding two years.
Location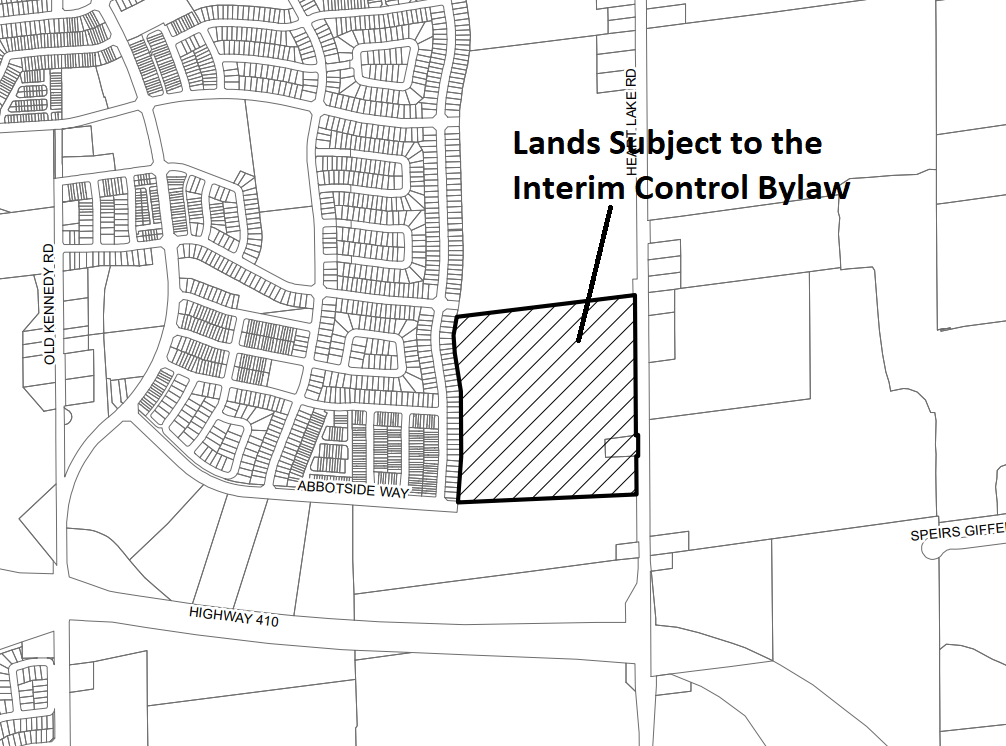 Lead Planner
Sean Kenney,
Senior Planner, Development and Design
905-584-2272 x.4199
sean.kenney@caledon.ca
Additional Resources
For more information about this matter, or to provide comments, feedback or ask questions, please contact the Lead Planner at Town Hall from Monday to Friday, 8:30 a.m. to 4:30 p.m.
Accessibility
If you require an accessibility accommodation or to access information in an alternate format, please contact staff in Legislative Services at 905.584.2272 x.2366 or via e-mail to legislative.services@caledon.ca. Requests should be submitted at least 10 days prior to the scheduled meeting.
Notice Date: August 18, 2022