Road Closures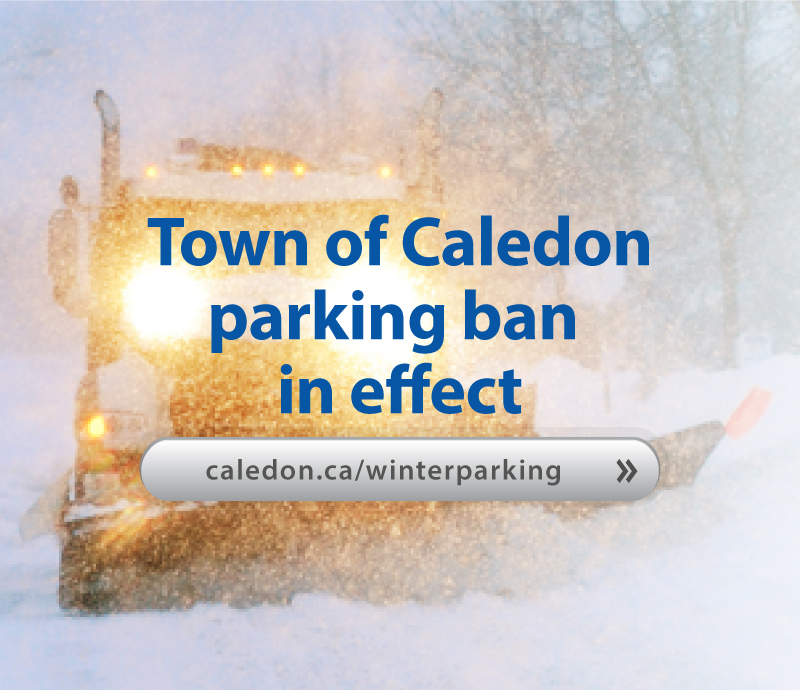 Posted on Tuesday, March 22, 2022 04:43 PM
March 22, 2022 - The Town of Caledon has issued a Winter Parking Ban and a significant weather warning (freezing rain), both to take effect on Wednesday, March 23, 2022 at 6 a.m.
About Winter Parking Bans
The purpose of the ban is to keep roads free of parked vehicles so that crews can quickly and safely clear snow.
Following a forecast for a snowfall of 7 cm or greater, or ice coverage, the Town may issue a Winter Parking Ban.
During a Winter Parking Ban:
Vehicles may not be parked on roads in...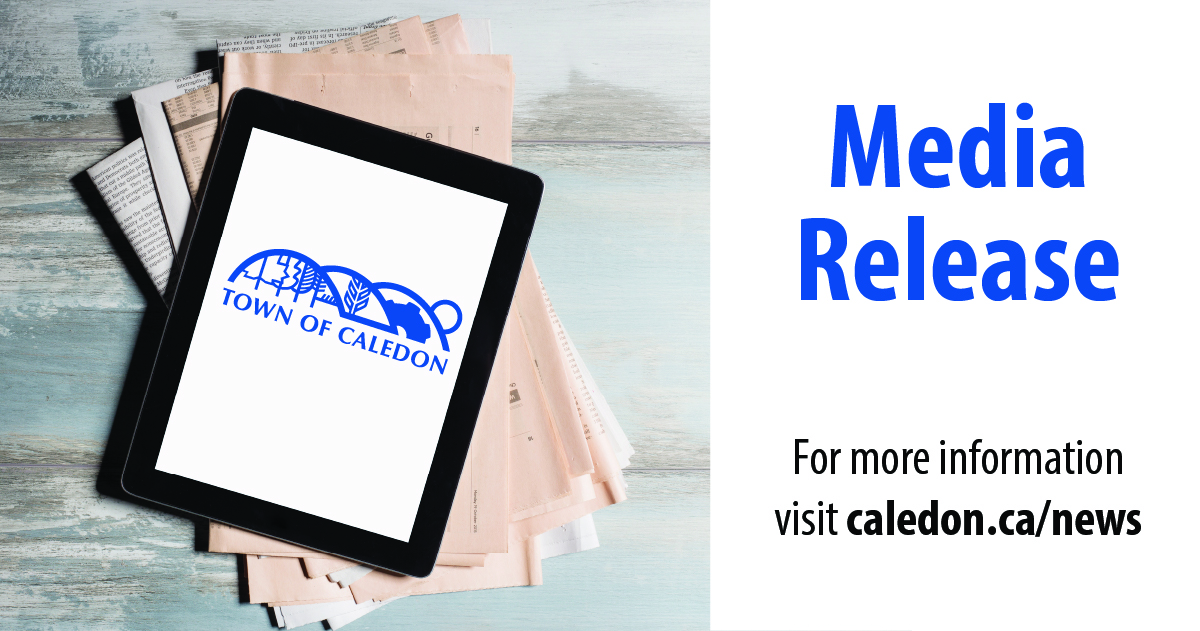 Posted on Monday, March 21, 2022 06:27 PM
March 21, 2022 – Following the recent provincial announcement about mask requirements, and based on a recommendation from Peel Public Health, the Town of Caledon today repealed both its mask by-law and COVID-19 emergency order.
"This is a day we long hoped for, a big step on the path to normalcy," said Mayor Allan Thompson. "Thanks to our high vaccination numbers and the tremendous efforts of our frontline health care workers, we've finally reached this new milestone. With the spring weather approaching,...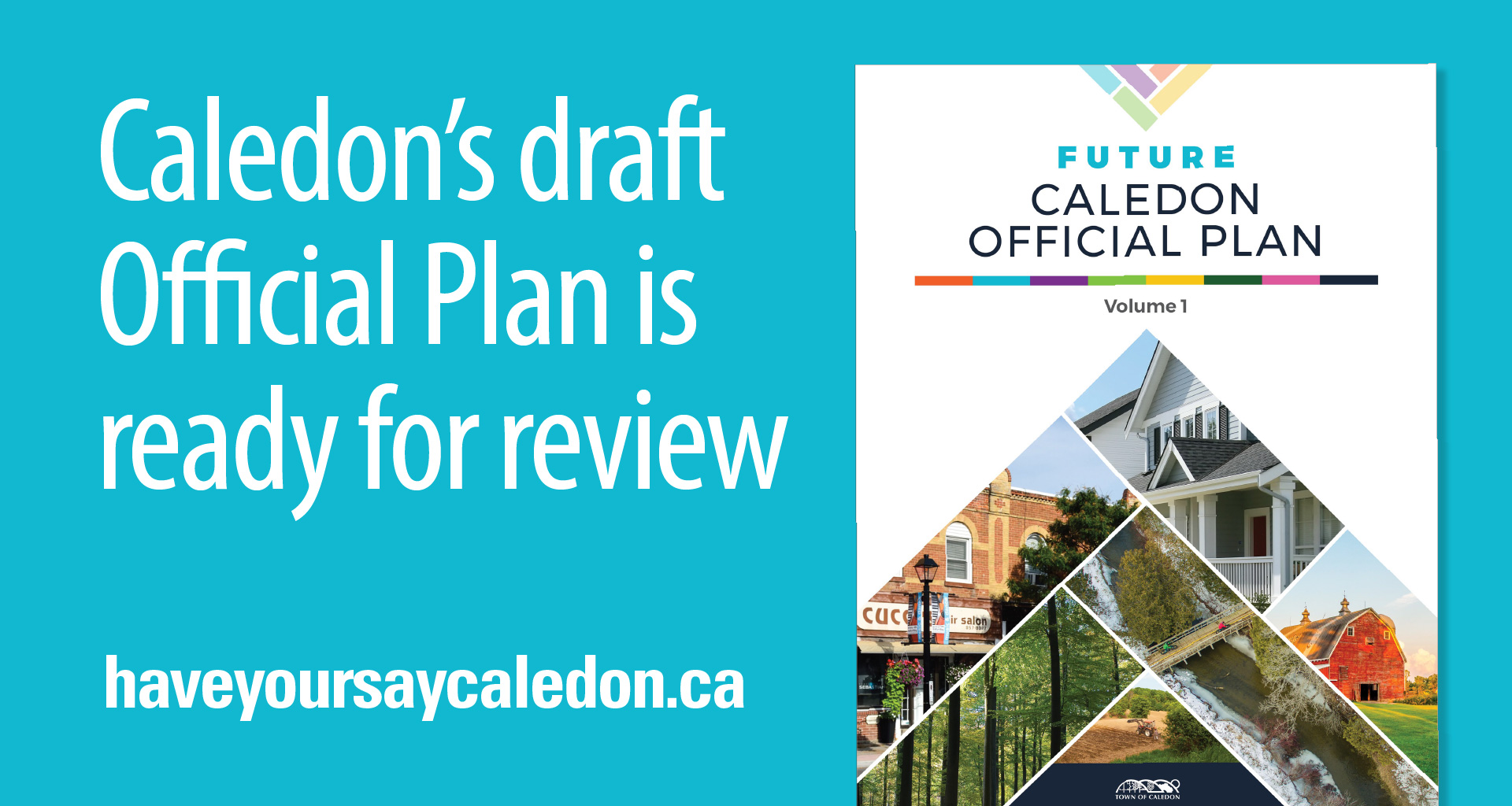 Posted on Monday, March 21, 2022 02:20 PM
March 21, 2022 – The draft Official Plan, which is an overarching policy document that will guide Caledon's growth and development to the year 2051, is now ready for public review and feedback.
"Developing the Official Plan has been a collective effort between residents, businesses, community groups and more," said Mayor Allan Thompson. "The draft Official Plan represents the time and energy we have all spent providing our input. And now, just as important, I encourage everyone to get involved and...

Posted on Monday, March 21, 2022 12:56 PM
A Public Meeting will be held to consider Future Caledon Draft Official Plan. Your input and insight will inform and shape plans that meet the needs of our community.
With your help, the draft Official Plan is ready. You now have the opportunity to provide feedback. Your role is critical as input will help shape our community for the next 30 years.
Open houses and a public meeting will be opportunities for you to share your views on what the future of Caledon looks like. Comments...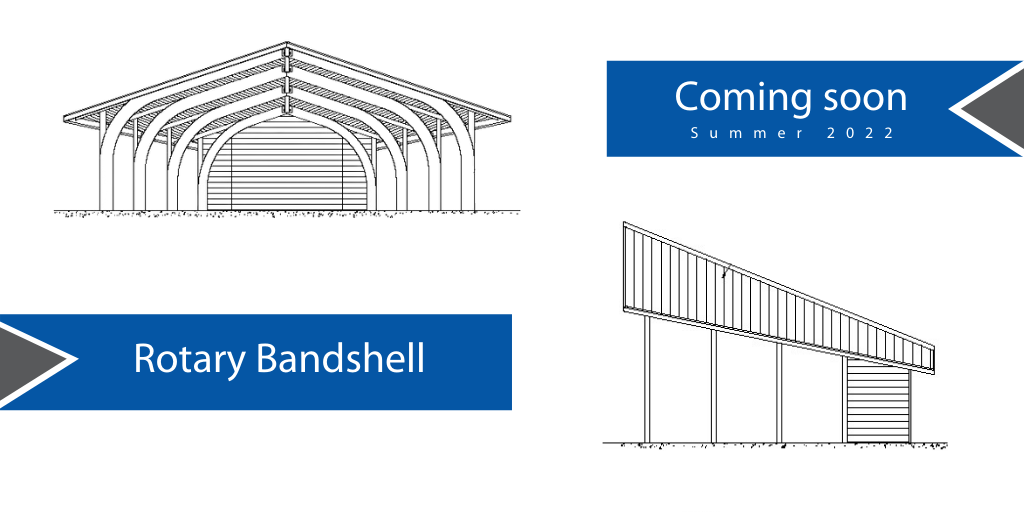 Posted on Friday, March 18, 2022 12:35 PM
The Town of Caledon and the Rotary Club of Bolton are excited to announce a new Bandshell in R.J.A. Potts Memorial Park, in celebration of Bolton's Bicentennial in 2022.
The proposed Bandshell is expected to promote and encourage local musical and theatrical productions and support creative arts within the community. The Bandshell would also be used for outdoor movie nights and summer camp programs.
Project timeline
Spring 2022 - Preliminary and detailed Design
Spring 2022 - Tendering Process
Summer...