Adult 55
June is Seniors Month!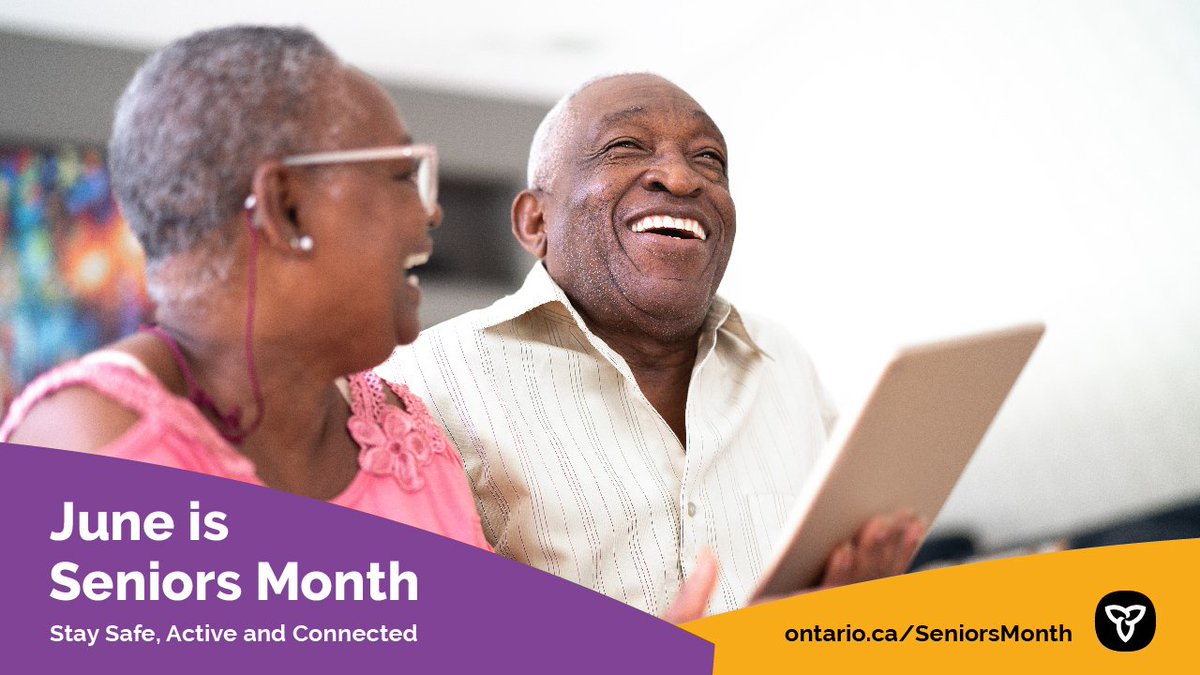 Stay Safe, Active and Connected.
This year we are focused on ensuring everyone is able to Stay Safe, Active and Connected to the community.
To celebrate our "Age-Friendly" community, we are hosting a full slate of FREE events, activities and programs for our residents.
See below for some of the available programs being held throughout the month, we look forward to seeing you there!
FREE Swag Bags - Registration Now Open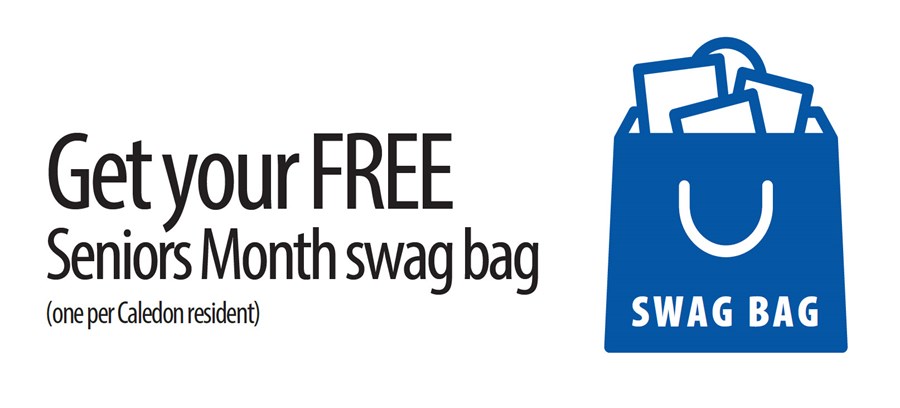 Starting May 2 you can register to get your FREE swag bag with:
a calendar of events
promotional items, and
information from local service providers
Registration is required by May 20 to pick up bags at the following locations during regular business hours:
Caledon Centre for Recreation and Wellness
Southfields Community Centre
Town Hall - Caledon East
Bags will be available for pick up between May 25 and June 1, 2022
Try-It Fitness Classes with Recreation (multiple dates)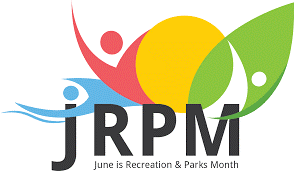 Did you know that June is also Recreation Month!
In celebration, our recreation department is offering a wide range of activities throughout the month for all residents, you can check out the full listing of activities for all ages here.
In Celebration of Seniors Month, we will be hosting five free 55+ Try-It fitness classes.
Classes will be drop-in, first come first serve.
Sit and Get Fit Class: Tuesday, June 7 - 10 a.m. - 11 a.m. @ Caledon Centre for Recreation and Wellness
Zumba 55+: Monday, June 13 - 9:30 a.m. - 10 a.m. @ Southfields Community Centre
Forever Fit: Wednesday, June 22 - 9 a.m. - 10 a.m. @ Southfields Community Centre
Chair Yoga: Thursday, June 23 - 2:30 p.m. - 3:30 p.m. @ Southfields Community Centre
Bone Builder: Wednesday, June 29 - 9 a.m. - 10 a.m. @ Southfields Community Centre
More Information Available Here or call 311.
Watercolour Workshop with PAMA - June 7 @ 1:30 p.m.

In honour of Seniors Month, Age-Friendly Caledon has partnered with PAMA to offer Caledon Residents 55+ with a free Watercolour workshop. This workshop will allow participants to experiment with watercolour and create a painting using different techniques. They will use traditional materials and mediums to create a variety of effects.
No previous art experience is necessary! All materials are included.

Tuesday June 7, 2022 from 1:30 p.m. - 3 p.m.
Inglewood Community Centre - Community Room
FREE for Residents 55+ | Limited Spaces Available
Registration Starts May 25, 2022
Tea & Talk in Recognition of World Elder Abuse Awareness Day (WEAAD) - June 15 @ 12 noon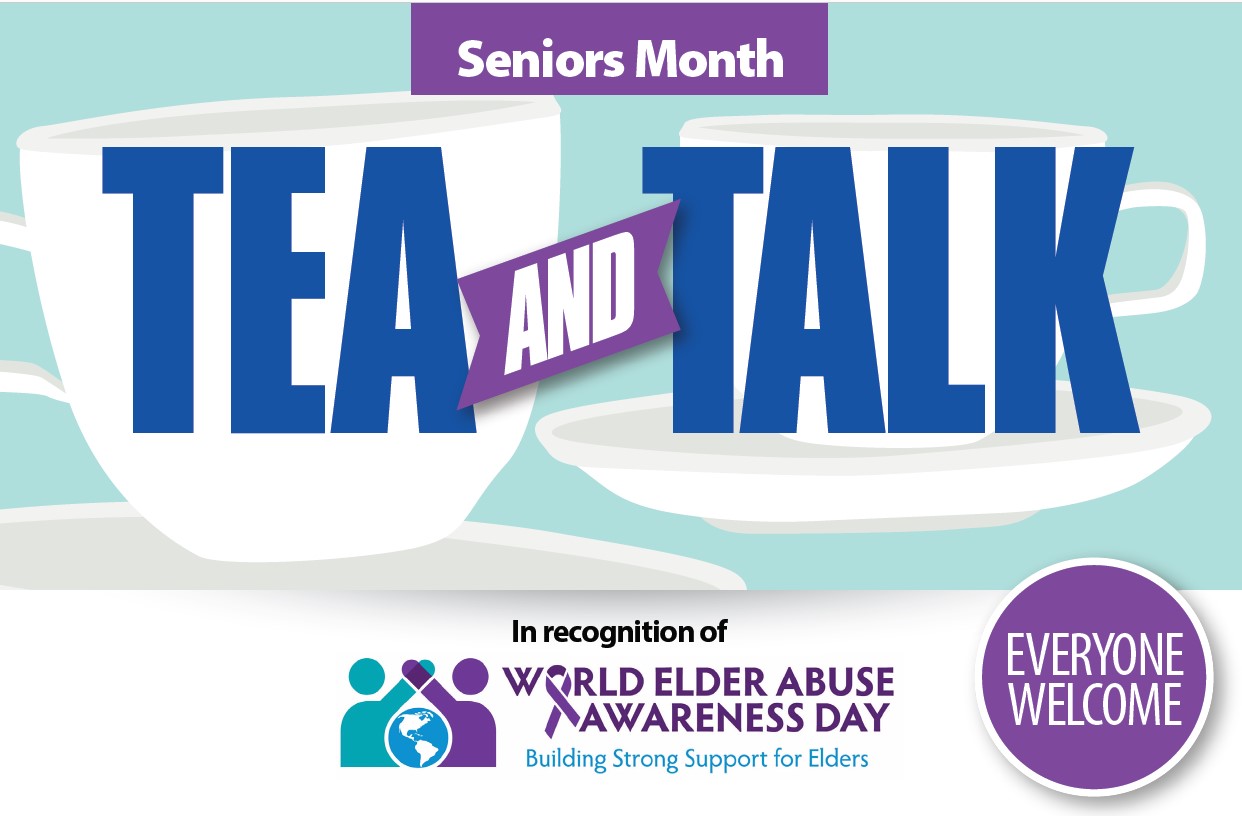 In honour of Seniors Month, Age-Friendly Caledon is hosting its first "Tea & Talk" in recognition of World Elder Abuse Awareness Day.
Join us in the conversation around building a strong and inclusive community for older adults in the Caledon Community.
Wednesday June 15, 2022 from 12 noon to 3 p.m.
FREE | Everyone Welcome | Registration Required
Albion Bolton Community Centre - Auditorium
Registration Starts May 25, 2022
Not able to join the event?
Learn more about how you can support the prevention of Elder Abuse online at www.weaad.ca.
Caledon Seniors Centre's Strawberry Social & Entertainment - June 17 @ 2pm
In celebration of Seniors Month and in partnership with the Town of Caledon, the Caledon Seniors Centre will be hosting a Strawberry Social & Entertainment Event from 2 p.m. - 4 p.m.

Free for Residents 55+
Rotary Place Bolton
Take-Out between 1:30 pm - 2pm
Local Delivery Available for $2
Registration Required
or call the Caledon Seniors Centre at 905-951-6114
An Afternoon in the Garden with Caledon Public Libarary - June 22 @ 1 p.m. - 4 p.m.

Join the Caledon Public Library and the Town of Caledon in celebrating our Age-Friendly community with a seniors open house.
1:00 - 1:15 p.m. - Welcome
Music by Cindy Krishendeholl
1:15 - 2:45 p.m. - Guest Speakers
The Therapeutic and Mental Health Benefits of Gardening - A presentation on how the use of plants, gardening and nature-related activities to enhance an individual's mental, physical, and emotional well-being. Presentation by Kerry Furneaux & Taya Kehler from The Riverwood Conservancy.
2:45 - 4:00 p.m. - Visit with Community Partners
Discover services and resources for the 55+ community
Live Music, Giveaways, Treats!
Let us know you are coming as seating is limited.

Registration begins May 23.
Zentangle Art Session - June 28 @ 2 p.m
Zentangle is a method of drawing patterns to create beautiful images. It is the process of simple lines, drawn repetitively, one stroke at a time, without a planned outcome, without expectations, quietly enjoying the pen marking the paper mindfully focusing on just that action there are no mistakes just opportunities.
Your instructor Yvonne Westover has been practicing art for over 40 years, has a degree in Visual Art, is a Certified Zentangle Teacher and has taught over 3000 students various art mediums. Yvonne knows that adding some creative time to your day will allow for a happy distraction that can help reduce stress. Zentangle happens to be her go to practice to turn chaos into calm. Yvonne's no fuss and supportive go with the flow way of teaching allows for each participant to gain confidence in their own creative practice.

No previous art experience is necessary! All materials are included.

FREE for Residents 55+ | Limited Spaces Available
Tuesday June 28, 2022 from 2 p.m. - 4 p.m.
Margaret Dunn Valleywood Branch - Community Room
Registration Starts June 13, 2022

Don't miss the new Age-Friendly Caledon eNewsletter, delivered monthly to your inbox. Get the latest on coming events, links to important resources and more!
Click here to view the latest edition.
Senior of the Year Nominations - Now Closed.
Thank you to everyone who submitted a nomination. The Senior of the Year award will be announced during Seniors Month in June 2022.
Please note that this is an annual award and we would like to encourage everyone to submit their nominations in 2023.
Age-Friendly Caledon

The Town of Caledon is committed to strengthening community connections for residents aged 55 and over. We have built an Age-Friendly Action Plan designed to help remove barriers that impact your ability to connect with the people, places and services that make Caledon a great place live.
Over the next decade, Caledon will have nearly 10,000 more older adult residents (age 55 and over) than we have today. To address this major demographic shift, the Town of Caledon is embarking upon this new community initiative to ensure that its support systems – programs, services and facilities – are fully ready to meet the needs of a growing and ageing population base.
Age-Friendly Caledon Action Plan
On May 18, 2021 Council approved the Age-Friendly Caledon Action Plan as a next step for the Caledon Community.
Our Vision for this plan is to help make Caledon a safe, welcoming, and inclusive community that celebrates the diverse needs of all residents, regardless of age.
Please find the Age-Friendly Caledon Action Plan (AODA) below.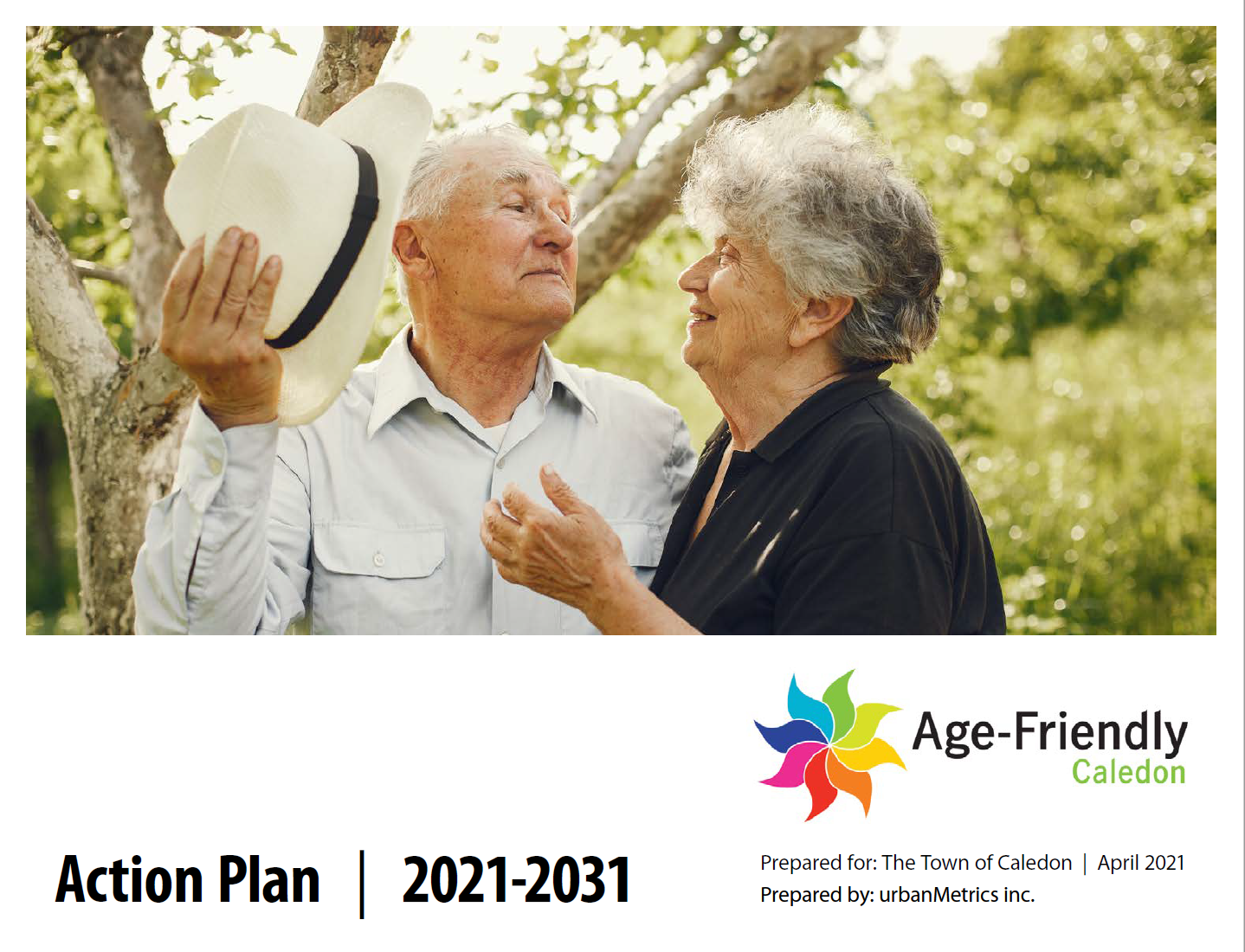 What is an Age-Friendly Community?
Age-Friendly Communities are supportive physical and social environments that enable older people to live active, safe and meaningful lives and continue to contribute in all areas of community life.
World Health Organization's Age-Friendly Dimensions
Age-Friendly Communities were developed by the World Health Organization (WHO) Global Age-Friendly Cities: A Guide to encourage active ageing by increasing opportunities for health, participation and security to enhance quality of life as people age.
According to WHO, eight dimensions of an Age-Friendly Community include:
Transportation
Housing
Outdoor Spaces and Buildings
Civic Participation and Employment
Social Participation
Respect and Social Inclusion
Communication and Information
Community Support and Health Services
Age-Friendly Ontario
The Creating a more inclusive Ontario: age-friendly community planning guide for municipalties and community organizations provides communities across the province with the tools required to implement the dimensions and key action items as outlined by the WHO.
Age-Friendly Communities are consistent with Ontario's Action Plan for Seniors. The plan, released in January of 2013, was informed by a report on how to promote better care and health outcomes for older Ontarians entitled Living Longer, Living Well and developed by Dr. Samir Sinha, Director of Geriatrics at Mount Sinai and the University Health Network hospitals and Expert Lead for Ontario's Seniors Strategy.
Adult 55+ Strategic Plan
The Adult 55+ Strategic Plan has been modified and incorporated into the Age-Friendly Caledon Action Plan's key action items and deliverables moving forward.
Seniors Task Force
As the Steering Committee for the Age-Friendly Caledon Action Plan, the Seniors Task Force will be representing older adult residents in Caledon to ensure that the action items developed reflect the needs of the community.
The Seniors Task Force is a committee of Council that is designated to assist with the implementation of the Adult 55+ Strategic plan and advises council on issues and services related to older adults in the community.
Town of Caledon's Age-Friendly Memberships and Engagement
Pan-Canadian Age-Friendly Reference Group
The Pan-Canadian Age-Friendly Communities is a National Initiative to support local communities with the steps needed to successfully apply the age-friendly communities' model in Canada.
Age-Friendly Caledon participates as a municipal representative in the Pan-Canadian Age-Friendly Reference Group for the Province of Ontario alongside the Ministry for Seniors and Accessibility and Age-Friendly Ontario. The reference group services the interests of members by proactively engaging in various strategic activities to help advance the Age-Friendly Communities model across Canada.

The Town of Caledon has been a member since January 2022
Southern Ontario Age-Friendly Network/ Age-Friendly Ontario

The Southern Ontario Age-Friendly Network is part of Ontario's Age-Friendly Communities Initiative. Network Members meet regularly to share their local age-friendly planning process, describe innovative programs and services, and discuss emerging trends or gaps. The networks are an opportunity to learn from and share with each other to help accelerate and strengthen work at a local level.


Age-Friendly Communities Profile - Town of Caledon
The Town of Caledon has been a member since 2017
Peel Council on Aging (PCoA)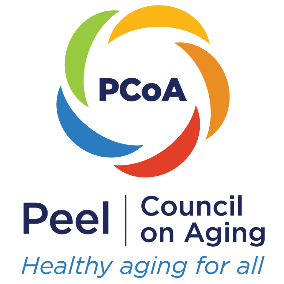 The Peel Council on Aging (PCoA) is a not-for-profit collective of organizations and individuals whose vision is to advance 'healthy aging for all in a connected and caring community'.

As part of the Ontario Association of Councils on Aging, PCoA is dedicated to education, advocacy, research, and planning directed towards the development and support of "age-friendly" communitities' in the Region of Peel.
As a newly formed council the PCoA will work collaboratively with Age-Friendly Caledon in support regional and local initiatives and the development of best practices throughout the Region of Peel.
Ageing Well in Caledon and Dufferin Collaborative (AWICD)
Ageing Well in Caledon & Dufferin (AWICD – pronounced A-Wicked) is a collaboration of older adults and community agencies focusing on the empowerment and wellbeing of older adults in the Caledon and Dufferin area through avenues of Communication and Awareness, Physical and Mental Health, and Social Connections.
As an interagency collaborative, AWICD consists of over 20 community members and supports the facilitation of the development and maintenance of a multidisciplinary response to the overall wellbeing of older adults in the Caledon and Dufferin Communities.
The Town of Caledon has been a co-facilitator and collaborative member since 2020
Age-Friendly Caledon Development
Beginning June 2020, the Town completed the development of the Age-Friendly Caledon (AFC) Action Plan development and completed the Action Plan in April 2021.
Below is documentation that supports and builds on the Age-Friendly Caledon Action Plan. If you would like to review the documents, please contact us for a copy.
Background Report
The AFC background report is a review of existing documentation, strategies and key notables that are influential to the building of the AFC Action Plan. This document was designed to help us understand where we have been as we decide where we need to go.
Survey
The AFC survey was conducted during the period of November 1 to December 1, 2020 to offer residents of Caledon the opportunity to provide their say in the development of the Age-Friendly Caledon Action Plan. The report provides a highlight of the comments and concerns provided during this time.
Public Engagement Sessions
On January 27 & 28 2021 Town Staff hosted public engagement sessions to provide an overview of the Age-Friendly Caledon Action Plan development and provide residents with the opportunity to ask questions and provide feedback.
Contact us to request a copy of the meeting recordings.
55+ Information and Resources
Caledon's population, like much of Ontario's, is ageing. Here at the Town we are committed to providing resources and services to our residents ensuring that you receive the support you need. If you are over the age of 55 and living in Caledon, you may qualify for a number of Programs and Services. Please also find a variety of information and resources below and on the Housing and Living page to support you in whatever your needs are.
If you have questions or don't know where to turn please contact us or one of the numbers below.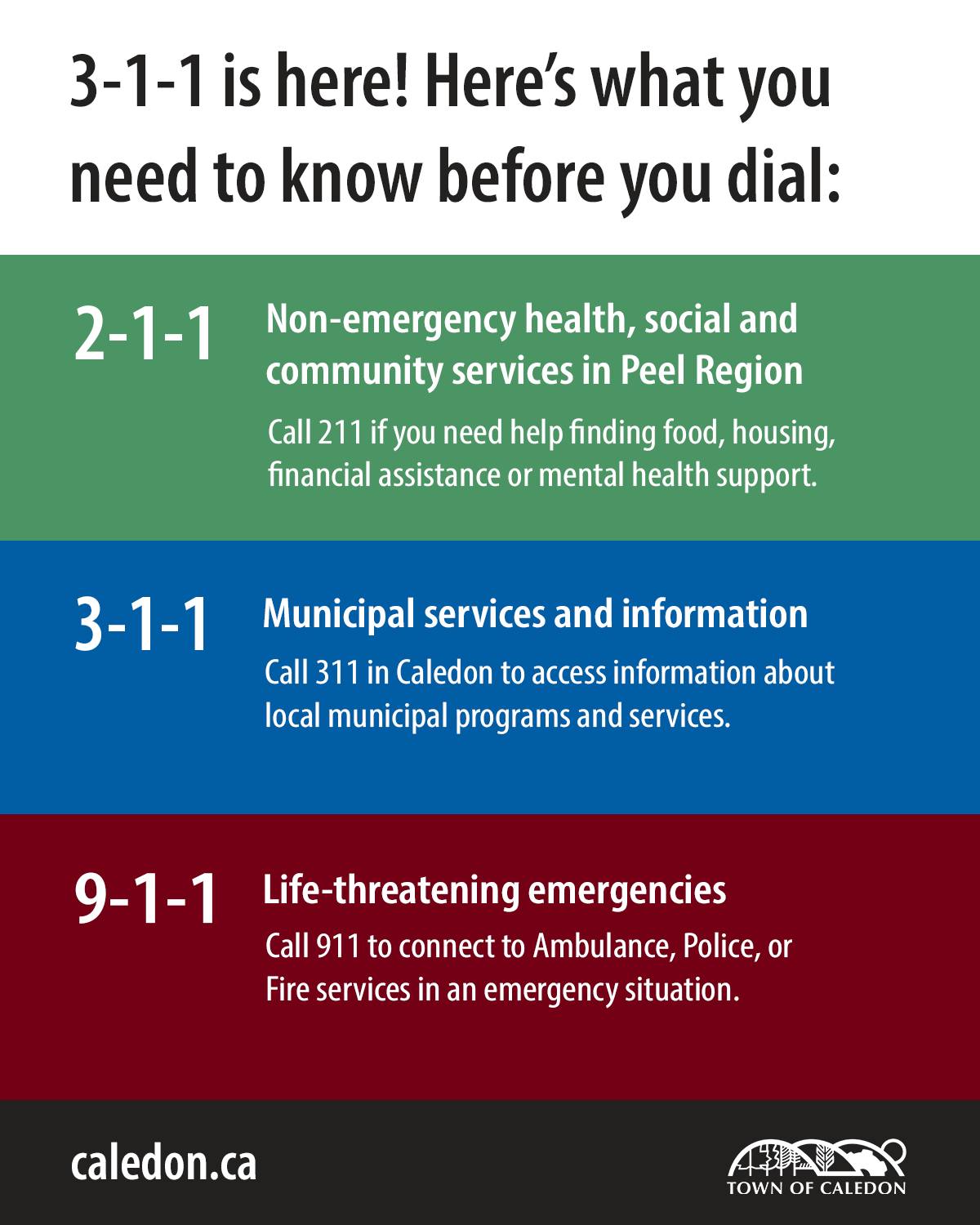 Know the difference before you call!
2.1.1 is available for public information and referrals to supports and resources in Caledon and Area. The service is available in 150 languages, 24/7. Just dial 2.1.1 from any telephone or go online to 211Ontario.ca.
COVID-19 Resources and Tips
There are many local supports and information available to help you during these hard times. If you are unsure about which organization or groups to contact, feel free to contact any one of them, they will be happy to connect you to a service provider to assist you.
General Resources
Food Supports
If you need help or support with obtaining food and groceries please contact one of the following services or groceries stores listed below.


Services
Local Grocery Stores
Health Supports
Headwaters Hospital – COVID-19 Assessment Centre located at Top of Parking Lot @ 140 Rolling Hills Drive, Open 9 a.m. - 5 p.m. 7 days a week, book an appointment online or call 1-833-442-2001. For general questions please call Peel Public Health at 905-799-7700, Caledon 905-584-2216.
Home and Community Care (CW LHIN) – Health care services and supports at home. Call 905-796-0040 for more information or Toll Free: 1-888-733-1177.
Hills of Headwaters Collaborative - Local COVID vaccination and testing information and resources for Dufferin and Caledon residents.
Canadian Mental Health Association (CMHA Peel Dufferin) - Crisis, information and referral, assessment to community and mental health supports. Crisis Line 24 hours a day, 7 days a week 1-888-811-2222 or General Inquiries/Support 519-941-0465, Toll Free: 1-877-451-2123 Monday-Friday 8:30 a.m.-4:30 p.m.
Family Transition Place – Individuals and families struggling with gender-based violence; emergency shelter available located in Orangeville. 24 hours a day, 7 days a week, support call 519-941-HELP (4357) or 905-584-HELP (4357).
Services and Housing in the Province – Access, assessment, referral to mental health services and supportive housing. Call 519-215-2642 Monday - Friday 8:30 a.m. to 4:30 p.m.
Pharmacies – Many local pharmacies are providing delivery services and/or curb-side pickups – please contact your local pharmacy for more information and availability. Pharmasave – Bolton: 905-533-7700; Caledon East: 905-584-1010; Shoppers Drug Mart - Bolton: 905-857-1642; Rexall - Bolton: 905-857-3766.
Social Supports
Faith Supports
During this challenging time, you may find support from your place of worship or faith community. Many are offering live streaming of services, visit your local place of worship online to see what support and services they may be offering.
Tips for Staying in touch
Here are some great ways to celebrate a senior in your life during the COVID-19 Pandemic. Because no one should have to face this pandemic alone.
Socializing with a senior in your life from a distance
Call/video chat to say hello and check-in.
Get your COVID-19 Vaccination to help protect yourself and your loved ones. (Region of Peel - Book your COVID-19 Vaccine)
Have a physical distancing visit.
Send flowers or treats - they always bring cheer.
Offer to help/support/volunteer on your own or with a local service (Volunteer MBC)

Pick up supplies such as groceries, medication, essentials (t-paper, etc.).
Help with some outdoor work (garden/yard care).

Share your stories to #CaledonCares and encourage others to celebrate an older adult in their life.
Combating loneliness for isolated seniors
Stay connected

Video/phone chat with friends, family members or neighbours.
Participate in a Seniors Centre Without Walls program with the Caledon Seniors Centre.
Join a telephone visiting program (Friendly Visiting, Telecheck, etc.).

Maintain a healthy lifestyle, including a healthy diet, exercise and enough sleep to enhance your body's immune system.
Go for a walk outside, exercise independently or join an online exercise program.
Meditate and relax with an online yoga or meditation class.
Try something new or start a new project.
Check out all the fun programs and activities online at the Town of Caledon's Recreation Programs.
Visit the Caledon Public Library for a long list of monthly activities including book chats, online trivia and educational programs.
DISCLAIMER
This webpage contains links to other websites that are created and operated by independent bodies and are therefore, not under the control of The Corporation of the Town of Caledon (the "Town of Caledon"). Such external Internet addresses contain information created, published, maintained or otherwise posted by individuals, institutions, or organizations independent of the Town of Caledon. The Town of Caledon does not endorse, certify or control these external Internet addresses and does not guarantee the accuracy, completeness, efficiency, timeliness, or correct sequencing of information located at such addresses. Use of information obtained from such addresses is voluntary, and reliance on it should only be undertaken after an independent review of its accuracy, completeness, efficiency and timeliness. These website links are provided as a public service and do not imply the investigation or verification of the linked websites by the Town of Caledon. The Town of Caledon is not responsible, and makes no express or implied representations or warranties concerning the products, services or information found on the linked websites.