Age-Friendly Caledon

The Town of Caledon is committed to strengthening community connections for residents aged 55 and over. We have built an Age-Friendly Action Plan designed to help remove barriers that impact your ability to connect with the people, places and services that make Caledon a great place live.
Over the next decade, Caledon will have nearly 10,000 more older adult residents (age 55 and over) than we have today. To address this major demographic shift, the Town of Caledon is embarking upon this new community initiative to ensure that its support systems – programs, services and facilities – are fully ready to meet the needs of a growing and ageing population base.
To read the Age-Friendly Action Plan and learn more about Age-Friendly Caledon.
Click Here

Don't miss the new Age-Friendly Caledon eNewsletter, delivered monthly to your inbox. Get the latest on coming events, links to important resources and more!
Click here to view the latest edition.

NEW!
Town is offering a new "Snow Removal Financial Assistance Program" as an initiative from the Age-Friendly Caledon Action Plan to "Implement snow and ice removal programs that provide support and/or financial assistance to enable eligible homeowners, including older adults with compromised health conditions, and individuals providing home-based supports, to safely access private driveways, stairs and walkways during various winter weather events." Deliverable #7.6
Low-income older adults (65+) and low-income persons with a disability living in Caledon are eligible to apply to receive a maximum $350 grant towards snow removal supports for the 2022/2023 winter season.
To apply for the Snow Removal Financial Assistance Program please select the link below or call 311 if you require accommodations or support.
2023 Senior of the Year Nominations - Opening February 6, 2023

Annually, the Town of Caledon recognizes an outstanding senior who, after age 65, enriches the social, cultural or civic life of the community such as our 2022 recipient Robert Fines.
Learn more about the wonderful things Robert has contributed to the Caledon community here.
Do you know a Caledon resident over the age of 65 who has made a significant contribution to our community? Nominate them for the 2023 Senior of the Year Award!

Nominations Open February 6, 2023.
Eligibility:
The person you nominate (the nominee) must be:
at least 65 years of age
a resident of Caledon
a living person who has made their community a better place to live
You cannot nominate:
yourself
someone who has passed away
elected federal, provincial, municipal representatives or political appointees
How to nominate someone:
Email your nomination to adult55@caledon.ca, call 905-584-2272 x 4106 or complete the web application below.
Nominations close February 24th at 4:30 p.m.

New Volunteer Program!
We are always looking for volunteers to join our team of Health and Wellness Ambassadors!
Our Volunteer Ambassadors:
Support the community outreach and engagement of the Town's Age-Friendly Action Plan.
Connect residents with community information, resources and services in Caledon.
Empower residents with the knowledge to help them make informed decisions.
Please contact us if you require accessibility accommodations throughout the application process.
Email us at peopleservice@caledon.ca or call 311
We will be out connnecting with our community, look for us and come say Hi!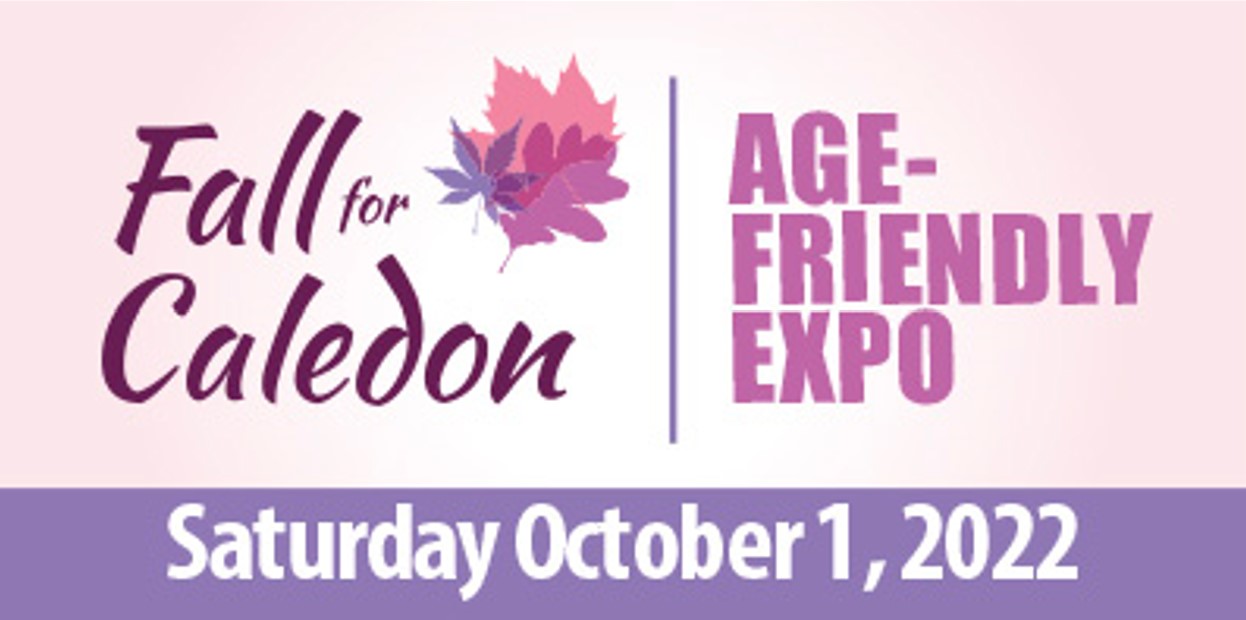 Caledon's older residents make up half of our population and are truly the heart and soul of our Town!
Thank you to everyone who joined us on October 1, at the Fall for Caledon Age-Friendly Expo celebrating International Day of Older Persons.
We look forward to seeing you again next year!
International Day of Older Persons - October 1
The United Nations introduced the International Day of Older Persons in 1990 as a way of bringing awareness and attention to seniors. Since then it has been a catalyst for people coming together to overcome misconceptions against seniors and has ushered in new policies that benefit seniors across the world.
The Town of Caledon utilizes this day of recognition to celebrate our older residents, their contributions and advocate for a community where we can all age well.
During the pandemic our older residents were hit the hardest and we want to take the time to ensure that they have the resources and supports so that they are prepared to face whatever comes their way in a happy and healthy way.
55+ Information and Resources
Caledon's population, like much of Ontario's, is ageing. Here at the Town we are committed to providing resources and services to our residents ensuring that you receive the support you need. If you are over the age of 55 and living in Caledon, you may qualify for a number of Programs and Services. Please also find a variety of information and resources below and on the Housing and Living page to support you in whatever your needs are.
If you have questions or don't know where to turn please contact us or one of the numbers below.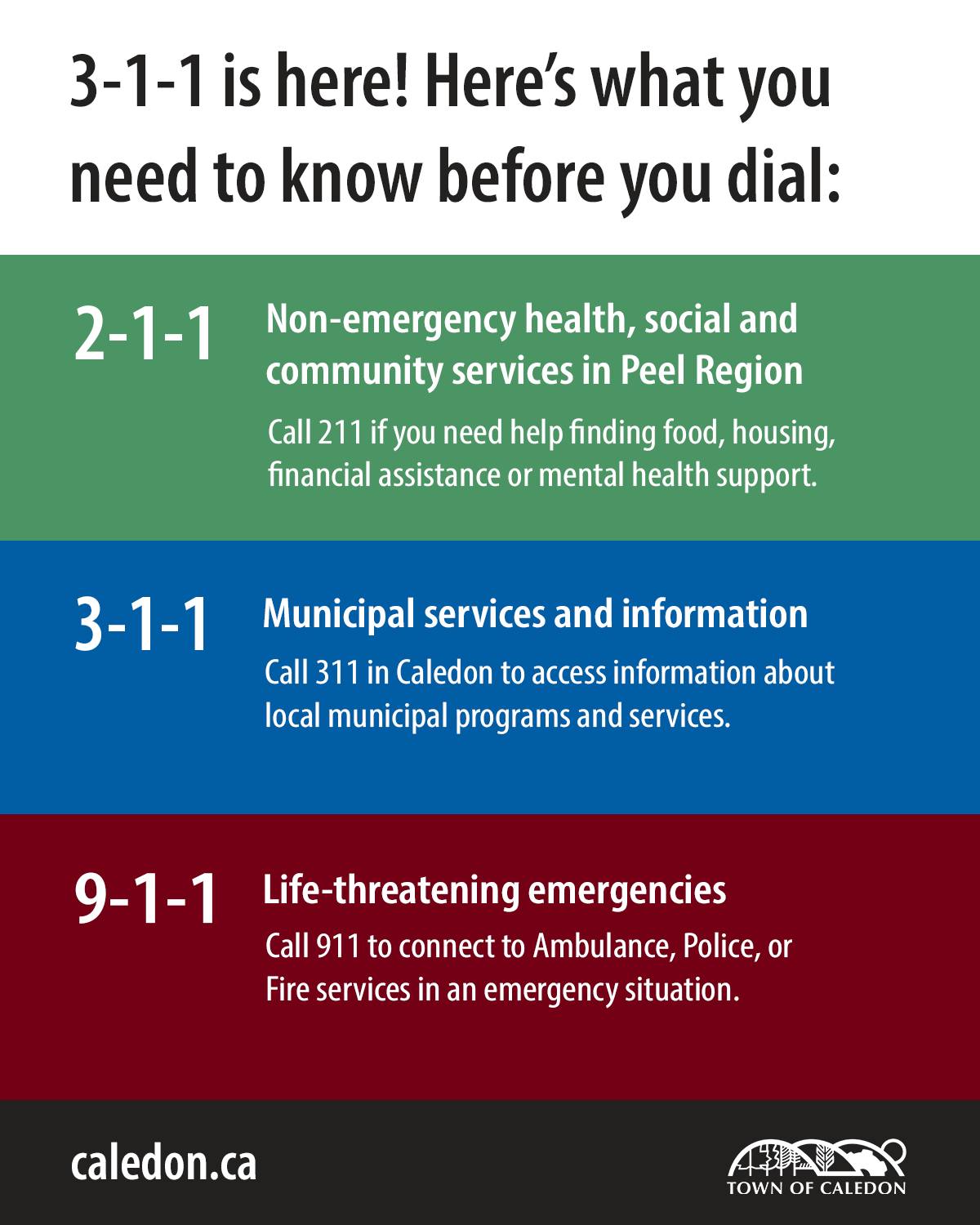 Know the difference before you call!
2.1.1 is available for public information and referrals to supports and resources in Caledon and Area. The service is available in 150 languages, 24/7. Just dial 2.1.1 from any telephone or go online to 211Ontario.ca.
COVID-19 Resources and Tips
There are many local supports and information available to help you during these hard times. If you are unsure about which organization or groups to contact, feel free to contact any one of them, they will be happy to connect you to a service provider to assist you.
For additional resources visit our Community Directory Here.
COVID-19 Supports
Tips for Staying in touch
Here are some great ways to celebrate a senior in your life during the COVID-19 Pandemic. Because no one should have to face this pandemic alone.
Socializing with a older adult in your life from a distance
Call/video chat to say hello and check-in.
Get your COVID-19 Vaccination to help protect yourself and your loved ones. (Region of Peel - Book your COVID-19 Vaccine)
Have a physical distancing visit.
Send flowers or treats - they always bring cheer.
Offer to help/support/volunteer on your own or with a local service (Volunteer MBC)

Pick up supplies such as groceries, medication, essentials (t-paper, etc.).
Help with some outdoor work (garden/yard care).

Share your stories to #CaledonCares and encourage others to celebrate an older adult in their life.
Combating loneliness for isolated residents
Stay connected

Video/phone chat with friends, family members or neighbours.
Participate in a Seniors Centre Without Walls program with the Caledon Seniors Centre.
Join a telephone visiting program (Friendly Visiting, Telecheck, etc.).

Maintain a healthy lifestyle, including a healthy diet, exercise and enough sleep to enhance your body's immune system.
Go for a walk outside, exercise independently or join an online exercise program.
Meditate and relax with an online yoga or meditation class.
Try something new or start a new project.
Check out all the fun programs and activities online with the Town of Caledon's Recreation Programs.
Visit the Caledon Public Library for a long list of monthly activities including book chats, online trivia and educational programs.
DISCLAIMER
This webpage contains links to other websites that are created and operated by independent bodies and are therefore, not under the control of The Corporation of the Town of Caledon (the "Town of Caledon"). Such external Internet addresses contain information created, published, maintained or otherwise posted by individuals, institutions, or organizations independent of the Town of Caledon. The Town of Caledon does not endorse, certify or control these external Internet addresses and does not guarantee the accuracy, completeness, efficiency, timeliness, or correct sequencing of information located at such addresses. Use of information obtained from such addresses is voluntary, and reliance on it should only be undertaken after an independent review of its accuracy, completeness, efficiency and timeliness. These website links are provided as a public service and do not imply the investigation or verification of the linked websites by the Town of Caledon. The Town of Caledon is not responsible, and makes no express or implied representations or warranties concerning the products, services or information found on the linked websites.