Adult 55
Keep up to date on local 55+ news by subscribing to our Age-Friendly Caledon monthly eNewsletter.
Age-Friendly Caledon

The Town of Caledon is committed to strengthening community connections for residents aged 55 and over. We have built an Age-Friendly Action Plan designed to help remove barriers that impact your ability to connect with the people, places and services that make Caledon a great place live.
Over the next decade, Caledon will have nearly 10,000 more older adult residents (age 55 and over) than we have today. To address this major demographic shift, the Town of Caledon is embarking upon this new community initiative to ensure that its support systems – programs, services and facilities – are fully ready to meet the needs of a growing and ageing population base.
Age-Friendly Caledon Action Plan
On May 18, 2021 Council approved the Age-Friendly Caledon Action Plan as a next step for the Caledon Community.
Our Vision for this plan is to help make Caledon a safe, welcoming, and inclusive community that celebrates the diverse needs of all residents, regardless of age.
Please find the Age-Friendly Caledon Action Plan (AODA) below.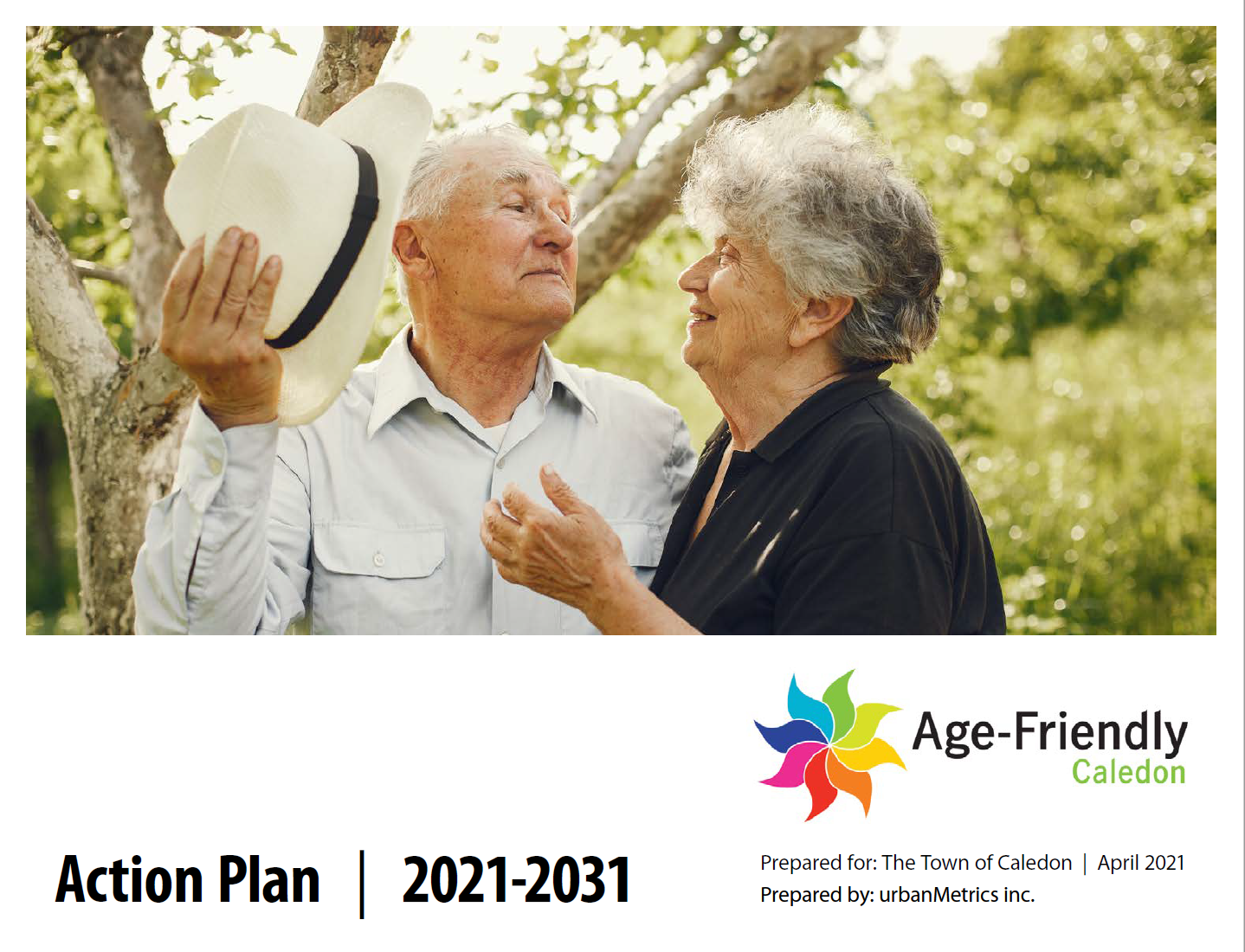 What is an Age-Friendly Community?
Age-Friendly Communities are supportive physical and social environments that enable older people to live active, safe and meaningful lives and continue to contribute in all areas of community life.
World Health Organization's Age-Friendly Dimensions
Age-Friendly Communities were developed by the World Health Organization (WHO) Global Age-Friendly Cities: A Guide to encourage active ageing by increasing opportunities for health, participation and security to enhance quality of life as people age.
According to WHO, eight dimensions of an Age-Friendly Community include:
Transportation
Housing
Outdoor Spaces and Buildings
Civic Participation and Employment
Social Participation
Respect and Social Inclusion
Communication and Information
Community Support and Health Services
Age-Friendly Ontario
Ontario's Finding The Right Fit: Age-Friendly Community Planning guide provides communities across the province with the tools required to implement the dimensions and key action items as outlined by the WHO.
Age-Friendly Communities are consistent with Ontario's Action Plan for Seniors. The plan, released in January of 2013, was informed by a report on how to promote better care and health outcomes for older Ontarians entitled Living Longer, Living Well and developed by Dr. Samir Sinha, Director of Geriatrics at Mount Sinai and the University Health Network hospitals and Expert Lead for Ontario's Seniors Strategy.
Adult 55+ Strategic Plan
The Adult 55+ Strategic Plan has been modified and incorporated into the Age-Friendly Caledon Action Plan's key action items and deliverables moving forward.
Seniors Task Force
As the Steering Committee for the Age-Friendly Caledon Action Plan, the Seniors Task Force will be representing older adult residents in Caledon to ensure that the action items developed reflect the needs of the community.
The Seniors Task Force is a committee of Council that is designated to assist with the implementation of the Adult 55+ Strategic plan and advises council on issues and services related to older adults in the community.
Age-Friendly Caledon Development
Beginning June 2020, the Town completed the development of the Age-Friendly Caledon (AFC) Action Plan development and completed the Action Plan in April 2021.
Below is documentation that supports and builds on the Age-Friendly Caledon Action Plan. If you would like to review the documents, please contact us for a copy.
Background Report
The AFC background report is a review of existing documentation, strategies and key notables that are influential to the building of the AFC Action Plan. This document was designed to help us understand where we have been as we decide where we need to go.
Survey
The AFC survey was conducted during the period of November 1 to December 1, 2020 to offer residents of Caledon the opportunity to provide their say in the development of the Age-Friendly Caledon Action Plan. The report provides a highlight of the comments and concerns provided during this time.
Public Engagement Sessions
On January 27 & 28 2021 Town Staff hosted public engagement sessions to provide an overview of the Age-Friendly Caledon Action Plan development and provide residents with the opportunity to ask questions and provide feedback.
Contact us to request a copy of the meeting recordings.
55+ Information and Resources
Caledon's population, like much of Ontario's, is ageing. Here at the Town we are committed to providing resources and services to our residents ensuring that you receive the support you need. If you are over the age of 55 and living in Caledon, you may qualify for a number of Programs and Services. Please also find a variety of information and resources below and on the Housing and Living page to support you in whatever your needs are.
If you have questions or don't know where to turn please contact us or one of the numbers below.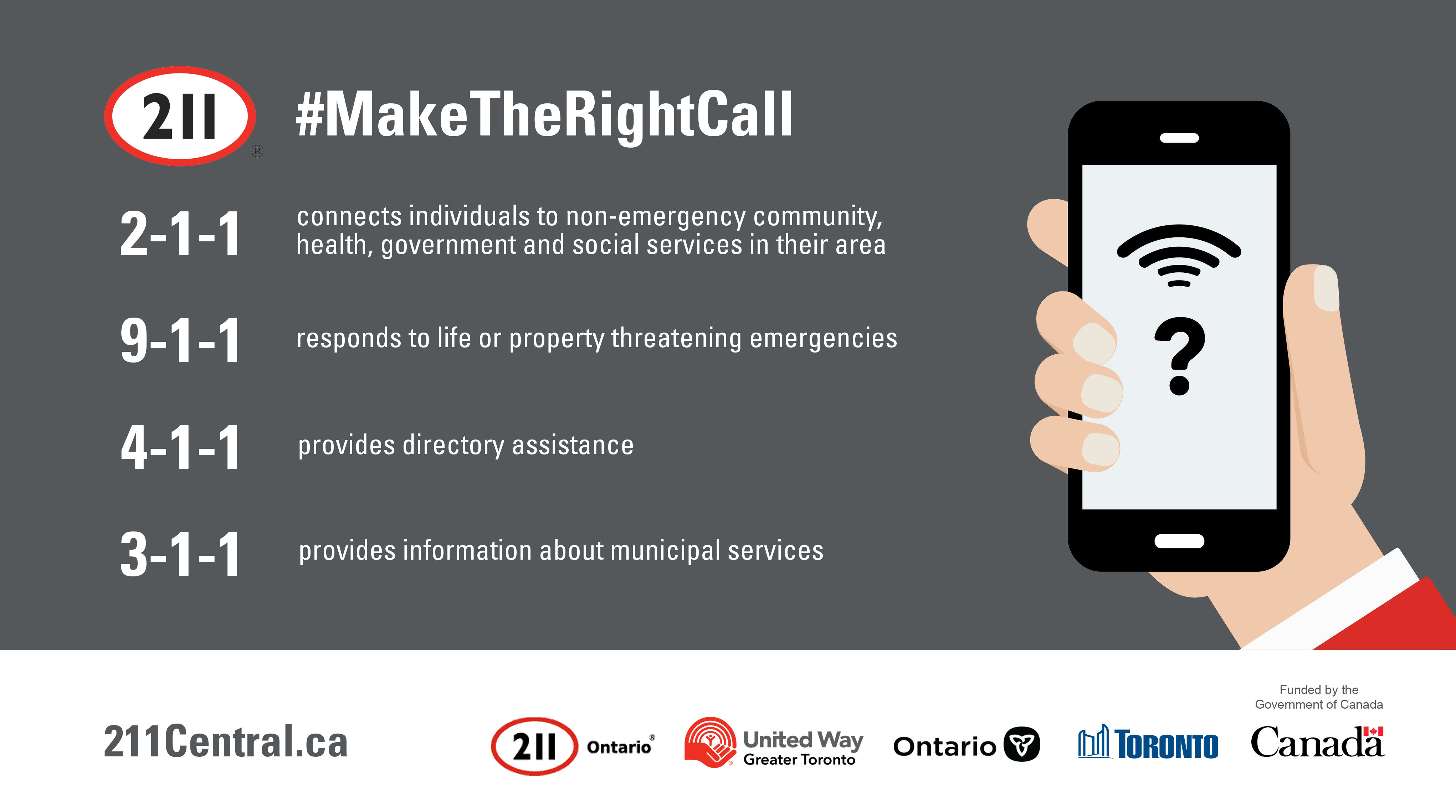 2.1.1 is available for public information and referrals to supports and resources in Caledon and Area. The service is available in 150 languages, 24/7. Just dial 2.1.1 from any telephone or go online to 211Ontario.ca.
COVID-19 Resources and Tips
There are many local supports and information available to help you during these hard times. If you are unsure about which organization or groups to contact, feel free to contact any one of them, they will be happy to connect you to a service provider to assist you.
General Resources
Food Supports
If you need help or support with obtaining food and groceries please contact one of the following services or groceries stores listed below.


Services
Caledon Meals on Wheels – Home delivery has increased, and additional services have been started to assist clients with essential needs. Regular check-ins and safety checks are also provided. NEW – WEE Care Grocery Program provides residents with weekly essential grocery deliveries. For more information Call 905-857-7651 or email info@cmow.org
Caledon Community Services - Operating food pickup services at The Exchange at 55 Healey Road in Bolton. Call 905-584-2300 (ext. 276) to make an appointment for Mondays, Wednesdays or Fridays.
Sai Dham Food Bank – Offering food delivery for low-income seniors over the age of 60. Call 905-956-2646 for more information.
Punjabi Community Health Services – Langar on wheels – Provides meals for South Asian seniors in Peel delivered to their home. Call 905-677-0889 for more information.
Door to Door and More Inc. – Offering shopping services (groceries, medication and other essentials) for older adult residents of Caledon every Thursday. Delivery is made to homes for no charge and payment is only for items purchased. Call or text Jane at 905-586-5868 for more information.
Local Grocery Stores
Health Supports
Headwaters Hospital – COVID-19 Assessment Centre located at Top of Parking Lot @ 140 Rolling Hills Drive, Open 9 a.m. - 5 p.m. 7 days a week, book an appointment online or call 1-833-442-2001. For general questions please call Peel Public Health at 905-799-7700, Caledon 905-584-2216.
Home and Community Care (CW LHIN) – Health care services and supports at home. Call 905-796-0040 for more information or Toll Free: 1-888-733-1177.
Hospices of Headwaters - During COVID-19, the Hospices of Headwaters (Hospice Dufferin, Bethell Hospice) are here to support the community and the service providers that work in it. Please see online for more information and resources.
Canadian Mental Health Association (CMHA Peel Dufferin) - Crisis, information and referral, assessment to community and mental health supports. Crisis Line 24 hours a day, 7 days a week 1-888-811-2222 or General Inquiries/Support 519-941-0465, Toll Free: 1-877-451-2123 Monday-Friday 8:30 a.m.-4:30 p.m.
Family Transition Place – Individuals and families struggling with gender-based violence; emergency shelter available located in Orangeville. 24 hours a day, 7 days a week, support call 519-941-HELP (4357) or 905-584-HELP (4357).
Services and Housing in the Province – Access, assessment, referral to mental health services and supportive housing. Call 519-215-2642 Monday - Friday 8:30 a.m. to 4:30 p.m.
Pharmacies – Many local pharmacies are providing delivery services and/or curb-side pickups – please contact your local pharmacy for more information and availability. Pharmasave – Bolton: 905-533-7700; Caledon East: 905-584-1010; Shoppers Drug Mart - Bolton: 905-857-1642; Rexall - Bolton: 905-857-3766.
Social Supports
Faith Supports
During this challenging time, you may find support from your place of worship or faith community. Many are offering live streaming of services, visit your local place of worship online to see what support and services they may be offering.
Tips for Staying in touch
Here are some great ways to celebrate a senior in your life during the COVID-19 Pandemic. Because no one should have to face this pandemic alone.
Socializing with a senior in your life from a distance
Call/video chat to say hello and check-in.
Get your COVID-19 Vaccination to help protect yourself and your loved ones. (Region of Peel - Book your COVID-19 Vaccine)
Have a physical distancing visit.
Send flowers or treats - they always bring cheer.
Offer to help/support/volunteer on your own or with a local service (Volunteer MBC)

Pick up supplies such as groceries, medication, essentials (t-paper, etc.).
Help with some outdoor work (garden/yard care).

Share your stories to #CaledonCares and encourage others to celebrate an older adult in their life.
Combating loneliness for isolated seniors
Stay connected

Video/phone chat with friends, family members or neighbours.
Participate in a Seniors Centre Without Walls program with the Caledon Seniors Centre.
Join a telephone visiting program (Friendly Visiting, Telecheck, etc.).

Maintain a healthy lifestyle, including a healthy diet, exercise and enough sleep to enhance your body's immune system.
Go for a walk outside, exercise independently or join an online exercise program.
Meditate and relax with an online yoga or meditation class.
Try something new or start a new project.
Check out all the fun programs and activities online at the Town of Caledon's Recreation Programs.
Visit the Caledon Public Library for a long list of monthly activities including book chats, online trivia and educational programs.
DISCLAIMER
This webpage contains links to other websites that are created and operated by independent bodies and are therefore, not under the control of The Corporation of the Town of Caledon (the "Town of Caledon"). Such external Internet addresses contain information created, published, maintained or otherwise posted by individuals, institutions, or organizations independent of the Town of Caledon. The Town of Caledon does not endorse, certify or control these external Internet addresses and does not guarantee the accuracy, completeness, efficiency, timeliness, or correct sequencing of information located at such addresses. Use of information obtained from such addresses is voluntary, and reliance on it should only be undertaken after an independent review of its accuracy, completeness, efficiency and timeliness. These website links are provided as a public service and do not imply the investigation or verification of the linked websites by the Town of Caledon. The Town of Caledon is not responsible, and makes no express or implied representations or warranties concerning the products, services or information found on the linked websites.