Celebrate Caledon
The Town of Caledon, in partnership with the Toronto and Region Conservation Authority, is excited to present Celebrate Caledon on July 1, 2022, at Albion Hills Conservation Area.
This free community event brings together the best of the beloved Caledon Day and TRCA's Caledon Canada Day events. Celebrate Caledon is here to provide an opportunity to celebrate as a community!
Join us from 2 to 10 p.m. on July 1 for family fun including kids activities, local vendors, musical acts, fireworks and more.
Headlining this year's Husky Main Stage will be the Juno nominated band Wide Mouth Mason, and feature local Caledon opening acts; Itchy Scratchy Showband and Vilivant.
FREE shuttle service available - check out the details listed below!
Like previous years, Caledon Community Services will be hosting Vélocity, their annual cycling event based out of Town Hall. Vélocity helps raise valuable funds to help Caledon Seniors enjoy a fulfilled and engaged lifestyle. To register or donate visit ccsvelocity.ca.
Husky Main Stage Performances
An action-packed lineup for all ages throughout the day.
Schedule of Events

| Time | Event |
| --- | --- |
| 2:00 - 3:00 p.m. | Music/Family Zumba |
| 3:30 - 4:30 p.m. | |
| 5:00 - 6:15 p.m. | |
| 6:15 - 6:30 p.m. | Mayor's Welcome |
| 7:00 - 8:00 p.m. | |
| 8:30 - 10:00 p.m. | |
| 10:00 p.m. | Fireworks Celebration |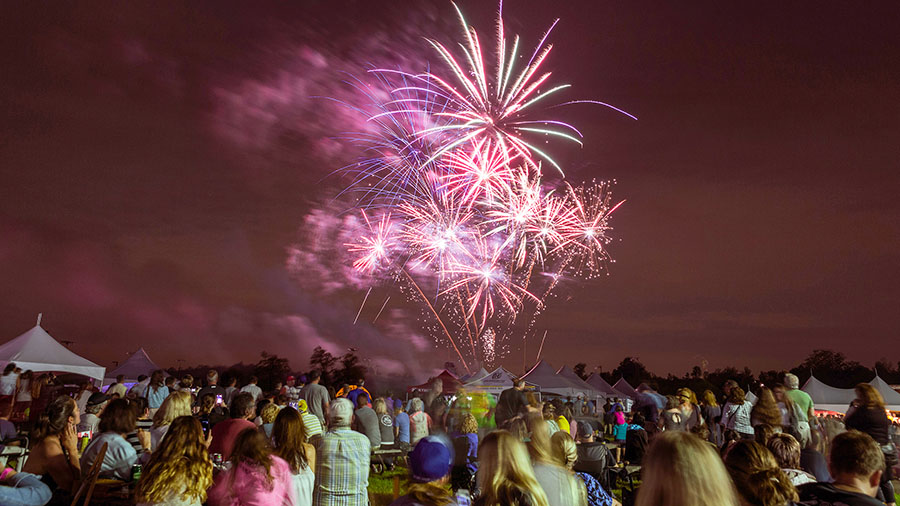 Transportation (Shuttle, Bike, Parking)
Celebrate Caledon in the greenest way you can. Whether you bike, take the free shuttle or carpool, the Town encourages you to consider the environment when choosing how you arrive.
Free Shuttle Service
Bus 1*
Picking up at the Caledon Centre for Recreation and Wellness, 14111 Hwy 50, Bolton, ON
Dropping off at Albion Hills Conservation Area, 165000 Highway 50, Bolton, ON
Bus 2*
Picking up at Caledon Town Hall, 6311 Old Church Road, Caledon East, ON
Dropping off at Albion Hills Conservation Area, 165000 Hwy 50, Bolton, ON
*Leaving the Caledon Centre for Recreation and Wellness every 30 mins on the hour and half hour from 2:00 p.m. until 11:30 p.m.
Leave the car and take your bike!
For those wishing to bike to the event, a bike valet is available at no cost. The event site is easily accessible using the Caledon Trailway.
Parking
There are multiple parking lots within the campground, the parking lot closest to the event location is the pool/Valleyview parking lot. Cedar Grove parking is also quite close to the event area.
Youth Zone presented by Canadian Tire
Come celebrate all things Caledon with fun activities for kids all day long. Enjoy garden games, mini camp games, or other arts and crafts with the Caledon Recreation team.
Hop on the Artsploration Art Bus for a unique, fun and memorable experience, or get up and active with the X Movement energizers who will bring physical activity, mindfulness and social-emotional learning in an experiential learning journey. Don't miss out on balloon twisting, airbrush tattoos and face painting.
Toronto Region Conservation Authority will be doing hay wagon rides throughout the park. Experience the natural environment while being toured through the park.
Listen to Celebrate Caledon on 102.7 Moose FM!
Meet the new 102.7 Moose FM team! Bolton's very own radio station will be broadcasting from their mobile station on-site at Celebrate Caledon all day long. Moose FM's Jocelyn will be hosting and bringing the hits!
Food, drinks and more
The whole family can enjoy a variety of arts and crafts, musical acts, local vendors, food and drink. Celebrate Caledon alongside local vendors like Caledon Hills Brewing Company and The Wine Spot.
What to Expect
Items to consider for a great day outside:
Refillable water bottle - refill stations will be clearly marked
Blanket or chairs - picnic tables will be limited
Proper sun and outdoor protection - sunscreen, hat, bug spray, etc.
Bathing suits for the TRCA pool
Picnic lunch or grab some food from the local food vendors
Local vendors will be selling beer and wine in the licensed event area. Outside alcohol is not permitted.
Event Sponsorship
Interested event sponsors can connect with us at sponsorship@caledon.ca for more information on sponsorship opportunities.
Vendor Application
The Town of Caledon is requesting submissions from groups or individuals interested in acting as a vendor, food truck or service provider at Celebrate Caledon on July 1, 2022.