Aquatics
Browse and register for a program
Drop-in Swimming
The Town of Caledon offers a variety of drop-in swims including:
Adapted swim
Aquafit
Fitness swim
Parent and Child swim
Public swim
Therapeutic time
All drop-in programs are on a walk-in, first come first-serve basis. It's as simple as swiping your membership card at the scanning station or paying for your single visit in-person.

Check-in times:
- Active members can check into a scheduled activity 30 minutes in advance of the start time.
- 10 x Pass holders, or those paying for their drop-in visit in-person can check into a scheduled activity 15 minutes in advance of the start time.
Admission Standards apply to all drop-in swims.
Admission Standards
Age
Parent/Guardian Supervision
Ratio

Under

5 years

Regardless of swimming ability *Accompanied

2:1
6 - 9 years
Unable to pass facility swim test *Accompanied

2:1

(4:1 If all children are in lifejackets)

6 - 9 years
Able to pass facility swim test
Must be accompanied by a parent/guardian at least fourteen (14) years of age that maintains visual contact and remains within the pool viewing area at all times.
10+ years
Regardless of swimming ability
Parent/Guardian supervision not required.
*Accompanied: Must be directly supervised by a parent/guardian at least fourteen (14) years of age, who is in the water wearing bathing attire, within arms' reach, and able to render immediate assistance.
Facility Swim Test
To successfully pass the facility swim test individuals must:
Swim on their front for 15 metres with the ability to put their face in the water and take at least one (1) breath without putting their feet on the bottom of the pool.
Tread water for one (1) minute.
The swim Admission Standards apply to all drop-in swims. Aquatics staff may ask for a demonstration of swimming ability if they feel there is a question of safety.
Swimming Lessons
Swimming lesson are available at all pool locations!
Lessons will be offered once weekly and twice weekly for select days and times. Offerings vary by facility.
Swim Assessment
Participating in the appropriate level is critical to each swimmer's social and physical development.

During this time slot, a swim instructor will spend 5 minutes with each swimmer and will then advise the appropriate level to register for.
FREE Aquatic Leadership Courses
When you are ready for the next step in your aquatic development we offer a variety of leadership programs to help you reach your full potential.
The Town of Caledon is piloting free aquatic leadership courses for eager, prospective swim instructors and lifeguards.
Aquatics staff shortage is an issue faced by many municipalities across Canada, so in an effort to make lifeguard opportunities more accessible and improve the availability of aquatic services, the Town of Caledon will cover the cost of the course and certification fees through to the end of 2023.
Free courses include:
Bronze Medallion and Emergency First Aid with CPR B
Bronze Cross and Standard First Aid with CPR C
Lifesaving Society Swim, Lifesaving Instructors
Lifesaving Society National Lifeguard (Pool Option)
You can now register online or in person at no cost. Registrants will only be responsible for purchasing the course material (such as course books).
Questions?
Email: recreation@caledon.ca
View our leadership and training opportunities and register today!
Leadership Course Flow Chart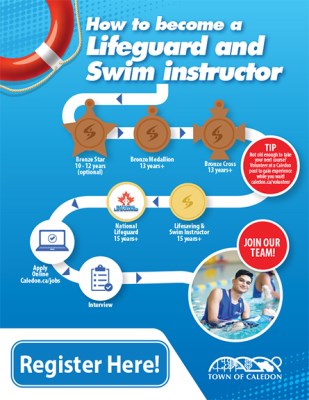 (Click to view a larger version)

Are you a qualified Instructor or Lifeguard? View our current job opportunities.
Pool Equipment
Lifejackets, flutter boards, and floatation belts, and other select equipment will be available for use.
Lifeguards reserve the right to prohibit any items that may present a safety concern.
Ward 1 Swimming Reimbursement Program
Residents of Ward 1 can be reimbursed the non-resident cost of swimming lessons in Orangeville.
Ward 1 residents may apply once a year for the difference between the Town of Orangeville's Non-Resident rate and the comparable Town of Caledon Resident Rate per program.
Residents must complete a Swim Program Reimbursement Application and submit by email to the recreation@caledon.ca before December 1. Contact us for a copy of the Swim Program Reimbursement Application form.
Original receipts must be attached to the form for each program taken in Orangeville.
Registration
All programs require pre-registration. All registrations must be completed online or by calling 905-584-2272 x.7327.
Withdrawals
Registered program withdrawals
Should you wish to fully withdraw from your registered program, please send your request to recreation@caledon.ca.
Alternatively, please contact Recreation Customer Service at 905-584-2272 x.7327 and we will be happy to assist.