Recreation Programs
Due to the latest Provincial announcement on April 16, all outdoor recreational amenities such as tennis courts, soccer fields, basketball courts etc. will be closed as of Saturday April 17, 12:01am. Recreation Centres remain closed. All in-person programs and rentals suspended until further notice. Virtual programs are available.
Stay connected with our new virtual programs
There are many opportunities for you to be active, learn new skills and explore your abilities from the comfort of your own home. Check out programs and activities, or view the list below.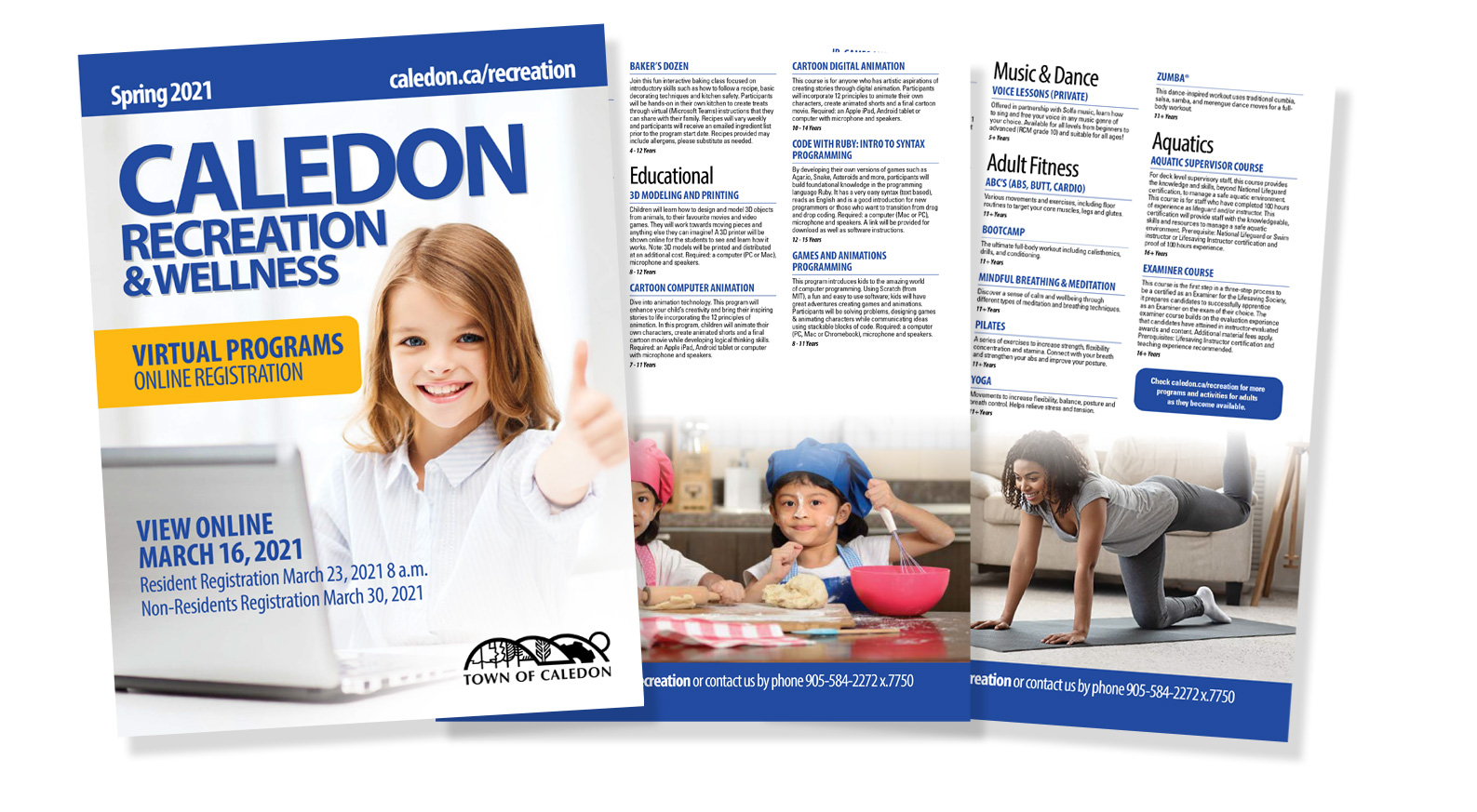 Spring registration is now open!
Aquatics - Virtual
Aquatic Supervisor Course
For deck level supervisory staff, this course provides the knowledge and skills, beyond National Lifeguard certification, to manage a safe aquatic environment. This course is for staff who have completed 100 hours of experience as lifeguard and/or instructor.
Prerequisites: National Lifeguard or Swim instructor or Lifesaving Instructor certification and proof of 100 hours experience.
Saturdays: 10am - Noon (May 29 - Jun 12)
Examiner Course
This course is the first step in a three-step process to be a certified as an Examiner for the Lifesaving Society, it prepares candidates to successfully apprentice as an Examiner on the exam of their choice. The examiner course builds on the evaluation experience that candidates have attained in instructor-evaluated awards and content. Additional material fees apply.
Prerequisites: Lifesaving Instructor certification and teaching experience recommended.
Thursdays: 6 - 8pm (May 20 - Jun 10)
Camp Update
Registration for 2021 Summer Camps will take place later than usual this year. Please continue to check this page for summer camp updates.
Fitness & Personal Training - Virtual
Fitness Classes - Virtual
Various movements and exercises, including floor routines to target your core muscles, legs and glutes.
Thursdays: 7 - 8pm (May 20 - June 3)
The ultimate full-body workout including calisthenics, drills, and conditioning.
Saturdays: 9 - 10am (May 22 - June 5)
A series of exercises to increase strength, flexibility concentration, and stamina. Connect with your breath as you strengthen your abs and improve your posture.
Wednesdays: 7 - 8pm (May 19 - June 2)
Movements to increase flexibility, balance, posture and breath control. Helps relieve stress and tension.
Mondays: 7 – 8pm (May 17 - June 7)
This dance-inspired workout uses traditional cumbia, salsa, samba and merengue dance moves for a full body workout.
Tuesdays: 6 - 7pm (May 18 - June 1)
Important Information for Virtual Fitness
Have a clear area within your home for movement that is free of tripping hazards
Wear comfortable clothing and athletic footwear
Keep a water bottle close by
Have a phone close by in case of emergency
For floor work use a non-slip mat or towel
Physical fitness activities are unique experiences to everyone. It is important that you are aware of your fitness, health status and skill level before beginning an exercise program. If you are concerned about whether the exercises in this program are right for you, please consult your health care provider prior to beginning the program.
Celebrate June is Recreation Month
In conjunction with ParticipACTION Canada, Community Better Challenge , the Town of Caledon Recreation
Department are offering 'free' virtual events to encourage physical activity.
Log your activities from June 1 to June 30, 2021 and let's show Canada how fit we are in Caledon.
Please continue to check this page for more classes and information on the Community Challenge and to register.
Cycle Virtually
Low impact cardio workout for all levels to strengthen your heart, lungs, and legs. High-energy exercises that include climbs, sprints, and flat roads. Any indoor stationary bike is suitable for this workout.
Thursday June 3 at 7:00-8:00pm
Zumba 55+
High energy, dance, cardio, and fitness workout to improve strength, flexibility, and balance. Easy to follow routines that will get you moving and having fun.
Monday June 14 at 9:30 – 10:30am
Stretch and Strength for Runners – June 15 – 6:30-7:30pm
Learn pre and post-running stretches to stay strong and injury-free. Great for any level of runner.
Yoga – June 21 – 12:00 to 1:00pm
Movements to increase flexibility, balance, posture and breath control. Helps relieve stress and tension.
Family Zumba – June 19 – 10:00 – 11:00am
Get active together while having fun together. All fitness levels can follow these fun and easy routines.
Sit & Get Fit – June 29 9:30 – 9:30am
Low intensity, seated exercises that will help to improve flexibility, muscular strength, coordination skills, and balance.
Personal Training - Virtual
Achieve your 2021 fitness goals with Virtual Personal Training.
A certified personal trainer can help:
Design a home program that is specific to your current fitness level, needs and goals

Achieve success through consistent workouts

Improve body composition and overall health

Improve daily activities with ease
Training sessions will include, assessment and exercises you can do with limited to no equipment. Having a trainer will provide a progressive plan, exercise direction and correction, plus the motivation we all need to keep active and committed.
Purchase three 45-minute sessions for $100.00 before May 31, 2021.
All registrations must be completed online  or by calling (905) 584-2272 ext. 7327.
If you have additional questions please contact recreation@caledon.ca or call 905-584-2272 x 7750
Corporate Fitness Classes
Bring colleagues together through virtual fitness. Have fun, improve health and wellness in the workplace. Contact us to discuss options for a certified fitness instructor led class.
To schedule a virtual class please contact recreation@caledon.ca or call 905-584-2272 x 7750
General Interest Programs - Virtual
Arts & Crafts
Intro to Art
Do you have a budding artist in the family? This multi-media introductory art program will expose participants to various fine art techniques such as drawing with pencil, painting with acrylics and so much more! All materials will be provided.
Session B: Fridays: 4:30-5:30pm (May 28 - Jun 25)
Paint Night
Spend a fun evening indulging your artistic side through a guided acrylic painting experience; all skill levels welcome! Paints and canvas are provided with the purchase of an Art Kit.
Upcoming classes:
Cooking & Baking Programs
Baker's Dozen
Join this virtual class focused on introductory baking skills. Participants will be hands-on in their own kitchen as they create a different treat each week.
Upcoming classes:
Apr 17 - Chocolate Cherry Blossom Cookies
May 1 - Lemon Meltaway Cookies
May 15 - Chocolate Chip Cookie Pizza
Jr. Chef
Join this fun interactive cooking class focused on introductory skills such as how to follow a recipe, basic cooking skills and kitchen safety. Participants will prepare a different meal each week to share with the whole family.
Upcoming classes:
Apr 27 - Beef and Corn Chimichanga with Queso and Chopped Salad
May 11 - Jamaican Beef Patties with Creamy Coleslaw Salad
May 25 - Bacon Mac and Cheese with Homemade Cornbread Muffins
Educational
These virtual courses are offered as video conference in partnership with Kids' Great Minds with an instructor providing the live lessons. Technical requirements apply and are indicated in each program's registration page.
3D Modeling and Printing
Children will learn how to design and model 3D objects from animals, to their favourite movies and video games. They will work towards moving pieces and anything else they can imagine! A 3D printer will be shown online for the students to see and learn how it works.
Saturdays: 10:35am - 12:05pm (Apr 17 - May 29)
Cartoon Computer Animation
Dive into STEAM with animation technology. This program will enhance your child's creativity and bring their inspiring stories to life incorporating the 12 principles of animation. In this program, children will animate their own characters, create animated shorts and a final cartoon movie while developing logical thinking skills.
Tuesdays: 5 - 6pm (Apr 20 - May 25)
Cartoon Digital Animation
This course is for anyone who has artistic aspirations of creating stories through digital animation. Participants will incorporate the 12 principles of animation to animate their own characters, create animated shorts and a final cartoon movie.
Tuesdays: 7:40pm - 8:00pm (Apr 20 - May 25)
Code with Ruby: Intro to Syntax Programming
Through programming their versions of Agar.io, Snake, Asteroids and more, participants will build foundational knowledge for written programming languages. Ruby has very easy syntax (text based), reads as English and is a good introduction for new programmers or those who want to transition from drag and drop coding.
Saturdays: 12:10 - 1:40pm (Apr 17 - May 29)
Games and Animations Programming
This program introduces kids to the amazing world of computer programming. Using Scratch (from MIT), a fun and easy to use multimedia software; kids will have great adventures creating games and animations. Participants will be solving problems, designing games & animating characters while communicating ideas using stackable blocks of code.
Tuesdays: 6:05 - 7:35pm (Apr 20 - May 25)
Jr. Games & Animations Programming - Family
Young children will learn beginner coding, allowing them to make their own characters come to life by programming them to move, jump, dance, sing and so much more. Children will learn problem solving, numeracy and literacy while still having fun!
Saturdays: 9:30 - 10:30am (Apr 17 - May 29)
Outdoor Programs
Outdoor programming to resume when Peel Region returns to the Provincial re-opening framework.
How to register
All programs require pre-registration. All registrations must be completed online or by calling (905) 584-2272 ext. 7750.
Virtual programs will be offered through Microsoft Teams. Log in details will be sent the day before online classes.