Major Projects
Learn more about some Town projects that are currently underway, along with recently completed work.
Caledon East Community Complex - Renovation and Expansion
Renovation
Construction is underway to the Caledon East Community Complex to modernize the upper and lower levels of the complex, improve mechanical and electrical components and renovate space for EarlyON to expand programming.
Expansion
The design process is anticipated to be underway fall of 2020. The amenities to be included are:
A new full service fitness centre
A warm viewing area to the arena
Accessible access to the existing viewing area of pad two
A multi-purpose gymnasium
An integrated walking track
An aerobics studio
A dedicated youth/seniors space
A dedicated sports hall of fame, and
Administrative space for staff and affiliate groups
Library
Swimming pool
The above noted amenities listed are in accordance with recommendations made within the Facility Needs Assessment Study conducted in 2017.
Fire Training Facility
Construction of Phase 1 of the Caledon Fire and Emergency Services' new multidisciplinary training facility began July 1, 2019 with basic site preparation and pouring of the concrete foundation of the main fire training structure. The approved budget for Phase 1 is $1.3 million and is expected to be completed by Summer 2020.
Frequently Asked Questions (FAQ)
How will the training facility increase firefighter safety?
With properly designed and constructed to National Fire Protection Association and Ontario Building Code requirements, the new training facility and equipment will replace the existing "ad hoc" training at other municipalities' training facilities.

We will be able to create standard and well-planned training modules in a dynamic, realistic and safe environment. This will provide our firefighters with the necessary training and development.
How noisy will the training facility be?
Fire trucks will not use their sirens at the training facility. Truck engines, small motor engines (e.g. pumps and chainsaws) would be used at the training facility, none of which create considerable noise pollution when used on their own.
How will the new facility does it affect me, my kids, and my property value?
The fire training facility is designed to blend in with the agricultural heritage of Caledon and will utilize current local planting, trees and bushes as an extension of the natural scenery.
Inglewood Community Centre
The Inglewood Community Centre will be expanded to accommodate child care and early years programs. The proposed expansion involves the design and construction of an addition to the existing building to create approximately 5,000 sq.ft. of space. Along with supporting amenities, the addition will include:
Licensed child care spaces for 24 preschool and 15 toddler-aged children
EarlyON centre for approximately 30 parents, caregivers, children and staff. EarlyON centres offer free, high-quality drop-in programs for families with children ages birth to 6 years old.
This will support our growing community as we create greater access to inclusive, quality licensed child care and early years programs. Access to the facility will be maintained during renovations, although the playground equipment will be removed during construction.
Construction is expected to begin in mid-2020 and will typically take place from 7 a.m. - 7 p.m., Monday to Friday, and after hours/weekends as required.
Southfields Community Centre
The facility is now open. Read the full release.
The new 65,000 square foot community centre is located on the southeast corner of Kennedy Road and Dougall Avenue, located opposite a retail plaza. Residents will be able to enjoy the variety of amenities in the building such as:
The town's first two-tank swimming pool
Fitness centre and aerobics studio
Multi-purpose space
Youth and senior's dedicated rooms
Community hub space for Bright Scholars Montessori Caledon, Punjabi Community Health Services, Caledon Public Library, OPP, Caledon Community Services and Caledon Parent-Child Centre/EarlyON Centre
A Groundbreaking Ceremony took place at the site of the recreation centre in September 2017, with some of our Councillors, Mayor Allan Thompson and special dignitaries all in attendance. Community members were able to hear about the vision for the new community centre in Southfields and connect personally with invited guests. You can see some photos of the event here: Southfields Ground Breaking.
Sneak peak
Virtual tour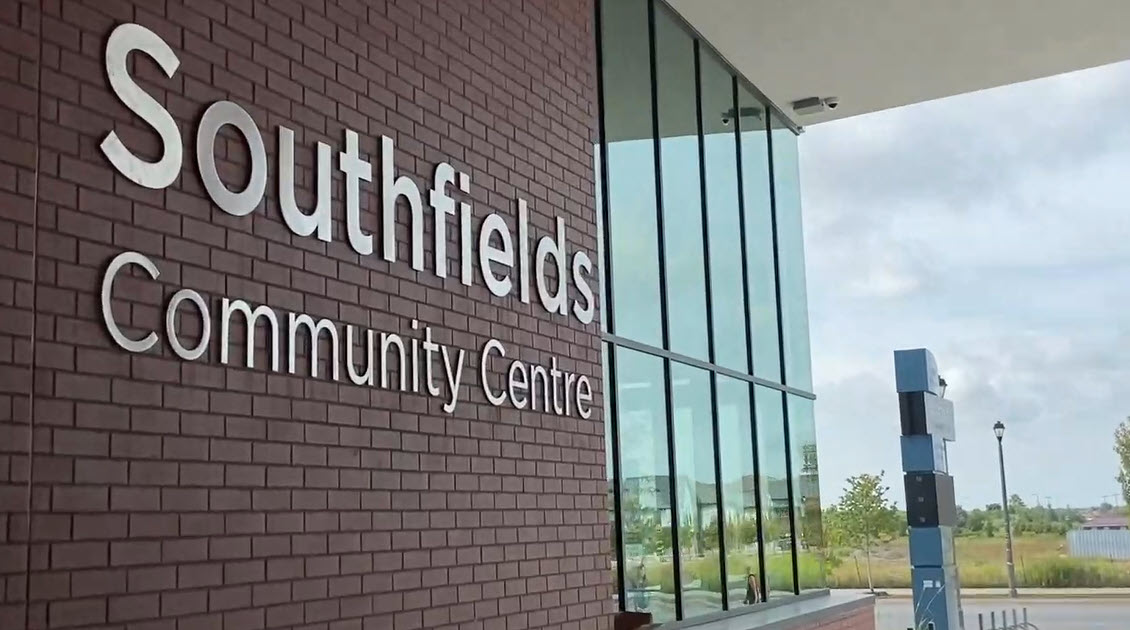 Ribbon-cutting Event
Photo Gallery: Southfields Ribbon Cutting will appear here on the public site.