Caledon implements revised COVID-19 public health restrictions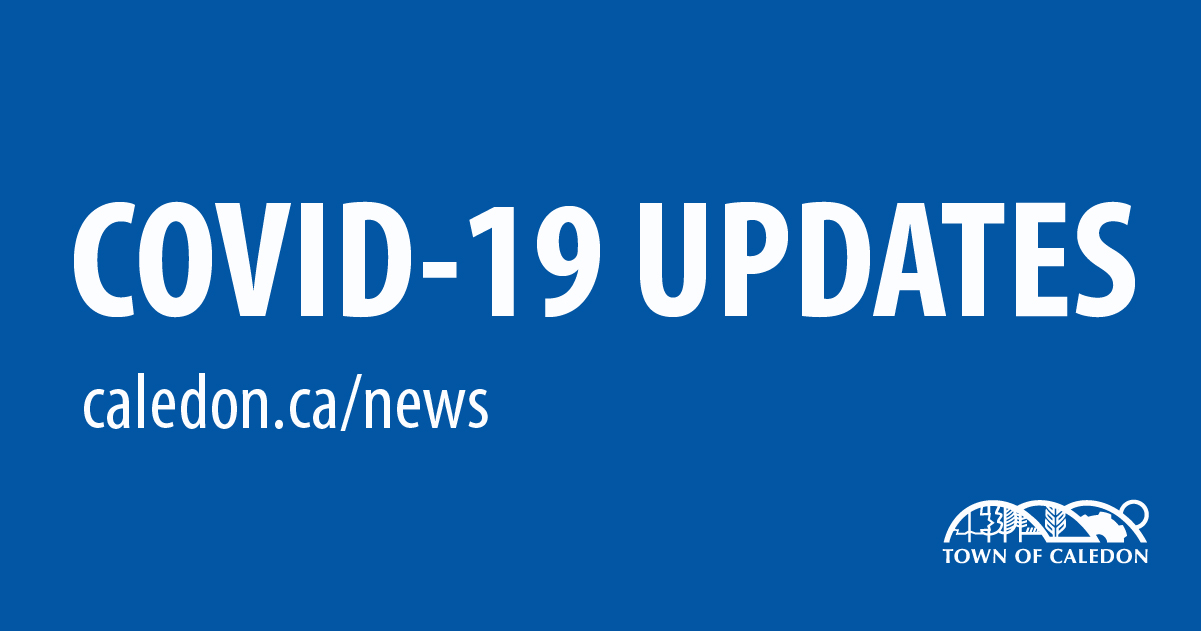 November 21, 2020 -- In response to the November 20 announcement by the Province of Ontario, the Town of Caledon is taking action to implement revised Region of Peel Public Health COVID-19 restrictions.
Effective Monday, November 23 at 12:01 a.m. Caledon, as part of the Region of Peel, is moving into "Lockdown" (Grey) level.
"As Dr. Loh has pointed out, the numbers in Caledon are going in the wrong direction," said Mayor Allan Thompson. "This is not just a Brampton or Mississauga issue. We have to do a better job to protect our loved ones here in Caledon. Please, everyone, with the holidays fast approaching, let's do our part NOW to stop the spread."
Among the changes in the Lockdown phase, schools and child care will remain open, as well as essential services, but gyms and recreation centres will close, indoor dining will stop and places of worship will be limited to 10 people.
For more details please visit peelregion.ca/coronavirus.
BUSINESS
Now more than ever it is important to safely support local businesses. The Town recently launched its #LoveLocalCaledon campaign to encourage residents to shop locally.
"As the Premier has said, if you can spend your dollar locally, now is the time to do so," the Mayor said. "Order online, get take-out or home delivery, shop locally where it's allowed...we can still show our support for #LoveLocalCaledon."
Local businesses can order a free #LoveLocalCaledon promotional kit at caledon.ca/business.
They are also encouraged to apply for funding to help recover COVID-19 costs for personal protective equipment (PPE) or for rebates to help with fixed costs such as property tax or energy bills.
For more information visit ontario.ca/covidsupport.
RECREATION
Recreation centres will be closed, which means the cancellation of all drop-in activities, programs, and rentals. For more information visit caledon.ca/recreation or call Service Caledon at 905-584-2272 x. 7750.
LIBRARY
The Caledon Public Library is closed on Monday, November 23, 2020. For updates regarding access, hours of operation and other information, visit caledon.library.on.ca.
Please note: Town Hall is open by appointment only. To book an appointment, please visit caledon.ca/appointment.
MORE INFORMATION
For news and information about the Town of Caledon's COVID-19 response, visit caledon.ca/coronavirus.
Follow us
Follow @Your Caledon on Twitter, Facebook or Instagram.
Get news to your inbox
Subscribe to our newsletter.
Questions?
Call Service Caledon at 905-584-2272 x. 7750 or email info@caledon.ca.
- 30 –
Media Contact:
Catherine McLean
Director, Customer Service and Communications
905.584.2272 x. 4146 | catherine.mclean@caledon.ca