Town of Caledon designated first Pet-Friendly Municipality of 2023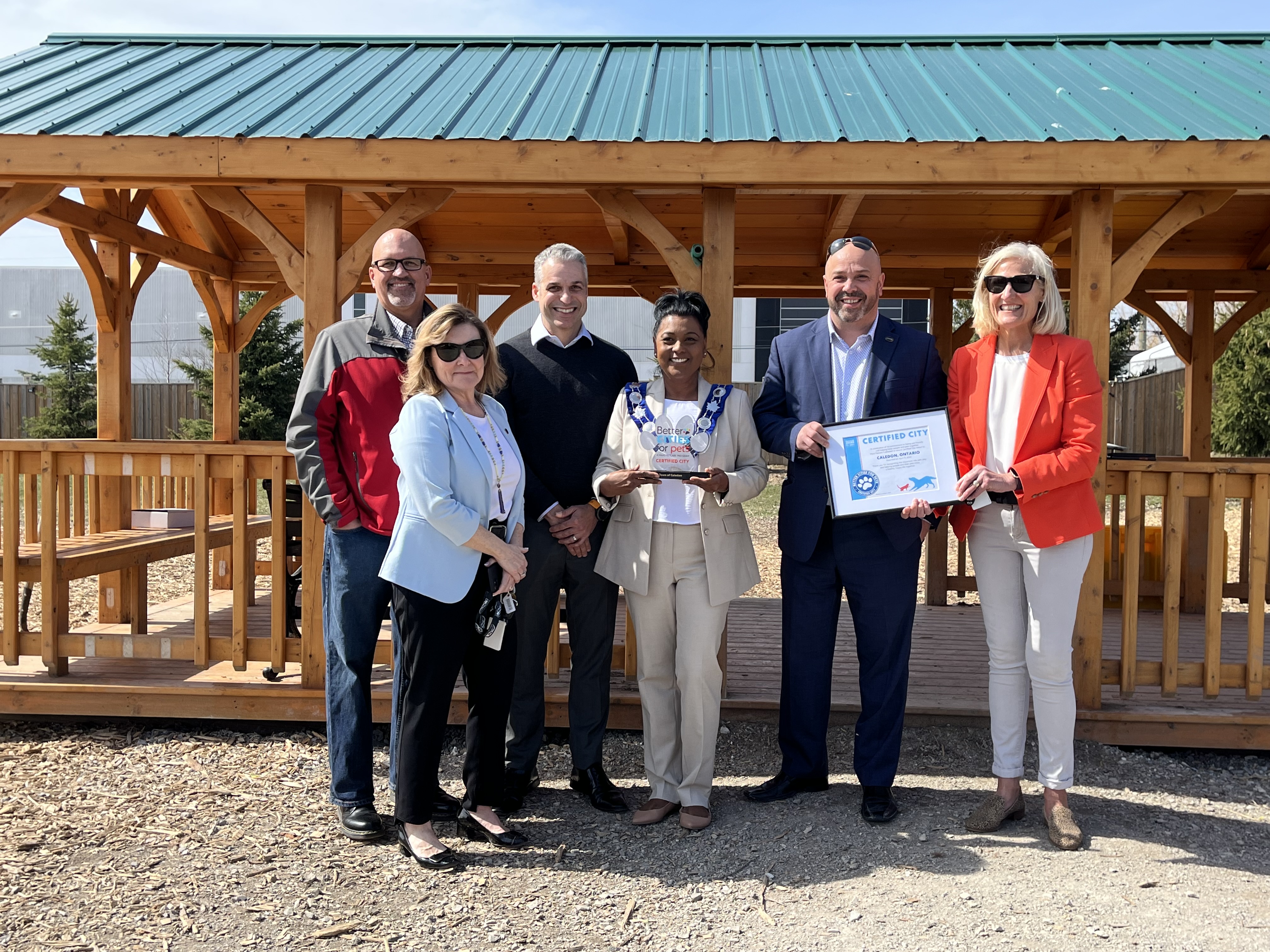 CALEDON, ON (April 11, 2023) – Today, on National Pet Day, the Town of Caledon was recognized as a pet-friendly municipality by Better Cities for Pets™ - a Mars Pet Nutrition Canada program. Caledon is the first municipality to receive this prestigious certification in 2023.
The Better Cities for Pets™ certification is awarded to communities committed to creating a pet-friendly environment. Applicants are certified by meeting 12 criteria across four categories: businesses, parks, homes and shelters. Successful applicants demonstrate a commitment to fostering the well-being of citizens and their pet companions.
With the number of household pets in Canada increasing, Caledon is dedicated to creating a welcoming community where all pets can thrive. "We are honoured to be the first Canadian location in 2023 to receive this certification and are proud of what is means for Caledon's four-legged residents," said Mayor Annette Groves. "This is a positive reflection of Caledon's pet-friendly features which include an array of pet amenities and pet-friendly parks and businesses."
Together with Mars Petcare, the Town will evaluate 12 areas to improve the lives of animals including ending pet homelessness, encouraging adoption and implementing supports to keep pets in homes.
"We established the Better Cities for Pets certification to celebrate cities that are creating positive and welcoming environments for people and their pets, and encourage more cities to recognize the benefit of four-legged friends," said Daniel Calderoni, General Manager, Mars Pet Nutrition Canada. "We look forward to continuing to support cities as we work toward our purpose: A Better World For Pets."
"This recognition is very meaningful to the staff at Caledon Animal Services," said Brenda Dermott, Supervisor of Caledon Animal Services. "As a team, we help keep pets safe and healthy by promoting responsible pet ownership through our many programs and services."
Mayor Annette Groves was accompanied by Members of Council, representatives from Mars Canada and their furry friends earlier today at the Caledon Animal Shelter to celebrate this designation.
To consult a list of pet-friendly businesses in Caledon, visit caledonbusiness.ca.
The full list of Better Cities for Pets is available here: bettercitiesforpets.com/certified-cities.
To learn more about the Better Cities for Pets initiative, please visit bettercitiesforpets.com.
To learn more about Caledon's animal services, please visit Caledon.ca/animalservices.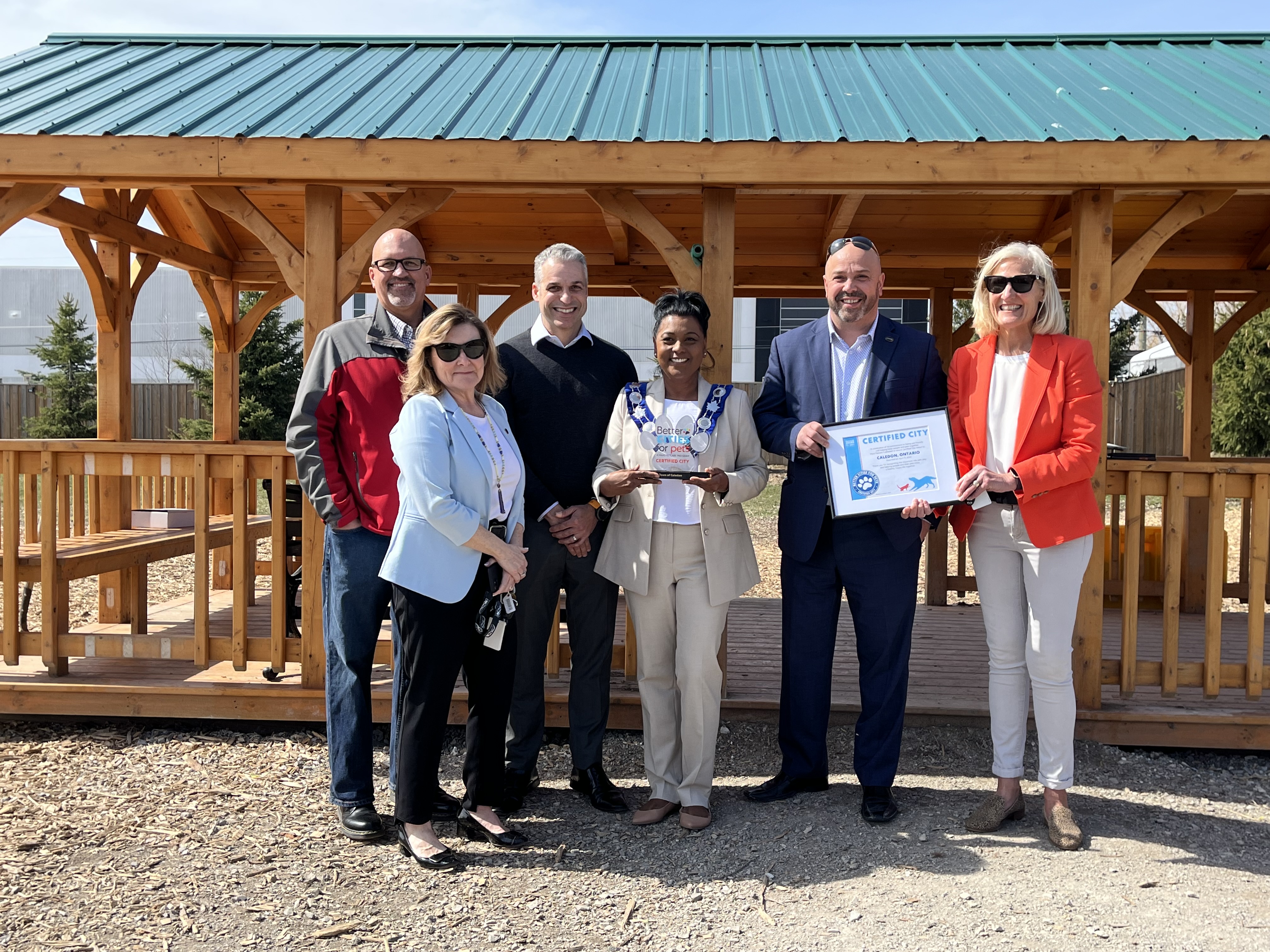 From left to right: Councillor Dave Sheen, Councillor Lynn Kiernan, Daniel Calderoni (General Manager, Mars Pet Nutrition Canada), Mayor Annette Groves, Councillor Mario Russo, Councillor Christina Early.