Grand Opening: Quesada Burritos and Tacos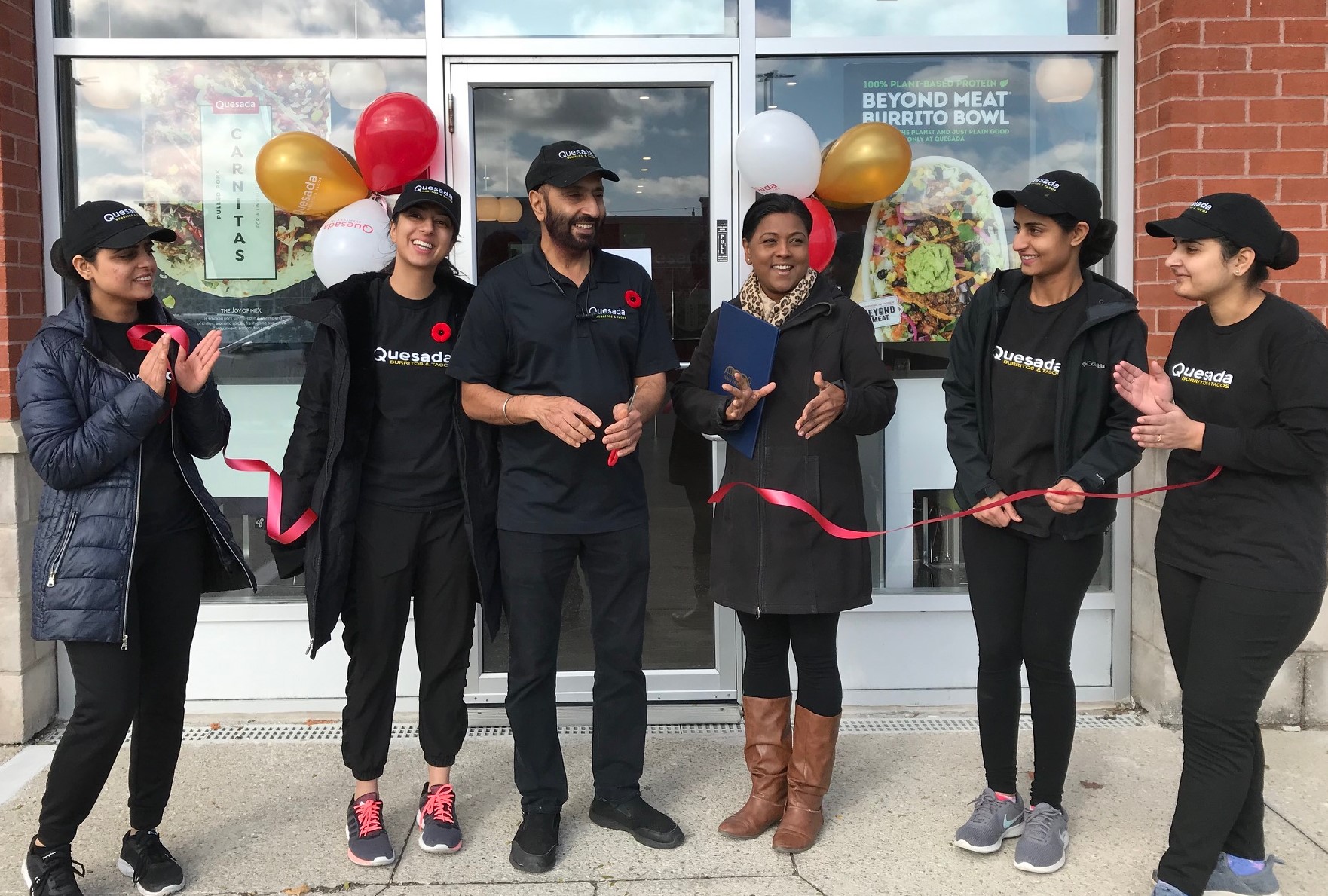 On November 8 the Team at Quesada Burritos and Tacos in Bolton, cut the ribbon on their newest location, we asked co-owner Sukhdeep Romana to tell us about their business and why they chose to locate in Caledon.
Tell us about your business.
Quesada Burritos and Tacos is a Canadian franchise serving fresh Mexican fast food. Operating this franchise and another two locations is our family business and we have 4 employees at this location.
Our menu has burritos, quesadillas, tacos and salads. We serve our food with a choice of fresh toppings like vegetables, house made salsas and hand mashed guacamole.
We cook fresh rice and beans every day in our kitchen.
How and/or why did you get into the business?
We are 2 partners, we have lived in Brampton for last 23 years. We got inspired by Chipotle's fresh low-calorie food in the U.S. seven years ago. We did our research to find the same kind of food in Canada and found out about Quesada.
We opened our first location in Brampton six years ago, second location in Mississauga three years ago and third location in Bolton this year. We are doing very well and were excited to win the 2018 franchisee of the year award.
Why are you locating your business in Caledon?
Our Brampton location is close to Caledon and there was no burrito restaurant in Caledon at that time. Some of our customers from Caledon encouraged us to open one in here. We trust our food quality and customer service and knew it would do well so decided to open our third location in Caledon.
What is your favourite item on the menu and why?
My favourite item on the menu is burrito bowls with fresh vegetables, meat, house made salsas and hand mashed guacamole, it's a healthy meal with low calories.
What is the best advice you would give to a new business owner or what is the best business advice you ever received?
If someone is interested in owning a franchise, I would advise a new business owner to enquire about the overall franchise business and food quality first, then the location and the community in the surrounding area.
We got advice from another business owner to always have commercial as well as residential area around a restaurant business, which has worked out for us.
Quesada Burritos and Tacos is located at 40 McEwan Drive East, Bolton | https://quesada.ca/ | 905-857-5660