Council Highlights (July 19, 2022)
Council Highlights is a summary of major discussion items presented at Council meetings - circulated immediately following each meeting. You are encouraged to quote from and/or copy this information. Please refer to the minutes at caledon.ca/agenda for an official record of the meeting.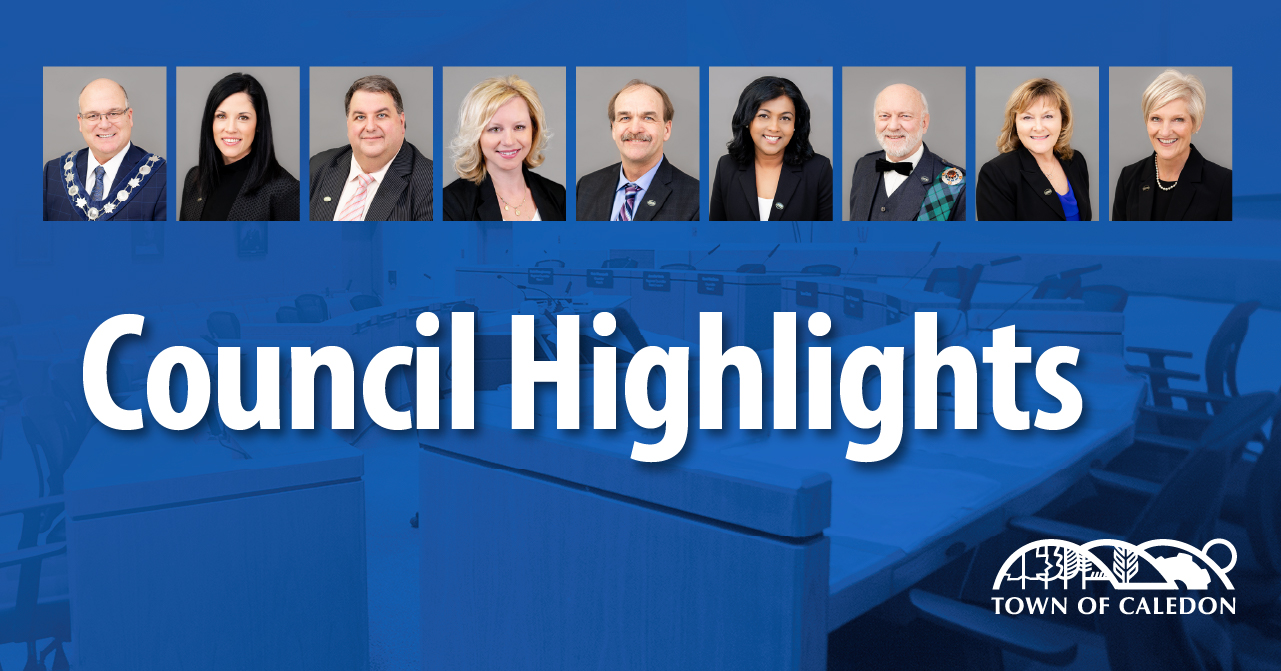 Roadmap to Planning and Development in Bolton
Council approved a roadmap to guide growth and development in Bolton, driving better planned communities and ensuring the right infrastructure is in place. The roadmap for Bolton is vital for the additional growth being directed to Bolton through the Town's Draft Official Plan and will support a Caledon GO Station along the Caledon-Vaughan GO Line.
With the roadmap, the Town will create communities that are unique to Caledon and prioritize secondary planning (transportation, housing, amenities etc.). Staff will develop a workplan and terms of reference for the secondary planning process. A report will be brought to Council in 2023.
Administrative Monetary Penalty (AMPS)
Staff were directed to report on using an Administrative Monetary Penalty System (AMPS) for all camera-based offences, such as Automated Speed Enforcement (ASE), Red-Light Camera (RLC), parking tickets and other bylaw related infractions instead of going to court. The proposed program would replace the use of the Provincial Offences Act (POA) and the POA court for minor offences/infractions. A report is expected in 2023.
35 Chapel Street (Kinsmen Building)
Council voted to transfer existing funds and designs to the Kinsmen Club so they may complete the work required at 35 Chapel Street (Kinsmen Building) and avoid delays. The building renovations include interior and exterior upgrades as well as the addition of an accessible washroom. The Kinsmen Club agreed to fundraise and complete the work with club members as well as contractors. Staff worked with the Club to develop a 2022 capital request for renovations which was approved by Council.
Fill By-law 2007-59 amended to help enforce conservation lands (Illegal Dumping)
The Fill Bylaw was amended to give Town staff the authority to enforce it on behalf of conservation partners such as the Toronto and Region Conservation Authority and Credit Valley Conservation as well as the Niagara Escarpment Commission. The Fill Bylaw regulates the dumping of fill, the removal of top-soil and the alteration of the grade of land. Regulating this activity prohibits placement of contaminated fill material and any alteration to the land that has an adverse effect on neighbouring properties (drainage issues).
Official delegation to Isola del Liri to foster 'Sister City' relationship
Council approved an official delegation from the Town of Caledon including Mayor Allan Thompson, Councillor Tony Rosa and Chief Administrative Officer, Carey Herd to visit Isola del Liri in summer 2022 to foster a Sister City relationship.
Staff will continue to explore economic opportunities, possible programs and exchange opportunities associated with a Tourism and Culture based partnership and Sister City Agreement and report back to Council with a proposed agreement.
Members of Council Recognized for Service

Mayor Allan Thompson thanked and recognized Ward 1 Regional Councillor Ian Sinclair and Ward 2 Regional Councillor Johanna Downey, who are not running in the fall election, for their contributions and service to the Town of Caledon as elected officials.

Addition to the 2022 Council and Committee Meeting Schedule for November

A Planning and Development Committee Public Meeting on Monday, November 28, 2022, at 7 p.m. was added to the Council and Committee Meeting Schedule to address the volume of development applications requiring a statutory public meeting.
- 30 -