Caledon Issues Winter Parking Ban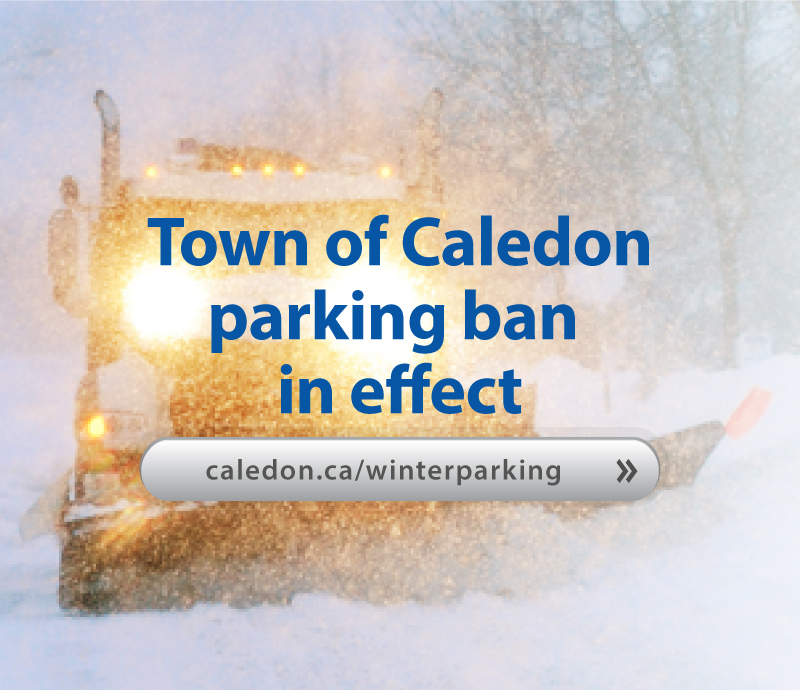 January 17, 2022 - The Town of Caledon has issued a Winter Parking Ban to take effect at January 18, 2022, 12:01 a.m. The significant weather warning that was declared on January 16, 2022 remains in effect.
About Winter Parking Bans
The purpose of the ban is to keep roads free of parked vehicles so that crews can quickly and safely clear snow.
Following a forecast for a snowfall of 7 cm or greater, or ice coverage, the Town may issue a Winter Parking Ban.
During a Winter Parking Ban:
Vehicles may not be parked on roads in Caledon at any time.
All Parking Passes previously granted are no longer valid.
Parking Enforcement Officers may ticket and/or tow vehicles in violation of the ban.
Vehicle owners are responsible for tickets and towing charges.
When roads are cleared and the weather improves the Town will lift the ban.
As a reminder, any vehicle that interferes with snow clearing operations before or after a winter parking ban may still be ticketed and/or towed.
Winter Safety Reminders
Residents are reminded to take precautions during the winter months. Please keep in mind:
As crews clear roads and sidewalks, we ask for your patience and that you try to steer clear of plows.
Being outdoors when temperatures are extremely low can be dangerous, even if for a couple of minutes. Black ice can also be found on sidewalks, not just on roads, so please walk carefully.
During a winter parking ban or a snow or ice event, please do not park vehicle(s) on the road. This is to ensure road crews can clear all roads efficiently and effectively.
As you clear snow from your driveway, please keep it on your property.
Our dedicated winter maintenance staff clear/maintain over 1,500 lane km of roads throughout the Town – the equivalent of driving from Caledon to Moncton, New Brunswick.
Significant Weather Warning
The significant weather warning is still in effect. Learn more about significant weather warnings.
Residents and visitors are strongly advised to use extreme caution when using roads and sidewalks and avoid unnecessary travel at this time. The significant weather event declaration will stay in effect until it is safe to be lifted, as determined by the Town.
Stay Up-To-Date
Contact
For any concerns about winter maintenance, please call:
Service Caledon
905.584.2272 x.7750
info@caledon.ca (M-F | 8:30am – 4:30pm)
For after-hours emergencies, call:
Region of Peel
1-800-563-7881
- 30 –
Stacey Abbott
Manager, Communications
905.584.2272 x. 4076 | stacey.abbott@caledon.ca
www.caledon.ca | @YourCaledon