Caledon becomes Canada's new home for golf
Golf Canada and Osprey Valley announced a major partnership and bold vision today to build a new Home for Canadian Golf – a momentous project that will see the National Sport Federation relocate its corporate base of operations to TPC Toronto at Osprey Valley in Caledon, Ontario.
In addition to Golf Canada's national headquarters and the Canadian Golf Hall of Fame and Museum, the vision for the Canadian golf campus on the grounds of TPC Toronto at Osprey Valley will feature the national headquarters for First Tee – Canada which will include a publicly accessible community putting green and an indoor training centre.
Golf Ontario and the Club Management Association of Canada (CMAC) have also committed to relocate their corporate headquarters to Caledon, partnering with Golf Canada to embrace the golf community and develop a dynamic home campus for Canadian golf. The PGA of Canada has committed to a strategic partnership with Golf Canada to assist in executing grassroots components along with coaching and training activities.
"Caledon is the perfect home for Canadian golf and I couldn't be more pleased to welcome Golf Canada, Golf Ontario and the Club Management Association of Canada (CMAC) to our town," said Caledon Mayor Allan Thompson. "Our expansive rural beauty combined with vibrant urban centres and a thriving hospitality industry will help drive Golf Canada's success, in turn, the new golf campus will create 475 jobs during construction and 185 relocating to Caledon, increase tourism, recreation and support local businesses."
TPC Toronto at Osprey Valley is a renowned 54-hole golf facility in Peel Region, located in the heart of Caledon. The property is currently undergoing significant construction that includes a new clubhouse and conference amenities, improvements to the practice facility and guest experience, accommodations and hosting facilities onsite.
"We are thrilled to be part of Golf Canada and Osprey Valley's vision of collaboration and innovation," said Carey Herd, Town of Caledon CAO. "Town of Caledon shares these values when supporting tourism and growing our local economy. Our Economic Development Strategy is guiding us towards becoming a four-season destination, and Golf Canada's partnership with Osprey Valley will help boost tourism and our local economy for decades to come.
Phase 1 of the Home for Canadian Golf project - which will include the corporate headquarters, a reinvigoration of the Canadian Golf Hall of Fame and Museum, and a 30,000 square foot community putting green inspired by the Himalayas Putting Course in St. Andrews – will break ground in 2023 with expected completion by 2025.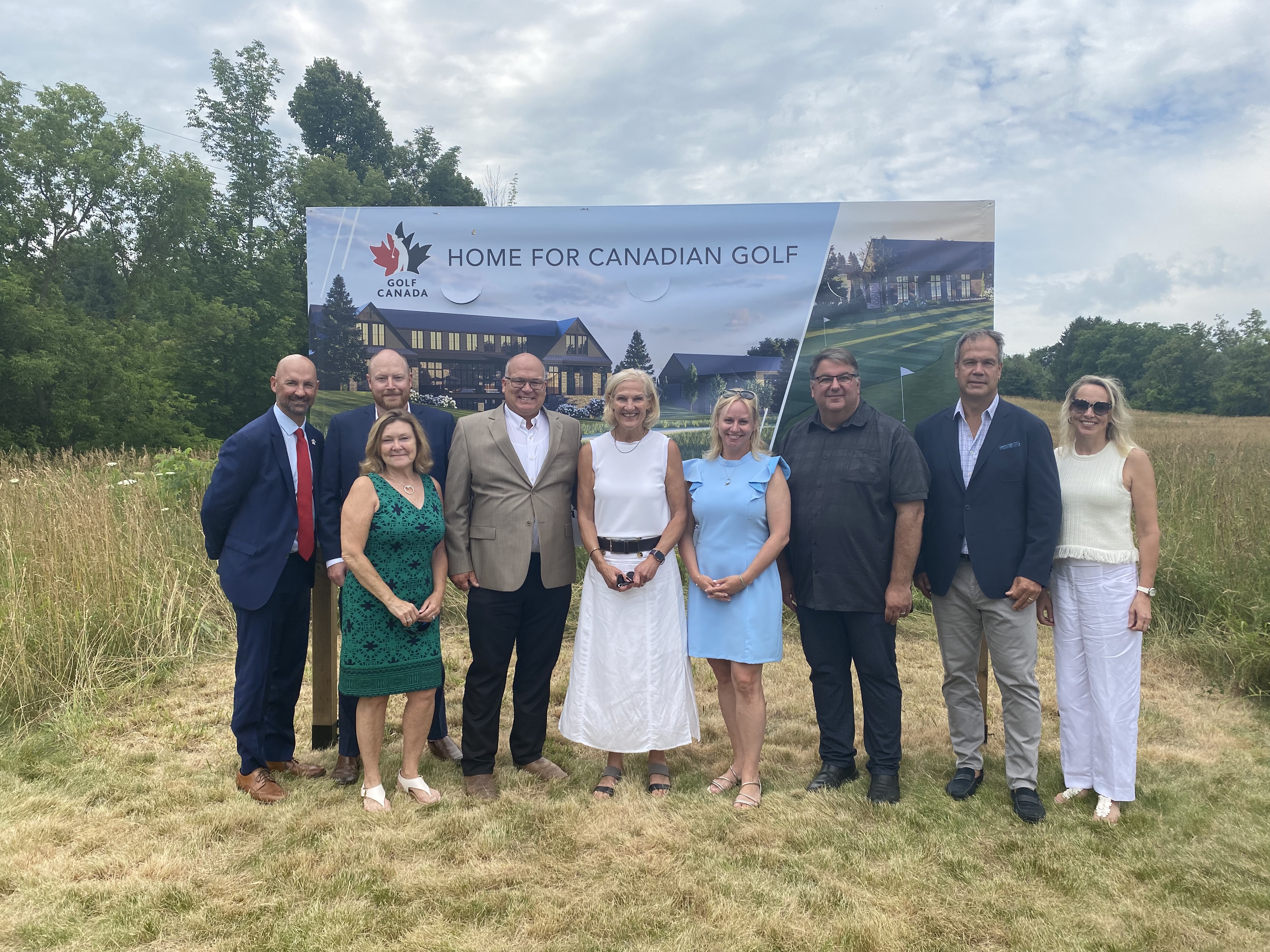 Caledon Mayor Thompson and Members of Council attended today's announcement