Caledon lifts Winter Parking Ban and Significant Weather Event Declaration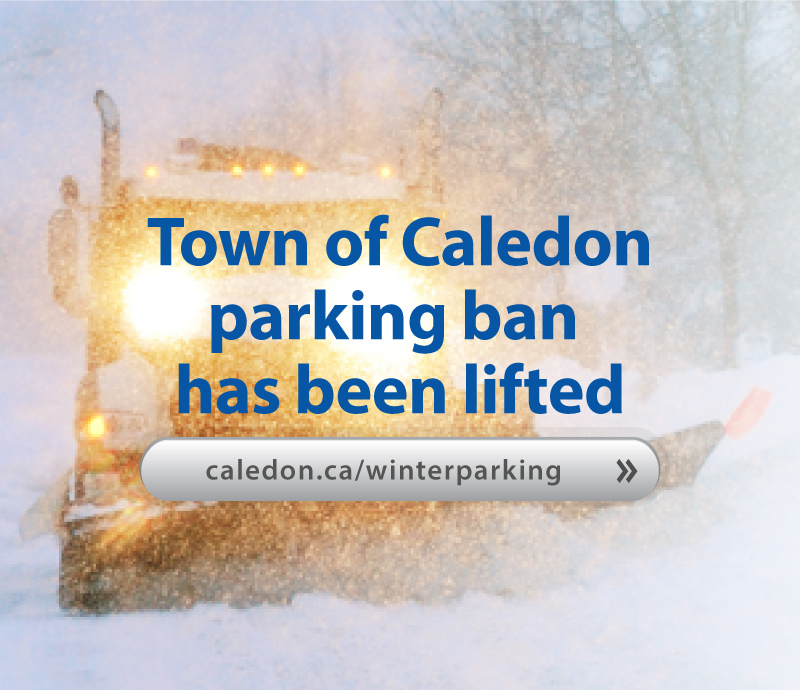 February 4, 2022 - The Town of Caledon has lifted the winter parking ban and significant weather warning effective immediately in respect to the following weather hazards: winter storm, flash freeze and freezing rain.
Residents and visitors are reminded that vehicles may still be ticketed and/or towed if they interfere with normal snow removal operations. Even when there is no warning in place use caution when using roads and sidewalks.
As well, residents are kindly requested to place their garbage/recycling/composting bins at the end of their driveways or property. Placing bins on the road can interfere with safe snowplow operations. Also, we would like to remind residents not to push snow onto the road when clearing their driveways.
For more information about parking in the Town of Caledon, visit caledon.ca/parking.
About Winter Parking Restrictions
The purpose of a winter parking ban is to keep roads free of parked vehicles so that crews can quickly and safely clear snow. The Town would typically issue a parking ban if Environment Canada forecasts either a snowfall of 7 cm or greater or dangerous ice conditions.
During a ban, vehicles may not be parked on roads in Caledon at any time. Any Overnight Parking Exemptions that have been granted will be cancelled. Parking Enforcement Officers may ticket and/or tow vehicles that are in violation of the ban. Vehicle owners are responsible for tickets and towing charges. When roads are cleared and the weather improves the Town will lift the ban.
For more information about winter parking restrictions, visit caledon.ca/winterparking.
Stay up-to-date