News
Posted on Tuesday, June 28, 2022 06:30 PM
June 28, 2022 -- Mayor and Council officially acknowledged Robert Fines as Senior of the Year at Council on Tuesday June 28, 2022.
"I congratulate Bob on this accomplishment and thank him for being a leader and active community member in Caledon," said Mayor Allan Thompson. "His long-term service has benefitted our community in many ways and is an inspiration for others to volunteer and give back to their community."
Mr. Fines was nominated by Christine Sevigny, Executive Director Caledon...
Posted on Tuesday, June 28, 2022 09:04 AM
June 28, 2022 -- Happy and safe Canada Day long weekend.
Please note, Town of Caledon offices and non-emergency services including recreation, library and Provincial Offences Courts, in Orangeville and Caledon East, will be closed on Friday, July 1, 2022.
After-hours Emergencies
For after-hours emergencies such as downed trees on roads or flooding call the Region of Peel at 1-800-563-7881.
To report an urgent issue about a stray domestic animal (certain conditions apply) or a sick and/or injured...
Posted on Thursday, June 23, 2022 10:43 AM
All members of council expressed support and enthusiasm for a new direction in planning Caledon's future at Tuesday night's Planning and Development Committee meeting by endorsing a "made in Caledon" growth concept and responsible growth management investments/practices.
This innovative approach to planning will improve the quality of life for Caledon residents while welcoming growth by creating smart growth processes, unique to Caledon, that benefit everyone.
"We are welcoming...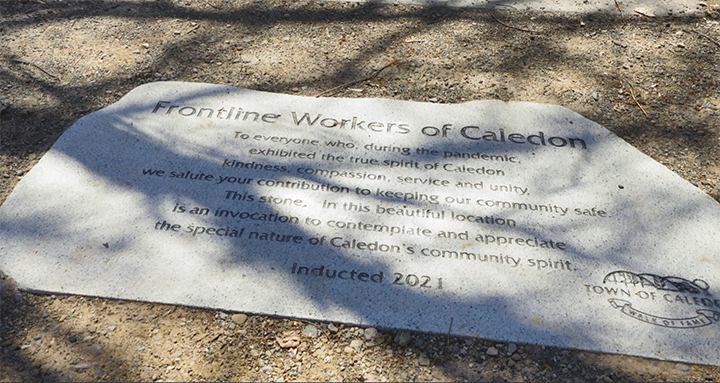 Posted on Wednesday, June 22, 2022 09:58 AM
June 22, 2022 – Today the Town of Caledon announced the Frontline Workers of Caledon as the recipients of the Caledon Walk of Fame for 2021 with a new stone honouring this group unveiled in the Trans Canada Trail Pavilion Park.
"After a two-year absence due to the COVID-19 pandemic, it is only fitting that we honour our frontline workers on the Caledon Walk of Fame for 2021," said Caledon Mayor Allan Thompson. "From our first responders to our farmers, grocery store and restaurant staff, and especially...
Posted on Tuesday, June 21, 2022 10:15 AM
June 21, 2022 – The Town of Caledon is recognizing National Indigenous Peoples Day today with a flag raising ceremony and the launch of new Indigenous Reconciliation resources.
In recognition of the presence and perspectives of the Indigenous People with whom Caledon shares land, the Town has created new Indigenous Reconciliation online resources such as educational tools, historical information, our land acknowledgement and other resources that help include input from the Indigenous...