News and Notices
Posted on Tuesday, January 31, 2017 05:00 AM
Flags at Caledon Town Hall are being flown at half-mast on Wednesday, February 1, 2017 in honour of the victims of the mass shooting at the Sainte-Foy mosque in Quebec City. Our thoughts and prayers are with the victims and their families.
Attachments
Posted on Monday, January 30, 2017 04:30 AM
A public meeting will be held to consider a proposed Zoning By-law Amendment on behalf of Corbett Land Strategies for 12130 Albion Vaughan Road on Tuesday Feburary 21, 2017 starting at 6:00 p.m. in the Council Chambers at Town Hall.
Attachments
Posted on Monday, January 23, 2017 02:45 AM
The Town of Caledon appoints Fire Chief
Darryl Bailey has been appointed Fire Chief of the Town of Caledon. This appointment follows Bailey's appointment of Acting Fire Chief late last year.
Bailey has worked full time with Caledon Fire & Emergency Services since 2003, most recently as Acting Fire Chief and as Deputy Fire Chief, Operations. He has been a firefighter in Markham, Welland and Mississauga. He is a certified Municipal Manager with over 20 years practical experience in fire suppression,...
Posted on Tuesday, January 10, 2017 04:15 AM
Town of Caledon's online tree seedling store now open
Let's grow Caledon's tree canopy! The Town of Caledon's 2017 Tree Seedling Program provides Caledon residents with the option to purchase coniferous tree seedlings and deciduous potted stock.
"We are excited to continually offer this program to Caledon residents. By making native tree stock and seedling options accessible to local residents, we are encouraging private reforestation and restoration efforts and tackling climate change," said Caledon...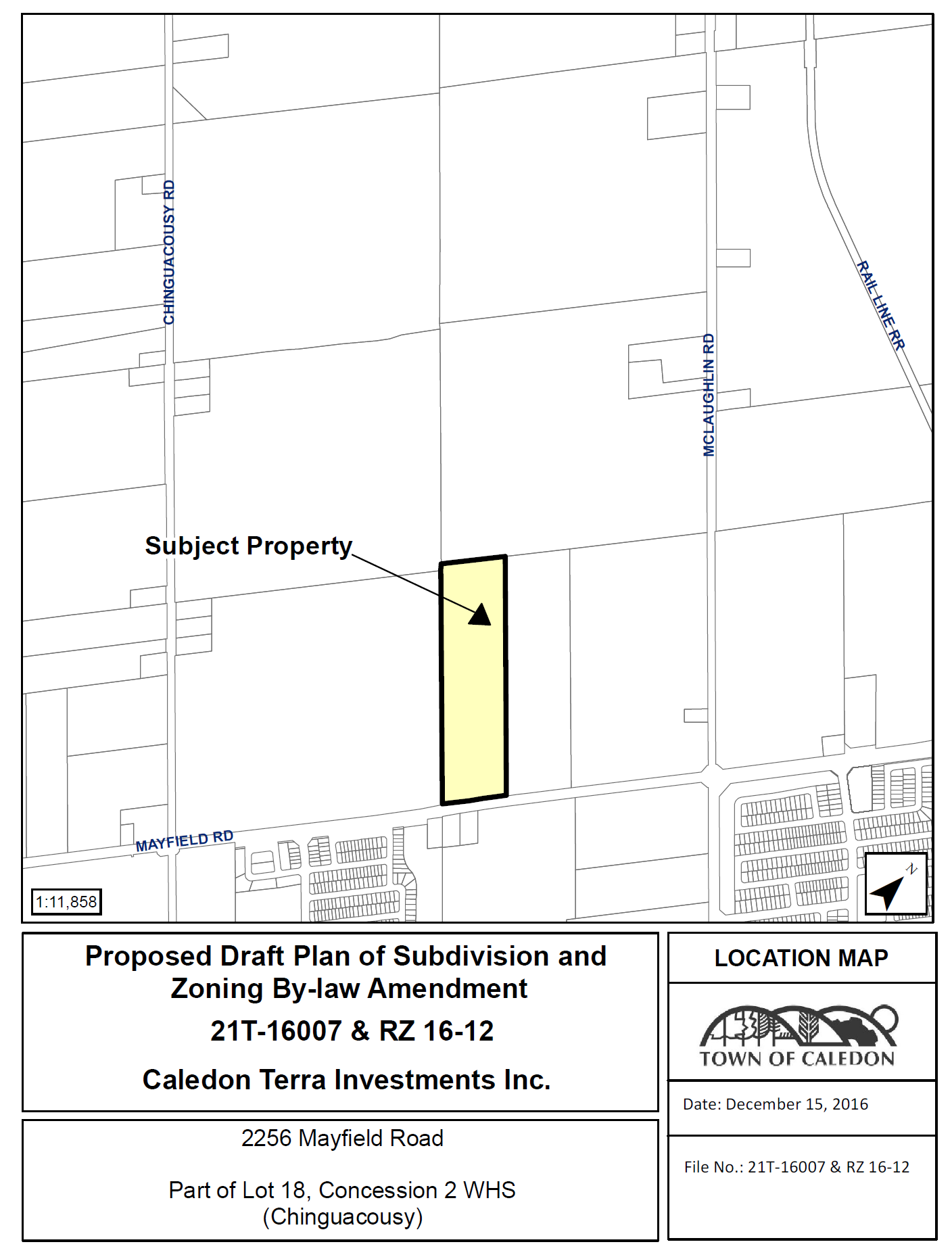 Posted on Thursday, December 22, 2016 08:30 AM
Caledon Terra Investments is proposing a subdivision for 180 single detached dwelling units at 2256 Mayfield Road between McLaughlin and Chinguacousy Roads.
DETAILS
KLM Planning Partners Inc. on behalf of Caledon Terra Investments Inc. has submitted a proposed Plan of Subdivision (File Number: 21T-16007) and Zoning By-law Amendment (File Number RZ 16-12) to amend the subject lands from Agricultural (A1) to Residential One with Exceptions (R1-X), and Environmental Policy...