News and Notices
Posted on Thursday, December 22, 2016 01:30 AM
The Town of Caledon Council approved the 2017 Budget during the Town Council meeting on December 20, 2016, setting the stage for Town services and capital projects for 2017 and beyond. For the average home in Caledon, assessed at $522,000, this blended residential tax increase of 2.45% means a yearly tax increase of $112.87.
"The Town of Caledon's 2017 budget provides the foundation to continue to build and maintain a strong and prosperous Caledon," said Mayor Allan Thompson. "I am pleased with the...
Posted on Thursday, December 15, 2016 11:45 AM
The Town of Caledon has proposed a Zoning By-law Amendment to permit additional institutional, commercial and agricultural uses at the Caledon Equestrian Park. Read the attached notice or visit caledon.ca/notices.
Attachments
Posted on Wednesday, December 14, 2016 02:00 AM
FOR IMMEDIATE RELEASE
December 14, 2016
Cutting red tape in Caledon: no dog licences required starting in 2017
Effective January 1, 2017, the Town of Caledon will no longer require residents to purchase an annual dog licence for their dog(s).
A detailed review of the current program revealed that licences were only used in a small number of cases to return dogs to their owners. Although licences were effective in the past, various modern approaches, such as microchipping or personalized identification...
Posted on Thursday, December 01, 2016 02:30 AM
Record number of Caledon schools receive 2016 Green Fund grants
The Town of Caledon's Energy and Environment staff went full force this year encouraging Caledon schools to apply for the 2016 School Green Fund and, as a result, a record number of twelve applications were submitted – which is almost fifty (50) percent of all Public and Catholic schools in Caledon.
Congratulations to this year's recipients, including:
Alton Public School for their Atlantic salmon project
Caledon Central Public School for...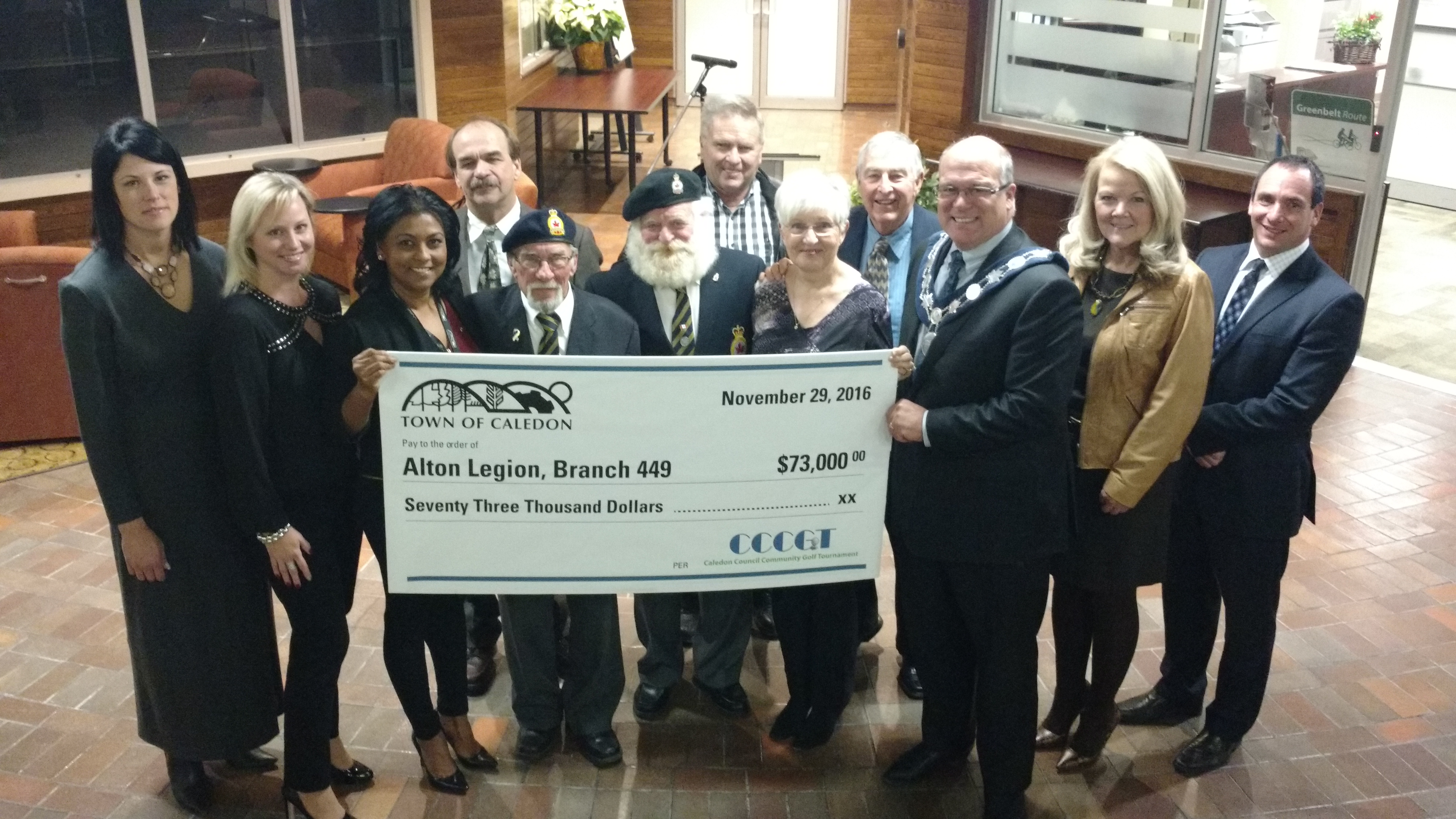 Posted on Tuesday, November 29, 2016 06:30 AM
The Caledon Council Community Golf Tournament Committee has selected the Royal Canadian Legion – Alton Branch #449 as recipient of a grant for $73,000 from the 2016 Golf Tournament.
"This is the last remaining Legion in Caledon," said Allan Thompson, Mayor of Caledon. "It has been a meeting place and community hub for many years and I'm so proud that we are able to help with some much needed repairs so that it can continue to be a valuable resource for residents."
The Caledon Council Community Golf...