News
Posted on Thursday, December 01, 2016 02:30 AM
Record number of Caledon schools receive 2016 Green Fund grants
The Town of Caledon's Energy and Environment staff went full force this year encouraging Caledon schools to apply for the 2016 School Green Fund and, as a result, a record number of twelve applications were submitted – which is almost fifty (50) percent of all Public and Catholic schools in Caledon.
Congratulations to this year's recipients, including:
Alton Public School for their Atlantic salmon project
Caledon Central Public School for...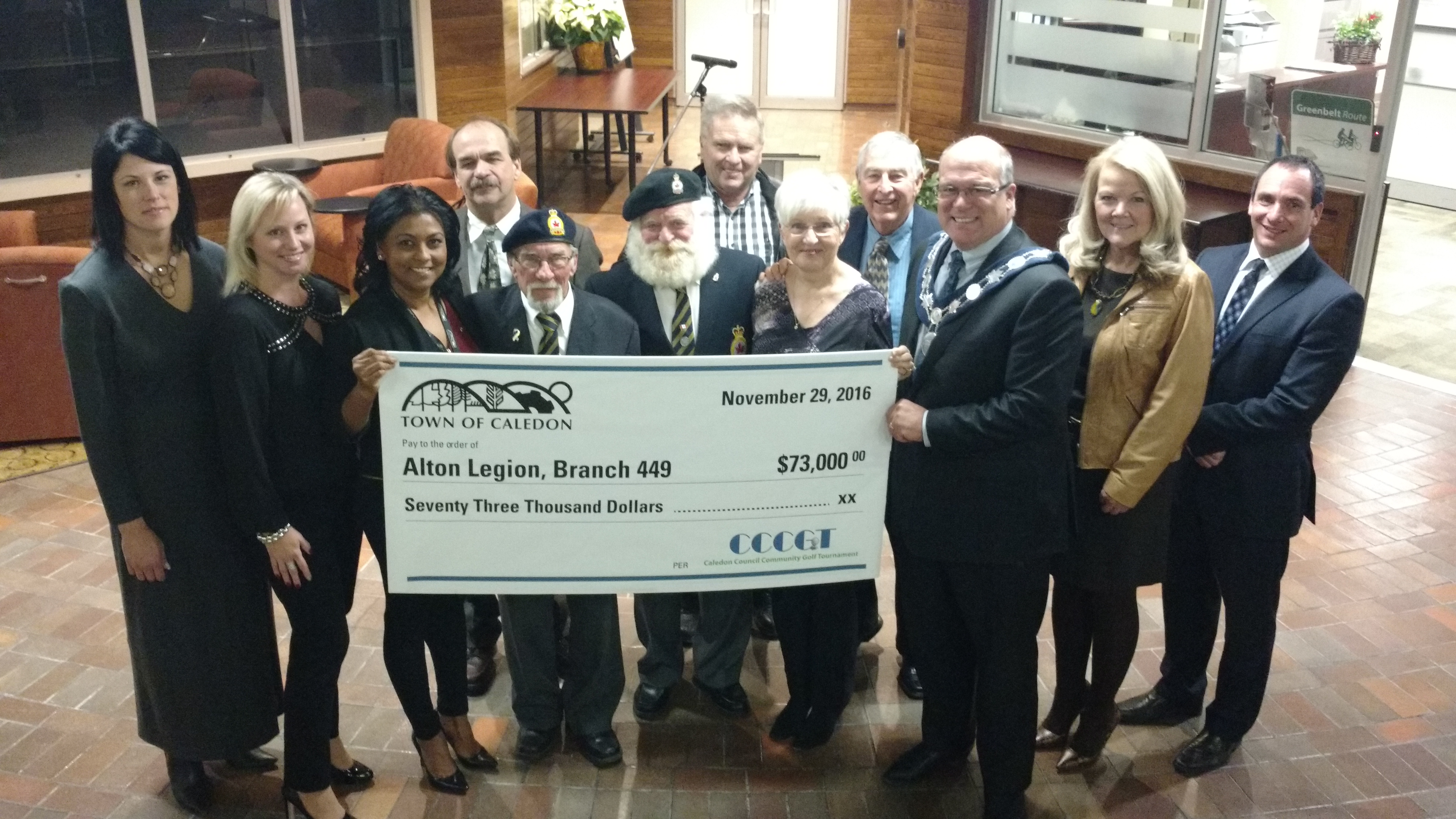 Posted on Tuesday, November 29, 2016 06:30 AM
The Caledon Council Community Golf Tournament Committee has selected the Royal Canadian Legion – Alton Branch #449 as recipient of a grant for $73,000 from the 2016 Golf Tournament.
"This is the last remaining Legion in Caledon," said Allan Thompson, Mayor of Caledon. "It has been a meeting place and community hub for many years and I'm so proud that we are able to help with some much needed repairs so that it can continue to be a valuable resource for residents."
The Caledon Council Community Golf...
Posted on Friday, November 18, 2016 11:15 AM
Town of Caledon Fire & Emergency Services would like to advise the public that Health Canadahas issued a recall which involves the Kidde NightHawk talking combo smoke/CO Alarm KN-COSM-IBCA and KN-COSM-ICA models with manufacture dates between June 1, 2004 and March 2011. The alarms are hard-wired into a home's electric power.
The alarms are white, round and measure about 5 to 6 inches in diameter. "Kidde" is engraved on the front of the alarm. "Kidde", the model number and manufacture dates are...
Posted on Tuesday, November 15, 2016 04:00 AM
FOR IMMEDIATE RELEASE
November 15, 2016
Caledon's proposed 2017 budget focuses on town-wide investments
The proposed 2017 Operating and Capital Budgets were presented to Caledon Council at General Committee today, setting the stage for Town services and capital projects for this year and beyond. As well, a clear and common theme emerged that this 2017 budget is an investment budget aligned with the priorities in the Council Work Plan, ensuring equitable and town-wide allocation.
"The Town...
Posted on Thursday, November 03, 2016 12:30 PM
Caledon Fire and Emergency Services is teaming up again this year in support of Caledon Community Services' Santa Fund program at the Exchange in Bolton.
The goal of the third annual partnership between the Exchange and Caledon Fire and Emergency Services Food amd Toy Drive is to help ensure that all families and kids have a good Christmas and holiday season.
Please note: gifts for girls and boys between the ages of 10 and 15 years old are in high demand.
There are three locations to drop off your non-perishable...