Town of Caledon breaks ground for Caledon East Community Complex expansion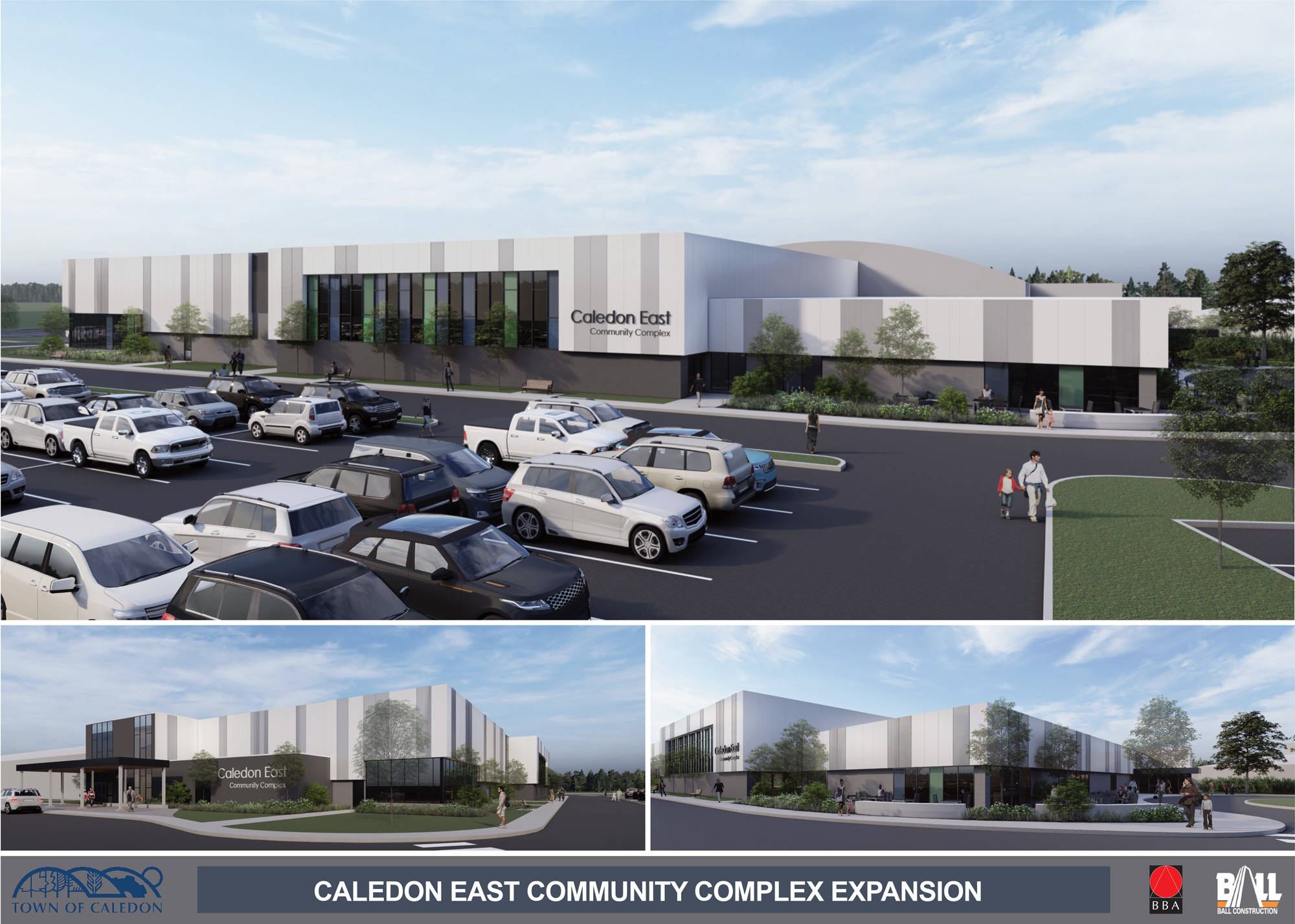 September 7, 2021 -- The Town of Caledon is breaking ground today on a major expansion to the Caledon East Community Complex.
The new space will include a pool; fitness centre; gymnasium; walking track; aerobics studio; a warm viewing area for existing ice pads; a Caledon Public Library; and multipurpose rooms for community programs and rentals.
"Caledon is growing, and we are committed to building the infrastructure we need to maintain the quality of life our residents are used to," said Mayor Allan Thompson. "The expansion of the Caledon East Community Complex is a once-in-a-generation leap forward for recreation infrastructure."
Highlights
The expansion will result in a 52,000 sq ft multi-level structure consisting of:
accessible access (by elevator) to the upper floor in pad 2;
a warm viewing area in both pads 1 and 2;
a full-service fitness centre with cardio and weight space;
a multi-purpose gymnasium;
an indoor, integrated walking track;
an aerobics studio for fitness programming;
two multi-purpose rooms for community programs and rentals;
centralized administrative space for staff;
a dedicated Sports Hall of Fame;
a new concession area;
versatile single tank pool and change rooms;
a branch of the Caledon Public Library, with a maker space, and;
increased parking.
Construction is being managed carefully to ensure the impact on surrounding residential and environmental areas is minimized. When completed there will be plenty of green space around the facility and between Town Hall to ensure the public can walk safely.
Background
The Caledon East Community Centre was initially constructed in 1978 consisting of a single story with a basement. Two arena structures on the east side of the original building were constructed in 2007 (Phase 1) and 2010 (Phase 2).
Today, the complex covers 106,412 sq ft and includes:
Two 200' x 85' ice pads,
An auditorium with a capacity of 400 people that includes a kitchen, bar and portable stage,
A community room with capacity of 100 – 130 people, and
Various multi-purpose rooms utilized for programs, facility rentals and community.
Within the approved 2020 budget, Council advanced the funding to design and construct the phase 4 expansion of the Caledon East Community Complex to support the delivery of quality municipal services to our growing community.
In November of 2020, the Town engaged Ball Construction through a competitive public procurement process. Ball construction will be immersed from the conceptual design to the total project completion. Their team – which includes Barry Brian Associates, DEI, Aquatic Designs, MGM and Kendall Flowers – will collaborate throughout the design, construction, commissioning, and warranty stages of this project.
Construction, which begins immediately, is anticipated to be completed in the winter of 2023.
- 30 -
Media contact:
Stacey Abbott
Manager, Communications
905.584.2272 x. 4076 | stacey.abbott@caledon.ca
www.caledon.ca | @YourCaledon
IN THE PHOTO: Mayor Allan Thompson, with Councillors and representatives of the Caledon Public Library, at the ground-breaking ceremony in front of the Caledon East Community Complex (September 7, 2021).