Profile: It's Roxies Boutique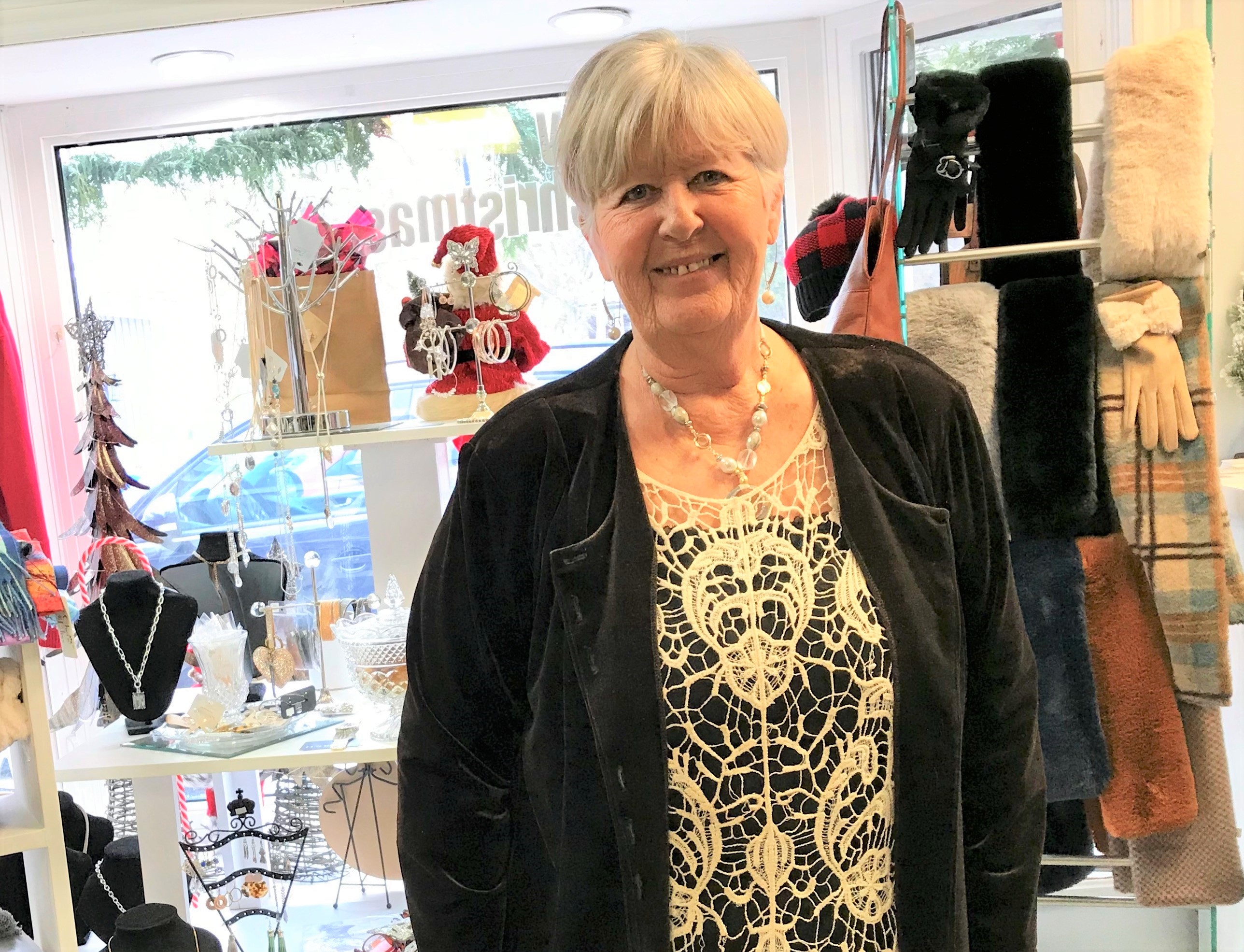 From the moment you step into "It's Roxies" boutique you feel welcome, "When people come in here we have conversation, we have a laugh, you don't have to put on a show when you shop here," says owner Roxanne Mountain of her little shop in Caledon East.
We sat down with Roxanne to talk about what it's like to own a small business in Caledon and about the community that has been so supportive.
What is it that you do here?
"It's Roxies" is a women's fashion and gift boutique. I carry a lot of casual wear, not too much that is "dressy". My clientele is generally an age range of 30s to 80s.
I also personal shop for people.
I'm not really into labels. I change up who/what I bring in quite a bit.
I try to carry Canadian designers, which can be challenging because unfortunately a number of them have gone out of business. I do carry Joseph Ribkoff.
I carry what I like and what I think my clients will like and I stay middle of the road pricing. I look at something and think "would I pay that for it?" and if I know I would than I go ahead and bring it in.
When did you start the business?
In 1997 I started the Inglewood General Store. At that time, I was focused on food, gifts, and home decor items. Women's fashion items evolved out of that. I had no intention of getting into that at first, but it worked so I went with it and in 2008 I opened It's Roxies out of that store.
In 2016 I closed the General Store in Inglewood and opened Its Roxies in Belfountain.
I was there for one year and then moved here to Caledon East.
How's business?
It's really good. I have a lot of community support.
I was quite surprised to find out how many of my Inglewood clients are residents of Caledon East. When I was looking at commercial space for the business I knew I liked it here but was afraid that I would lose my clientele. I didn't.
It has been phenomenal.
Tell us about you, how did you get into the retail business?
I was born in South America and lived and went to school in England.
I came to Canada and started working in sales and marketing. I started in Toronto at the Toronto Sun in advertising sales, then went to Rogers Cable working in customer service and marketing. I trained a lot of their sales force.
In Caledon I worked for a printing company. I was on the road a lot with that job. Then I had a terrible accident and had to come off the road.
I wasn't sure what to do at first, but I love people and knew I had to do something to allow me to spend time with people every day and I'm a very good cook. So, I bought the property in Inglewood and started the Inglewood General Store. I had no idea what I was doing but I focused on food and items that I thought people would enjoy. I loved the challenge … it was good for me.
That was the start of my 22 years (so far) in retail.
And now that I'm getting older just having It's Roxies Boutique is better for me, its smaller, fewer headaches, no sales staff. I wanted to downsize, so here I am.
How do you buy the items for the store?
There's online wholesale or you can go to fashion shows in Toronto or Montreal. I do both. I attend eight shows a year in Toronto for the different seasons.
Then sometimes it's random. I'll go into a shop that is out of the area and if I see a piece that I think is really neat I'll photograph it, source it and the bring it in.
You never know when you may come across something which is perfect for your clientele. I was in Calgary for a wedding in September and saw a lovely package of essential oils and bath product and realized it was made in Canmore, BC so I called them. They checked to ensure no one else in the area was carrying it and I got the rights to sell it.
With clothing I try not to have something that another shop close by may have. We all have to live and work together and it's to my benefit to be different.
When I first came here it was a little bit difficult because there were other shops selling clothing, but we all work together now. There's enough in this industry to go around.
If I go to a show I give the names of the people in the area and if they bought something before me I won't. We do share some of the same suppliers, but we'll buy different product from them.
Do you have any fashion tips? What should every woman have in her closet?
Every woman should have a good pair of palazzo pants, they are versatile, can be dressed up or down and are so comfortable.
Of course, you always need a good blazer and can never have too many pairs of black pants.
And, never throw away a good velvet jacket or crocheted anything – it goes out of style sometimes but always comes back!
You must have a huge closet…
Um, yes, I have a lot of stuff.
What's great about doing business in Caledon?
It's personal. If you shop in the city no one knows you. No one goes out of their way to help you or speak to you. In Caledon you are not just a number.
When people come in here we have conversation, we have a laugh, you don't have to put on a show when you shop here. I don't push, I may make suggestions and I'm honest if asked for an opinion. It makes it enjoyable for me too.
Recently I had a lovely letter from an older lady that comes in. She's here often and we sit and chat – sometimes she buys some stuff but lots of times she doesn't, she gave me a letter and little gift for Christmas, it brought a tear to my eye.
Having a store in a small town gives you a chance to be here for people, for them to be social and you can get to know them. For some older people particularly, it might be the only chat they are having that day. It's very rewarding.
The Town, Mayor and Councillors have all been very supportive. And the people have opened their doors to me, they're like friends.
Since opening here I met a group of ladies that regularly have breakfast at Tom's – it's great, it's like a big family.
I wouldn't go into the city to do business because I'd be lost in the shuffle and I wouldn't enjoy it any more.
What are the challenges of doing business here?
Everything is good. I can't think of any issues. This is not a tourism village and I do like that, I've been in the tourist area before – it's good for some businesses but not for a shop like mine.
Do you have challenges with staffing?
I have friends that will do Saturdays, or if it's storming someone who is more local will come in, and another that I can do alternate days with. It works well, I've never had a problem with staffing, even in the General Store in Inglewood it was fine.
Good customer service matters.
I wouldn't want to hire someone that doesn't know everybody. In this store I want people to come in and have a personal experience – I can't have just any "salesperson." I want someone that is friendly and helpful and knows your name when you come in.
If you weren't doing this what would you be doing?
I like to cook. I built a house with a kitchen that could be a commercially-inspected kitchen. I thought about doing food for seniors but there's too much bureaucracy to get it going, and I'm not sure I could be in the house cooking all day by myself.
Really and truly I have come to terms with the fact that this is where I will finish working. I like doing this, I'm not ready to retire, I'm hoping to work until I'm 75.
Do you have any business advice you would give to someone starting out?
Good customer service is key for any business.
In retail specifically, I'd say you have to be smart about your inventory – you don't want to be hanging on to things for too long. Sell off if you have to, a few bucks in your pocket is better than a bunch of stuff in your basement.
It's Roxies Boutique is located at 16035 Airport Road in Caledon East | https://facebook.com/itsroxies/ | 905-965-2165