Profile: Goodlot Farmstead Brewing Co.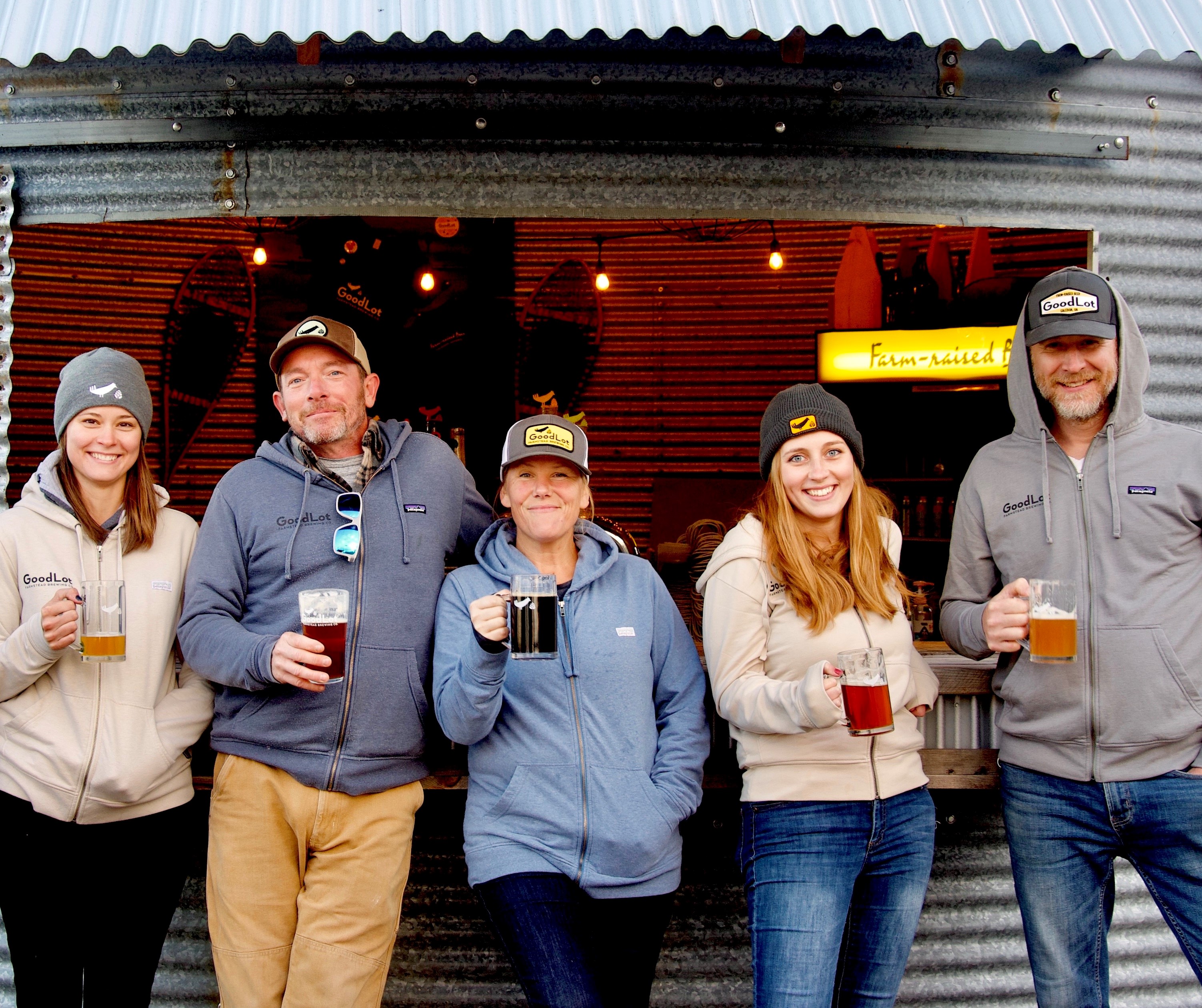 GoodLot Farmstead Brewing Co., founded by Gail and Phil Winters, makes fresh, hyper-localTM, ales and lagers on an organic hop farm in the northwest area of Caledon.
In late 2009, Phil and Gail spent the winter doing research on small scale specialty crop farming. Phil decided to go to the U.S. to complete a course in hop production. They both decided to focus on local craft hop production to supply the booming local craft beer market in Ontario.
In preparation, they began working their soil in 2010 and built their first trellis system and planted their first hops in 2011, and under took a major hop yard expansion in 2013.
We recently spoke with Phil and Gail about their 28-acre farm on Shaws Creek Road in Caledon, crafting GoodLot beer and how the pandemic has affected their business.
Why did you choose Caledon as a place to start your business?
Gail: I was born and raised in Caledon so it was a natural step for me to come home to Caledon.
Phil: Gail and I met in 1992 and reconnected in Toronto in 2008. We were both tethered to the city at that time; I owned a solar company and Gail was a successful independent film producer. We both knew we wanted to live in a rural environment and so we started the search for a small farm north of the city. We literally ran off in high spirits, madly in love, and purchased our 27-acre heritage farm in northwest Caledon. Caledon is the perfect fit for us as we're five minutes away from parks, hiking trails, fly fishing, biking and other outdoor activities that we adore, including daily cross-country skiing out of back door.
Tell us about GoodLot Farmstead Brewing. Have you always wanted to have your own farm business or is it a more recent idea?
Phil: I was a political activist and environmental campaigner my entire career but had always wanted to be a farmer to be closer to the land and local food production. Organic farming is a personal philosophical commitment, but hops are very challenging to grow organically in Ontario. The evolution of our farm was to add value to our farm by vertically integrating our hops into finished product – ales and lagers! We take our beer and ingredients very seriously. And everything we do here reflects our personal values and commitment to a better and brighter future for all.
Tell us how you started and developed the product?
Phil: Throughout this process we have been constantly evaluating our soil to make sure it is conducive to growing hops, researching the market, and testing which varieties do well in northwest Caledon. Gail focused on taking many hop and soil courses to further her training while integrating further organic strategies on the farm. We, along with nine other hop farmers, co-founded of the Ontario Hop Growers Association and since then have seen lots of growth in the hop sector, and lots of success among our fellow growers.
We sold our first hops to the legendary Granite Brewery in downtown Toronto and received great feedback for the local flavor and aroma. Two years later we expanded our hop yard and added 1400 rhizomes with a focus on Nugget and Cascade, two of our best flavors that formed the basis of our first beer release, GoodLot Farmstead Ale.
Tell us about the destination approach you plan to take….
Gail: There is a lot of room to grow in the destination approach but we want to roll out the ideas organically. It's not just going and having a beer; it's about the experience; interacting with the chickens and the sheep, having dinner in the hop yard and enjoying the atmosphere and solitude of our farm, while meeting new people and enjoying live music.
Phil: Our bottle shop and beer garden opened in 2019, but the beer garden remained closed in 2020. We went strictly to farm-gate pick up.
This summer we plan to open May to October, under whatever COVID requirements are in place. We will have awesome local food, music and beer every Thursday to Sunday. We want to curate a list of things to do in the vicinity and give visitors the opportunity to have an amazing, memorable experience in this great part of Ontario.
Since growing hops is quite labor intensive…. how frequently do you hire?
Gail: We host a farm intern every summer. Many of our interns have turned into full-time team-mates. Since hops are very seasonal and I look for interns through job postings on Goodwork.ca and through programs like those offered by Fleming College. We also offer paid workshops to our interns, so they can further their skills and interests beyond the farm.
How many stores carry your product?
Phil: Farmstead Ale is available in over 200 LCBOs, beer stores and grocery stores. Usually we have great partnerships with bars and restaurants, but many of been closed through much of the last year. We have also launched a second beer, GoodLot Bighead Amber, made with 100% Ontario organic hops, into about 100 LCBOs and grocery stores.
What do you think about the brewery industry in Caledon? What kind potential or growth do you see in the future?
Phil: The craft beer industry has lots of room to grow over the next decade. Roughly six percent of the beer sold in Ontario comes from local craft producers, leaving 94% to the big corporate, foreign-owned breweries. I am extremely optimistic about the growth of craft beer here. People want an authentic local experience and with the rise of local breweries, customers can go and meet the people at the farm. There is a truly experiential aspect to the local craft brewery market.
Caledon is already booming with four awesome local breweries to visit!
How important is it for people to buy locally?
Phil: For us, local procurement is very important and it is being done as locally as possible so revenue stays in the community and directly benefits our neighbours. We use 100% Ontario hops in EVERY beer we make, supporting our sister and brother hop farmers. We are growing ingredients on farm and have been purchasing malted barley from a nearby farm in East Wellington. We source all materials locally for our solar powered brewery and use local contractors whenever possible. Whatever benefits our community also benefits our farm. That is why we call our approach Hyper-local, Farm Raised BeerTM.
Tell us about your future plans, what can customers look forward to this year?
Phil: Over the past two years, we've expanded our beer ingredients beyond hops to include maple sap, rosehip, calendula, hibiscus, fennel and peppers so that we could experiment with different flavors. It's not guaranteed that they will come out perfectly, but we started growing and preserving those ingredients as an experiment to create different unique local flavors.
We've also been on the hunt for local organic malting barley, so that is on the horizon. And the patio has been expanded for social distancing purposes if necessary.-
Gail: We'd like to finally open a year-round tasting room in a 130-year old heritage barn that is slated to open in Autumn 2021. COVID put a halt to those plans last year, so hopefully we can proceed in 2021.
How have you shifted your business model due to the pandemic? And, will any of the changes you've made remain once we get through the restrictions?
Gail: Great question – COVID definitely threw a wrench into EVERYONE's plans. Top of mind for us was the health of our partner bars and restaurants, who have really suffered through the pandemic. We were lucky, being deemed an essential service.
Our business changed dramatically. We did not open the patio, and instead opted to support the local restaurants and bars while they were able to open in the Summer of 2020. We moved to online ordering and 100% farm-gate pick up. We also recently launched home delivery, which we think is a good way to keep people at home and safe.
Once the restrictions are over, we will continue to provide take- away beers, as we always have. Not totally sure home delivery will continue, but if our little team can handle it, we might stick with that too.
About: Goodlot Farmstead Brewing
The first farm-to-barrel brewery in the Greenbelt, GoodLot Farmstead Brewing makes fresh, hyper-localTM ales & lagers. They use hops grown on their farm in combination with locally grown grains and other ingredients grown on and around their farm to create truly local Caledon beer. Visitors can taste the brew at some of the fine local establishments in the Caledon, Greenbelt and Headwaters region.
Goodlot Farmstead Brewing is located at 18825 Shaws Creek Rd, Caledon | www.goodlot.beer