Profile: Davis Feed and Farm Supply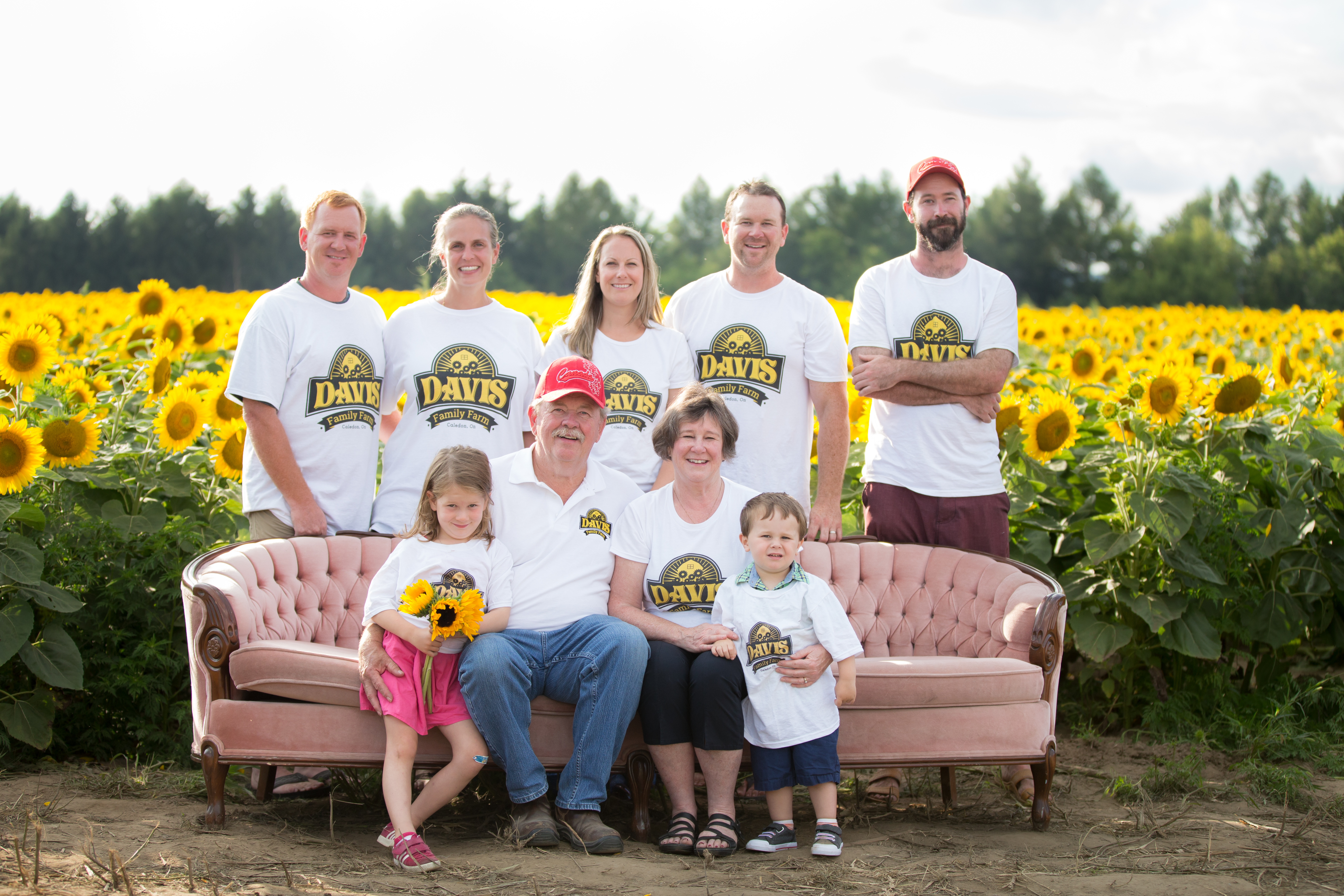 Davis Feed and Farm Supply started in 1989 but the Davis family farmed the land for 30 years before that, we sat down with Sean Davis to talk family, business and legacy.
Fill us in on a little history. When did your family settle here?
In 1951 my grandparents bought this property. This big farm house was built in 1861 on 112 acres.
At that time the property was split by the railway – there was a train coming through, but Grampa owned both sides. Now that's all gone and it's the Caledon Trailway.
Gramma took care of the chickens and eggs, and they also had pigs, dairy cows and grew hay and oats. My dad and aunt lived here as well.
Now on the farm is my parents, my wife and I and our two kids.
At one point five years ago, there were four generations living on the farm, my grandfather has since passed.
It's great that my grandparents got to see things evolve.
In 1989 my father, John, started Davis Feed and Farm Supply.
What is the business now?
Davis Feed and Farm Supply was started as an agricultural supplier for cow, horse, and chicken feed. We are a retail outlet. We sell six major brands in the store but there's hundreds of different types of feed. We sell other things too like fences, gates – really anything for your farm.
We have a garden centre in the spring, and mums in the fall, and Christmas trees at the holiday season. We grow oats which are sold as horse feed in the store, but we have also started selling pumpkins and squash which are grown on site.
And we have 300 chickens – we sell a lot of eggs!
And, then there's the sunflowers, which are grown for our bird seed, oil, and honey.
How do you fit into all of this, when did you start in the business?
Since I was a kid we were always helping Grampa on the farm, our summer jobs were always doing the hay or whatever around here. But then I went to school for business and computer systems. Seneca College, and Ryerson for Information Technology Management. The more I got into it the less I was enjoying it. I was living at home and I just wanted to be home and help dad out on the farm.
Once I was committed and dad knew he could rely on me with the farm and business, that's when all the brainstorming happened about how to expand our business. Adding the garden centre (in 2007) was the first expansion of the business.
I worked at the Foodland in Caledon East for years, I needed the income - then would come home and work on the farm and business here.
Who is working the farm? How many staff do you have?
It's a big collaboration.
My father and I work full time at Davis Feed & Farm Supply, so does my wife. On the Farm we all split the work that needs to be done after the store is closed and on weekends.
My Uncle Dave and cousin Steve help with the farm work too in the spring.
Davis Feed operates year-round and keeps us busy all day. Everything else becomes our nighttime jobs – to get everything planted, picking pumpkins or squash, pressing oil.
Davis Feed employs eight full time staff, then we have three people for the garden centre.
For the two weeks of sunflower time we hire an additional 13 people, mostly students, to help us out.
When did the sunflowers become part of the business?
About 12 years ago we started growing sunflowers and little by little we expanded. It was grown for birdseed. It has been great for us. Other farmers in Caledon grow sunflowers and we take their seed as well.
At one point we had about 120 acres of sunflowers growing around Caledon supplying seed for the store, now we have 65 acres here and then there are other farms. Every acre of sunflowers yields about a ton of seed which we will sell through the store as well as through the Caledon East Foodland and Mountain Wildlife in Caledon Village.
Caledon loves their birds!
What kind of sunflowers do you grow?
There's really only two categories of sunflowers, oil seed and conventional seed. Oil seed is all that we use, it's birdseed and cooking oil variety. Conventional is the seed you would eat.
We work with a company that imports the seed into Canada. There are two varieties of oil seed that are suitable for the Canadian climate. We've chosen the one that's a quicker yield. As winter gets closer you hope for it to dry so it can be taken off before the snow flies and before the birds eat it all.
We lose about a third of every crop to birds. Every head a third is gone. There's nothing you can do, the seed is for feed so there's no spray, we could get cannon shot but we love our neighbours, it's too noisy. And they wouldn't love us.
We do not spray the sunflowers but they are not organic either. We put a fungicide in the soil when we plant the sunflowers to promote growth and beat the weeds.
When did the sunflowers become more of the business than just birdseed?
Two years ago, we thought, there is so much interest in our sunflowers why don't we open it up for the public to come in and see what happens. [Laughing]
That's when Davis Family Farm was started – and it's been quite a ride.
We have split the businesses – Davis Feed & Farm Supply is the store/garden centre and Davis Family Farm is the sunflowers/pumpkins … we did that because there was a lot of confusion only having one business name.
People would google Davis Feed, see that we are open and assume they could come and see the sunflowers.
We try to put as much out there to differentiate the two businesses as possible. We don't want people to feel inconvenienced if they come here and there's no flowers to see.
A couple years ago is also when I started experimenting with using our seed for sunflower oil. I bought a little hand crank – all night long I was cranking our seed through just to see what kind of product came out and it turned out to be a very nice oil.
We reinvested and got some bigger machines to make oil – it's great for cooking and tastes great so we use it for salad and on pasta as well. It's a good healthy alternative. It's sold in the store year-round.
We also do a sunflower honey. We have 22 hives. There's a beekeeper that takes care of all that.
He takes the honey harvest while the sunflowers are still in the field, so we know it is pure sunflower honey.
We only have enough for our store. These bees yield about 3000 lbs. of honey. But it's really popular. Unfortunately, we never have enough to keep it year-round.
Do you find the tourism aspect of the business overwhelming?
It was at first, but it is getting better and better… its quite a stress – but it's all positive and I love it. The biggest issue is parking. You just never know what to expect. Last year people were parked all over the lawn but this year we have a specific area people are directed to and staff to handle all of that. Sometimes we have to turn people away.
This year over 20,000 people came to visit our farm within two weeks.
It's shocking to learn that people are coming here from all over the world with sunflowers on their bucket list – we met people from Mumbai, Dubai, South Africa… who are visiting Toronto and want to see the sunflowers.
Overall it has been great, teaching people or having conversations about agriculture is so interesting and we take ownership and pride in that. A lot of people have never been to a farm before so it's great to have an opportunity to inform them, or sometimes we meet people that farm elsewhere so we talk about different practices…. it's great.
We rented a golf cart. Driving people around has become my favourite part of the day. We take the elderly or people with physical limitations out on the cart and then — on the return trip — we take whoever is ready to go back to the parking area. That's when all the conversations happen.
People will come two or three times to get the perfect selfie but also just to be in this beautiful setting. The fact we're so close to the city, I think that's what surprises a lot of people.
How do you think your business, and especially the sunflowers are benefitting the community?
Part of the proceeds for the sunflower entry fee are donated to the Canadian Celiac Foundation. This year we raised over $16,000. It's important to us, my son and I are both celiac.
We get other businesses or organizations involved, too. The Caledon East United church came in and sold water as a fundraiser and Abbeyfield also sold water for their establishment.
We hosted a yoga night for Caledon Community Services and The Canadian Celiac Association. There was at total of 100 people over two nights: it was so fun for us.
To create a local marketplace we have brought in others, too.
We had a local candlemaker (June & Rose Candles), the ice cream store (Mainstreet Ice Cream), local flower grower (Crystalview Greenhouse), Creature Quest brought in Exotic Animals for the kids and Mount Wolfe Farm came in with their vegetables.
It makes it more of an experience for the visitor and allows local business to benefit from the crowds.
We are not interested in letting just anyone sell here, thought. We want businesses that reflect Caledon and we always encourage visitors to explore the area.
There are other farms offering a sunflower "experience" now. What do you think about that?
It's great. We all worked together actually. Campbell's Cross Farm and Dixie Orchards both timed their planting later than ours to be able to extend the season. It's not competition; it enhances the experience and lengthens the sunflower season in Caledon.
They bought the seed to plant from us and we'll arrange the harvesting and buy back the seed from them to sell in the store.
They had great ideas too. Each farm is similar but unique in what it offers.
We get hundreds of people still coming here after our sunflowers are done but people are so happy when we let them know that there are other farms they can visit to get a similar experience.
Within the two weeks after we closed, we had over 500 cars arrive that we were able to guide to the other sunflower farms.
Your sunflowers are quite a social media sensation. Do you work at that?
We do very little to advertise on social media. It has a life of its own and you never know who is going to show up and what they will be posting. Almost everything has been positive though. The only complaint seems to be that we need another couch for photos. [laughing]
But social media is such a great tool to use for our business, we always keep it updated.
The blogs, the social media… have been very good for us, but the problem can be misinformation – one blog said "beat the crowds, visit the sunflowers in the spring" which of course makes no sense.
We still get phone calls and people dropping by every day…. We actually get people calling in April asking if they can come to see the sunflowers – at that point the seed is still in the bag [laughing]. We even had visitors come over Thanksgiving weekend to see the sunflowers.
We can only post pictures of sunflowers during the two weeks – no other time, otherwise people will show up to our farm to see the sunflowers.
[John Davis joins in the conversation] How has the business changed over the years?
Dairy (for feed) is what got us started, it's not what it used to be. Agriculture is leaving this area so that affects our business… but we've adapted and expanded in other ways.
We haven't had any years where the challenge was too much. The horse industry and hobby farms have remained strong in the Caledon Area
What do you find most challenging about the business?
My parents live here and we live in the house beside the original house with our two children. It's a great experience for all of us but we are also living at work so sometimes it's challenging – playing with the kids and sometimes people drop in wanting to know if the store is open.
We're open six days a week (closed Sunday), when the garden centre is open it's seven days/week, sunflowers and Christmas trees seven days/week and eggs are self-serve so seven days a week. It's a lot of work.
But if you love what you do it's fun, we've chosen it. We adapt, to the changing times, we learn each season and fill in the gaps where we can.
The customer base changes depending on the time of year and what they are looking for, it keeps it interesting.
Davis Feed & Farm Supply is located at 15770 Mountainview Rd, Caledon | davisfeed.ca
Davis Family Farm | davisfamilyfarm.ca