Microsurfacing work on three sections of roads
What are we doing?
Microsurfacing is a road maintenance tool intended to extend the life of existing asphalt and create a slightly smoother riding surface.
Why?
To extend the life of the pavement surface.
When?
The Contractor will start work in various locations on May 29, 2023, and be completed by June 9, 2023, weather permitting. The work on your street is expected to take one to two business days.
Where?
Horseshoe Hill Road (The Grange Side Road to Escarpment Side Road)
Creditview Road (Kennedy Road to King Street)
Heart Lake Road (Olde Base Line Road to Escarpment Side Road)
Who can you call?
Town of Caledon
Lisa Wooldridge - Operations Coordinator - 905-584-2272 ext. 4410
Service Caledon - 905-584-2272 ext. 7750
Contractor - MSO Construction LTD
Peter Mieske - Project Manager - 416-678-4838
Bell/Rogers
Unfortunately, the Town has historically discovered communications cables installed closer to the ground surface than specified. If these lines are closer to the surface than the Bell/Rogers specification a line may inadvertently be cut by the construction crew. It is Bells/Rogers responsibility to provide you with a service that is buried to a sufficient depth and they will need to address any line outages.
In the event you find your line is cut please contact them directly at:

Bell outside Service Wire: 1-866-310-2355
Rogers Communications: 1-888-764-3771
Traffic and Parking Control
We will need to reduce traffic on Heart Lake Road to a single lane during construction and Traffic Control persons will be used with proper signage.
Working Hours
Contractor's normal working hours are from 7 a.m. to 7 p.m. We apologize for any inconvenience this may cause, but a shorter working day would mean the project would take longer to complete.
Should you have any questions, please do not hesitate to contact Service Caledon at 905-584-2272 ext. 7750.
Horseshoe Hill Road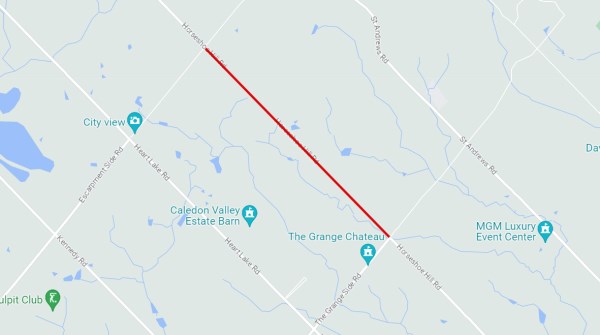 Creditview Road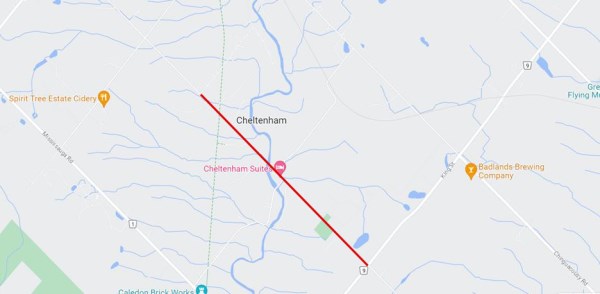 Heart Lake Road