Economic Development Strategy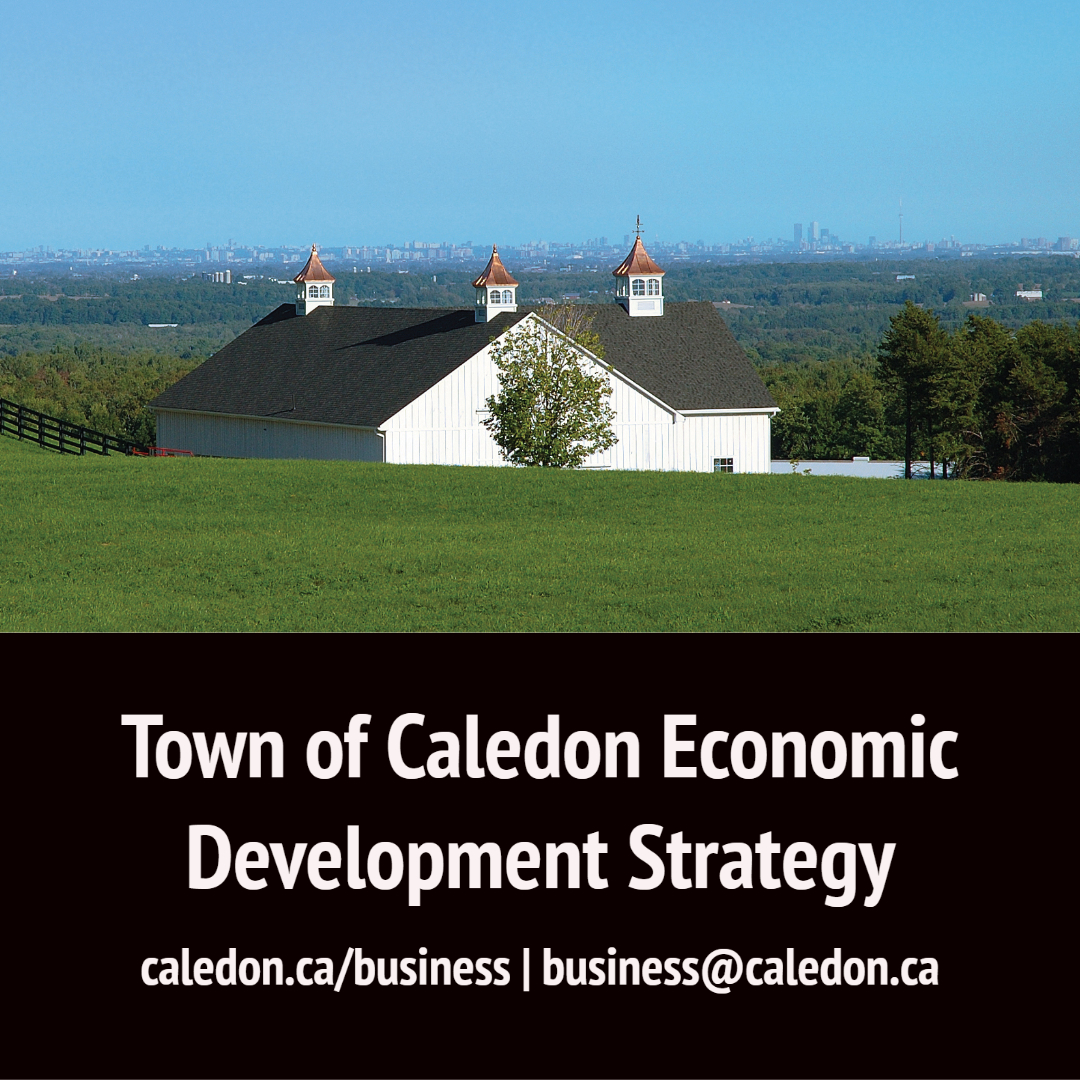 The Town of Caledon has adopted a ten-year economic development strategy that focuses on creating a vibrant community and a strong business and entrepreneurial ecosystem while continuing to enhance the town's overall investment readiness.
"As we begin to turn our attention to COVID-19 recovery, now more than ever we need a solid foundation for our economic future," says Mayor Allan Thompson. "The strategy provides both short and long-term direction for the municipality as we look to recover and build an even stronger Caledon."
"Caledon 2020-2030, An Economic Development Strategy for the Town of Caledon," was adopted by Council on April 28, 2020.
The strategy highlights Caledon's primary strengths: its advantageous location in the GTA, its proximity to regional transportation infrastructure, its many greenfield development opportunities and its skilled workforce.
The strategy targets the following industry sectors as candidates for growth: advanced manufacturing, agriculture (including value-added agri-business), tourism (including arts and culture) and the creative class.
The strategy is focused on four key themes: Support for the Entreprenurial and Small Business Economy, Business Retention and Growth, Improved Quality of Place and Enhanced Investment Readiness.
More specifically, it recommends several key objectives:
Development of and investment in the Town's urban and village cores, enabling opportunities for higher density residential, mixed use and office style development, co-working spaces, destination retail and high-quality public spaces.
Smart City concepts to help improve connectivity and drive innovation and productivity across the town.
Intensification and incentives for private sector investment to close the gap in the Town's tax assessment ratios and contribute to higher employment densities.
Stronger partnerships with regional innovation players to help build the local innovation ecosystem benefitting both residents and businesses
The strategy will also serve as an important input into Future Caledon, the new Official Plan being developed by the Town.
The economic development strategy was developed after significant community and stakeholder consultation. Input was gathered from residents, local businesses, industry and community partners, senior Town staff, and elected officials.
In the coming months an implementation plan will be developed. For more information contact Ben Roberts, Manager, Business Development, Culture and Tourism at ben.roberts@caledon.ca, 905.584.2272 x. 4011.
- 30 –
Media Contact:
Strategic Initiatives | Communications
905.584.2272 x.4108 | communications@caledon.ca