COVID-19 Update: Town of Caledon declares State of Emergency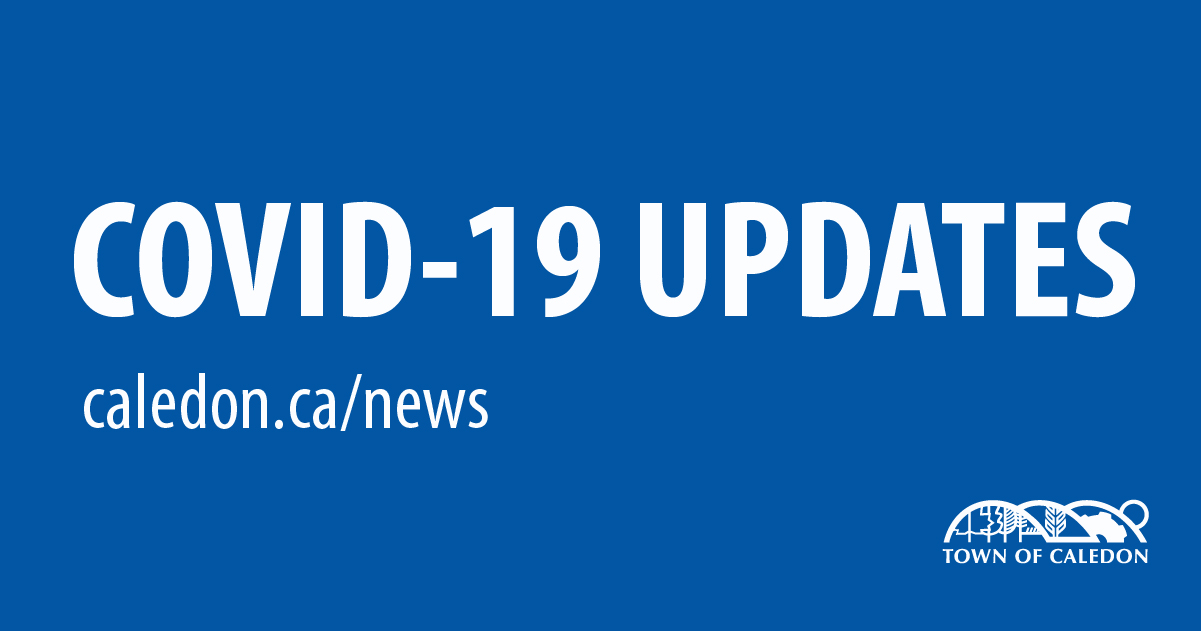 (March 18, 2020) In response to the ongoing COVID-19 pandemic the Town of Caledon today declared a state of emergency, which enables the Town to access additional financial and other resources as needed.
"Our staff is already fully engaged in the COVID-19 response," said Mayor Allan Thompson. "This declaration gives us more flexibility to call on additional financial resources if needed. We want to ensure we have access to all the tools in our tool chest and that we can act with the utmost speed as circumstances warrant."
The Town has already implemented a wide range of service level adjustments in response to the COVID-19 pandemic. The Caledon Emergency Operation Centre (EOC), in consultation with its regional partners, is continually assessing the situation to determine any necessary changes to operations, programs or service levels.
SERVICE UPDATES
The Town will continue to provide updates about any service level adjustments in response to COVID-19.
ANIMAL SERVICES
The Caledon Animal Shelter is closed to the public. Pet adoptions are closed and no donations will be accepted at this time. Animal Services will continue to respond to animal related urgent concerns such as dogs and livestock at large, sick and/or injured wildlife, etc. For more information call 905.584.2272 x. 4698.
BUILDING INSPECTIONS
Building inspections will be conducted for vacant properties only. Inspections of occupied dwellings can be scheduled for dates following April 5 (subject to change). For more information visit caledon.ca/building.
BUILDING PERMITS
New building permit applications are not being accepted but applications already submitted will continue to be processed.
BY-LAW ENFORCEMENT
Municipal Law Enforcement will attend to urgent, high-priority calls.
CALEDON PUBLIC LIBRARY
All branches of the library system are closed. Residents are encouraged to delay returning borrowed materials until regular services resume. Overdue fines will not be incurred during this time. On-line materials including e-books and streaming materials can be accessed via the Caledon Public Library website.
CLAIMS
Claims will continue to be adjudicated and anyone wishing to submit a claim can do so online at caledon.ca/riskmanagment.
CONSTRUCTION
Town projects are continuing, subject to external service providers.
CUSTOMER SERVICE
The Town continues to provide phone and email service through Service Caledon at 905.584.2272 x. 7750 (info@caledon.ca) Monday to Friday 8:30 a.m. to 4:30 p.m. and through www.caledon.ca.
FACILITIES
Town Hall, community centres, recreation centres and all other Town offices and buildings are closed to the public.
FINANCE
Vendors will continue to be paid.
PARKING PASSES
Parking passes can be obtained online at caledon.ca/parkingpass.
PLANNING AND DEVELOPMENT
No new development applications are being accepted at present. Applications already submitted will still be processed. Any associated public meetings are cancelled until further notice. Telephone consultations will continue.
PROVINCIAL OFFENCES COURT
All Provincial Offences Act matters scheduled from March 16 through to and including April 3, 2020 will be adjourned and rescheduled to a later date. For more information visit the Ontario Court of Justice or call the Provincial Offences Administration in Caledon at 905.584.2273.
PURCHASING
The procurement process continues. Bids and tenders are available online at caledon.ca/purchasing.
RECREATION AND COMMUNITY CENTRES
All recreation facilities and community centres are closed. March Break camps, registered programs, and rentals are cancelled. Refunds/credits will be issued automatically by the Town. Memberships will be extended for the duration of the closure. Spring registered programs will be extended where possible and communicated through email, including refund/credit information where applicable.
Residents are still able to register for programs and book facility rentals for events occurring after April 5, 2020.
ROADS
All road maintenance operations continue. Permit can still be purchased and paid for over the phone, by mail or by the drop box at Town Hall.
TAX
Tax payments can still be made without having to visit Town Hall: through online banking, by credit card (online), by mail or by the drop box located outside Town Hall. For more information visit caledon.ca/tax.
A full list of online services is available at caledon.ca/eservices.
UPDATES
For information and updates from Peel Public Health, please visit peelregion.ca/coronavirus, follow @regionofpeel on Twitter or on Facebook, or call (from Caledon) 905-584-2216 during business hours (Monday to Friday 8:30 a.m. to 4:30 p.m.).
For updates from the Town of Caledon, follow @YourCaledon on social media or download our app to get alerts to your mobile device (caledon.ca/app).
- 30 -
Media contact:
Strategic Initiatives | 905.584.2272 | communications@caledon.ca