COVID-19 Business Impact Survey #2
The Caledon Economic Development Office conducted an online COVID-19 Business Impact Survey in June. This is the second Business Impact Survey undertaken, the first was conducted in April.
Highlights
The data collected indicates no significant variations from the first business impact survey. There were, however, a couple differences of note:
Recovery may take longer
When asked how they would recover if the pandemic ended today
only 36% indicated recovering in a 1–6 month timeframe, a drop from April's survey (50%)
with 14% indicating it would take over 12 months, a doubling (from 7%) since April.
On a positive note, 40% indicated they would be okay for the next 6 months compared to 27% in April.
Background
80 surveys completed. Respondents were from all business sectors and spread throughout the Town: 50% in Bolton and 50% in Caledon East, villages and rural area.
Most respondents were from businesses with 1–4 employees and had been in business for 10+ years.
Number of full & part-time

employees (prior to COVID-19)

Number of years in business

None

16%

Less than 6 months

0%

1-4

36%

6 months to 1 year

2%

5-9

14%

1 to 3 years

4%

10-19

16%

3 to 5 years

8%

20-49

8%

5 to 10 years

11%

50-99

4%

More than 10 years

75%

100-199

3%

200-499

2%

500+

1%
The number of businesses deemed to be essential or non-essential by the Province of Ontario was evenly split, at 38 each with 4 businesses being unsure.
What did the business community say?
How has your business had been affected by COVID-19 (select all that apply):
87% indicated a loss of revenue
70% said they had added expenses to mitigate health risks (cleaning, gloves, masks, etc)
49% changed their business hours
40% are experiencing supply chanin disruptions
23% have been unable to pay rent/mortgage
3% had an increase in revenue
1% has not been affected
Please estimate any revenue decline that you've experienced as a result of COVID-19 (since March 15):
41% indicated a loss of 75%
21% had a loss of 30 – 50%
15% lost 1-29%
11% 51 – 74%
9% had no loss
3% indicated an increase in revenue
What measures have you or will you be taking to mitigate the economic impact of the COVID-19 pandemic?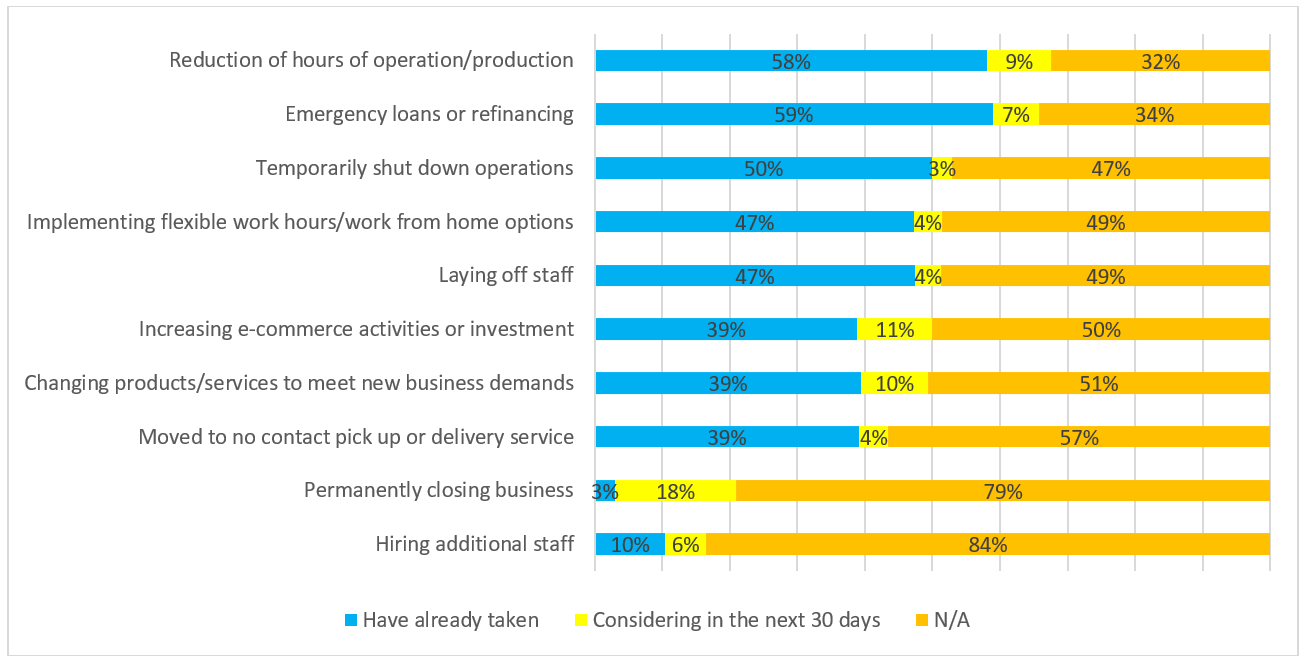 If you have completed a cash flow projection for the next six months, what best describes your situation?
40% indicated they'd have difficulty in a few months, and the same number indicated they'd be ok for six months
17% indicated a need for financial assistance immediately
3% said they have or will have to close permanently
Let us know the level of your concern regarding these factors.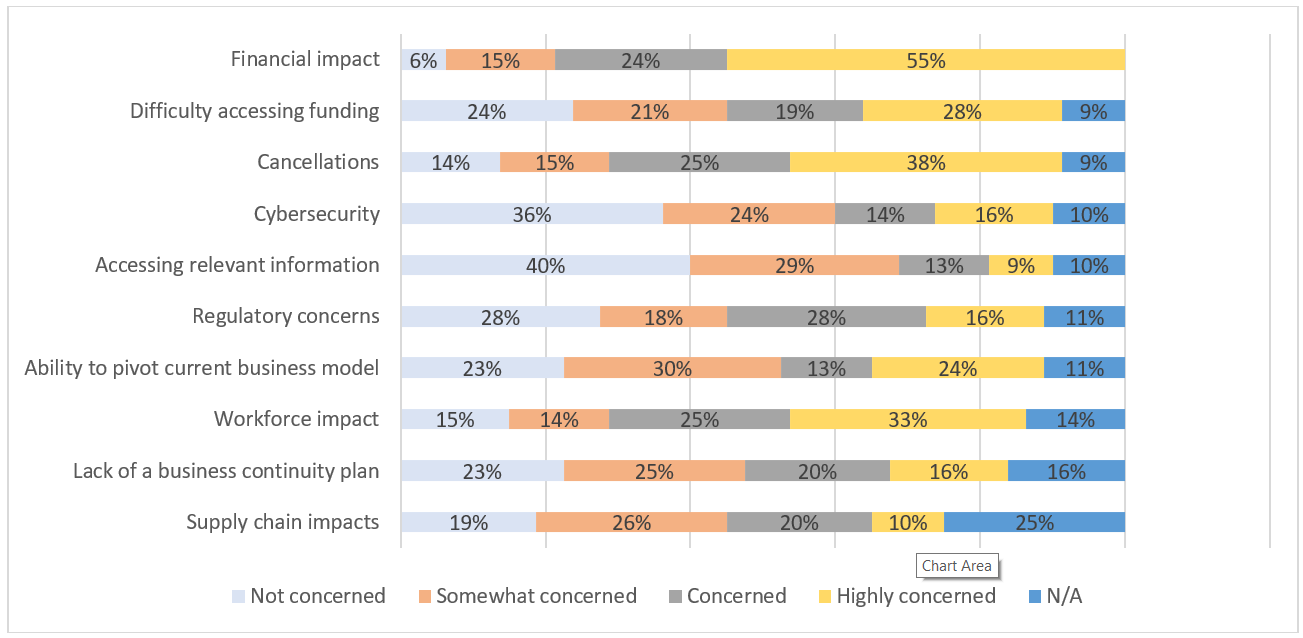 If the pandemic ended today, how much time do you think it would take to get back to business as usual?
36% said 1 – 6 months
29% indicated 6 – 12 months
16% said less than a month
14% over 12 months
4% indicated no recovery needed
1% said they would not recover
When asked if they had taken advantage of the economic response measures from any level of government 74% indicated they have, 20% have not, and 6% hadn't yet but would be.
What type of economic response measures have supported your business?
Most common responses were the Canada Emergency Response Benefit, Emergency Wage Subsidy and Emergency Business Account, while 17% indicated taking advantage of the Commercial Rent Assistance and 6% have done the Caledon tax deferral.
What type of assistance would be most helpful to your business? Select all that apply.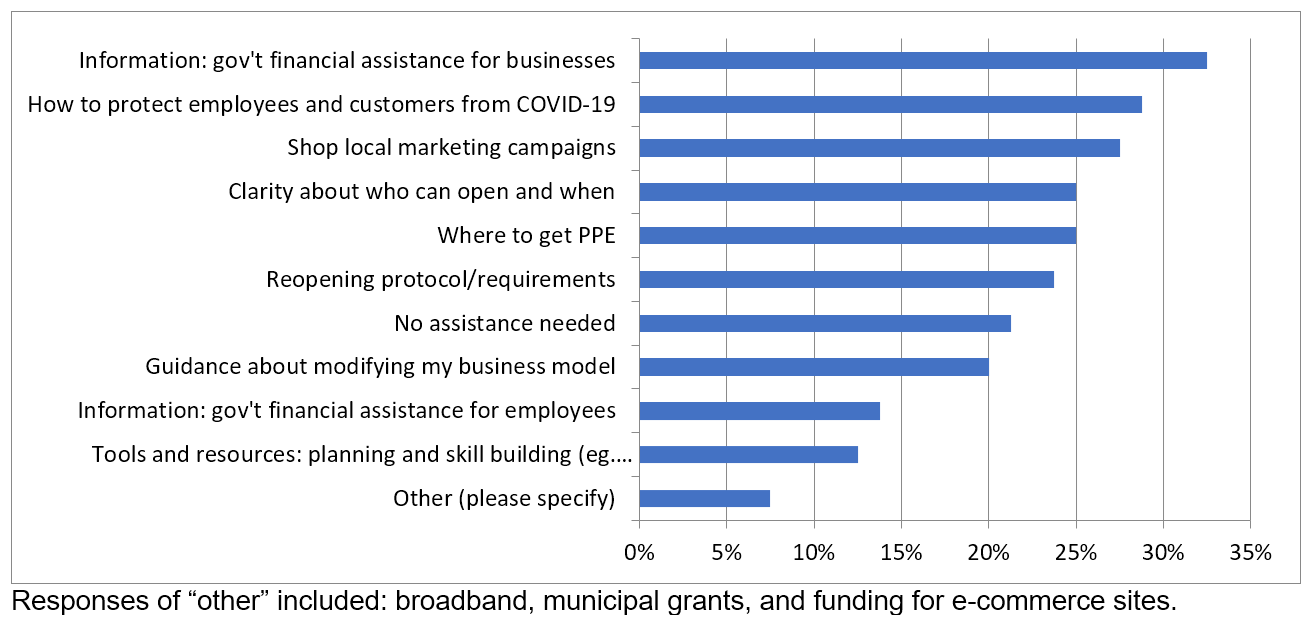 What channels do you most frequently use to gather COVID-19 information. Select all that apply.
Most businesses are getting their information from Canadian TV channels (70%), however many are also using internet sites, radio, national newspapers, international TV channels and association e-newsletters. To a lesser degree, businesses are also gathering information from social media (especially Facebook), local newspapers, the Town's business newsletter.
The information gathered allows staff to customize and tailor our response and provide support that meets the specific urgent needs of the business community.