Caledon receives major funding boost for rural economic development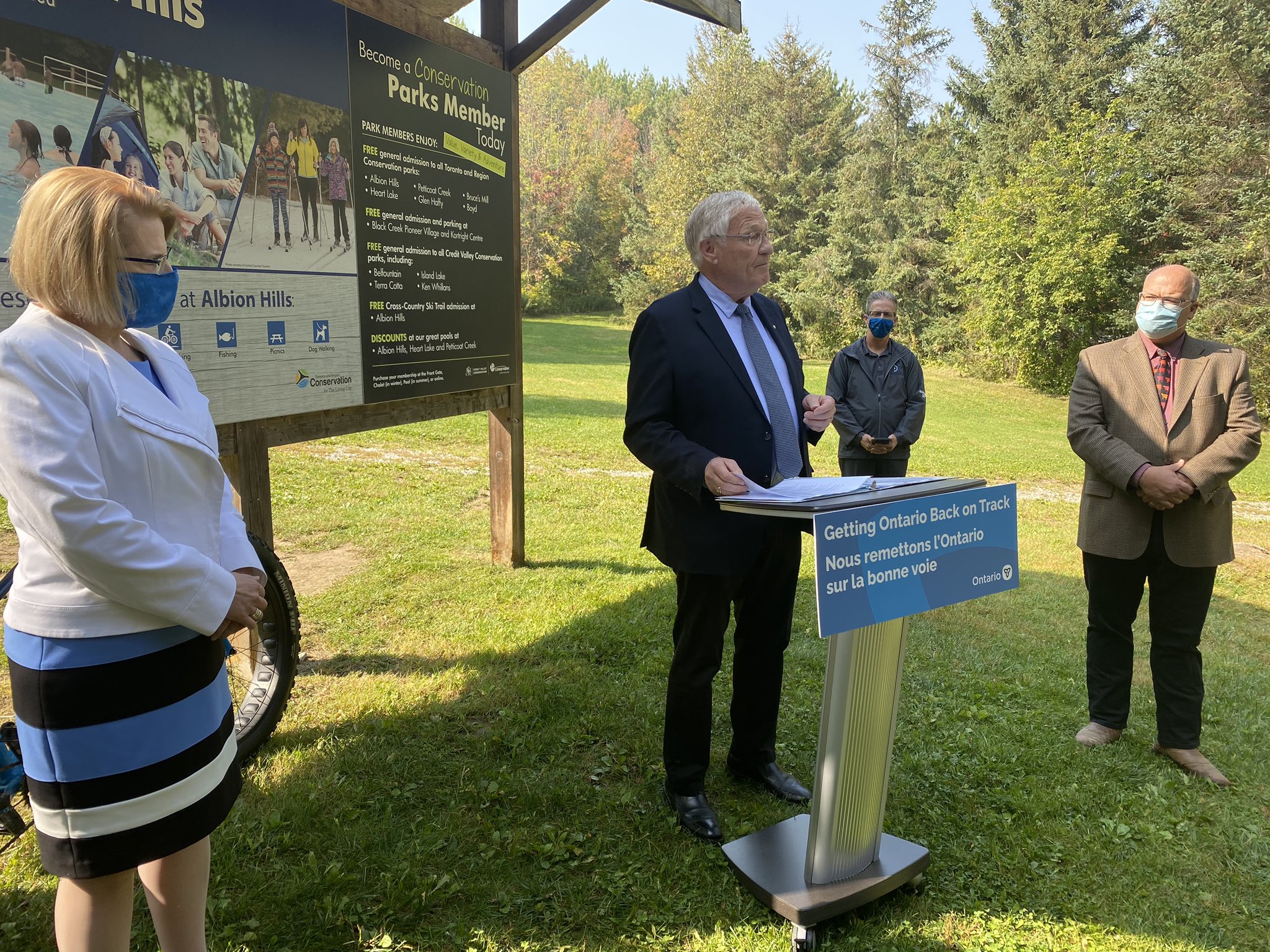 Town of Caledon's Economic Development and Tourism Office is set to take its web-based marketing to a new level thanks to a major funding boost from the Province of Ontario's Rural Economic Development (RED) Program.
Over the coming months the Town will be building a new, standalone economic development website, modernizing its tourism website and adding to its cutting-edge virtual reality (VR) videos to promote investment and tourism.
The projects will be funded through a 50 per cent cost-share arrangement with the Ministry of Agriculture, Food and Rural Affairs' RED program contributing $43,500.
Video
Launch the video in a new window
The announcement was made today at Albion Hills Conservation Area, followed by an event at the Caledon Hills Brew Pub in Palgrave, Ontario. Caledon Hills is a member of Caledon's well-known craft beer and cider production sector…and recently opened its brew pub as part of a major expansion.
Participating in the announcement were Caledon Mayor Allan Thompson, the Hon. Sylvia Jones, MPP (Dufferin-Caledon) and the Hon. Ernie Hardeman, MPP and Minister of Agriculture, Food and Rural Affairs.
QUOTES
"There is so much to offer here in Caledon," said Mayor Allan Thompson. "By telling our compelling story to investors and visitors, we drive our local economy and create jobs here in Caledon. It's a win-win for Caledon and the province."
"It's vital for economic growth to work with our municipal partners to put their best foot forward," said the Hon. Sylvia Jones, MPP Commissioner, Board of Internal Economy and Solicitor General. "This investment in online marketing and promotion helps Caledon bring its story to the world…and I couldn't be prouder."
"I've known Mayor Thompson for many years so let me tell you, I've heard about Caledon's great assets," said the Hon. The Honourable Ernie Hardeman, MPP, Minister of Agriculture, Food and Rural Affairs. "I'm proud of our RED program and this is a perfect opportunity to help boost rural economic development."
Project Details
Economic Development & Tourism will receive funding for the development of both Economic Development and Tourism Websites and Video Development Projects through the Economic Diversification & Competitiveness Stream and have been approved for 50% of eligible costs up to $43,500.00.
The funding will support the following three projects:
1) A new, standalone Economic Development website
Development of an Economic Development website, that will be mobile friendly and provide all of the location information required to promote Caledon as an attractive investment opportunity to Site Selectors and businesses, as well as providing relevant information for entrepreneurs and small businesses to encourage business startup and growth.
2) Updating the VisitCaledon tourism website to be mobile-friendly
Visit Caledon Website Modernization: The current Tourism website is not mobile friendly and in this present technological environment is not at the same level, competitively, as other destinations. Travelers primarily use mobile devices to research where travel to in the near or distant future and the Visit Caledon website is not fully accessible by mobile device. The new website would include a new Blog section and allow the site to host VR videos.
3) Virtual Reality (VR) Video Production
VR video production will focus on two subject areas: (i) Targeted Industrial Sector Profiles to educate, entice and inspire investment with Caledon and (ii) Winter Tourist Destination to attract visitors to come experience Caledon as a tourist destination in the winter season.
About The Rural Economic Development (RED) program
The Rural Economic Development (RED) program is an Ontario government grant that supports economic developers and municipalities. Through this program, funding is provided to strengthen rural Ontario's business landscape through targeted activities aimed at removing economic barriers, attracting business investment, and diversifying economic interests.
RED provides funding for municipalities and non-profits for the planning and implementation of economic development projects.
These include two streams:
1) Economic Diversification and Competitiveness
Projects that remove barriers to job growth and attract investment, up to 50% of eligible project costs to a maximum of $150,000; and
2) Strategic Economic Infrastructure
Projects that advance economic development and investment opportunities, up to 30% of eligible project costs to a maximum of $250,000.
About the Town of Caledon Economic Development and Tourism Office
The Economic Development and Tourism Office is responsible for the support of Caledon's local businesses and job creation as defined in the 2020-2030 Town of Caledon Economic Development Strategy. To find out more please visit the Caledon Economic Development website link caledon.ca/business and our tourism website visitcaledon.ca. For more information contact Ben Roberts, Manager, Business Development, Tourism & Culture at 905-584-2272x.4011 or by e-mail: ben.roberts@caledon.ca.
– 30 –
Media Contact:
Strategic Initiatives | Communications
905.584.2272 x.4108 | communications@caledon.ca