Caledon receives "ButterflyWay" community designation thanks to resident leadership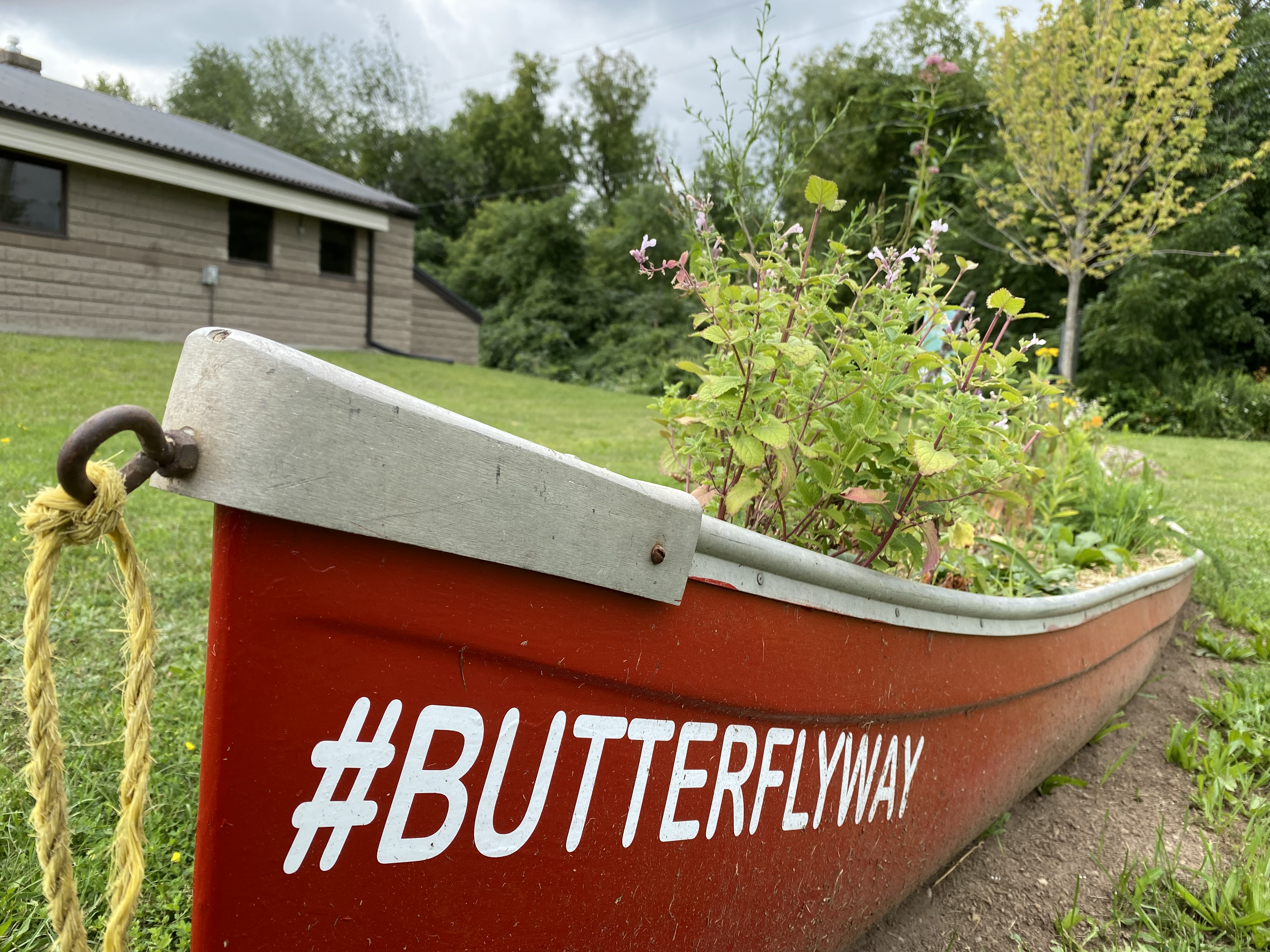 October 8, 2021 -- The Town of Caledon is being recognized by the David Suzuki Foundation as a ButterflyWay community, thanks in large part to local volunteer efforts led by Bolton resident Janice Fisher. As a "Butterflyway Ranger," Janice mobilized residents in Bolton and across Caledon to plant pollinator-friendly gardens. She also worked with the Town to plant pollinator gardens – some in bright red canoes – at several Town facilities.
"I am so proud to recognize an outstanding Caledon resident like Janice," said Mayor Allan Thompson. "Through her volunteer efforts she is making sure that Caledon is a good home to pollinators, which will help us have a more resilient local food system. I would also like to recognize all of the homeowners, schools, farms and businesses in Caledon who have planted a pollinator garden on their property."
Pollinator gardens help to enhance local food security, which is an action identified in the Resilient Caledon Community Climate Change Action Plan that Council passed earlier this year. Pollinator gardens contain native plant species to attract bees, butterflies, hummingbirds or other species that transfer pollen from flower to flower. Pollinator species around the world are in decline due to the impacts of a changing climate and the use of pesticides. Pollinators are essential to human survival, as almost 80 per cent of crop plants grown around the world require pollination by animals.
"A biodiversity crisis motivated Janice Fisher, and a pandemic couldn't stop her," said Jode Roberts, manager of the David Suzuki Foundation's Butterflyway Project. "It's people like Ranger Janice who give you hope that we are going to pull through both and wind up better on the other side. She's an inspiration and the reason why more bees and butterflies will be buzzing around Bolton (and Caledon!)."
This year, Fisher and the Bolton Girl Guides secured funding from the Rotary Club and planted pollinator gardens at the following locations:
Caledon Centre for Recreation and Wellness:
Added 75 native plants to an existing garden bed
Albion Bolton Community Centre:
Planted a new pollinator garden in front of the Caledon Public Library
Bolton Fire Hall and Caledon East Fire Hall:
Installed and planted a pollinator garden inside of a two red canoes
King Nursing Home and Family Tree Daycare
Fisher has encouraged more than 100 residents to plant pollinator gardens in their yards through social media and other outlets. To date, pollinator gardens have been planted at:
16 homes in Bolton, Palgrave and Caledon East;
Three schools including, Saint John Paul II Elementary School, James Bolton Public School and St. Cornelius Elementary School;
Two churches, including Palgrave United Church and Trillium United Church; and
Albion Hills Community Farm.
About the David Suzuki Butterflyway Designation
The Butterflyway Project is a volunteer-led movement that began in 2017. The goal is to recruit teams of volunteer Butterflyway Rangers to plant native wildflowers in yards, schoolyards, streets and parks to support bees and butterflies. A local Butterflyway is established if at least a dozen pollinator patches are planted in a neighbourhood or community.
- 30 -
Media Contact:
Stacey Abbott
Manager, Communications
905-584-2272 x. 4076 | stacey.abbott@caledon.ca
caledon.ca | @YourCaledon