Caledon joins ShopHERE to help local business grow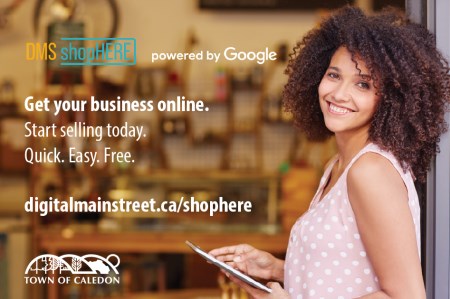 To help support our local small businesses, Caledon has joined the ShopHERE powered by Google program.
ShopHERE powered by Google, which started in the City of Toronto, helps independent businesses and artists build a digital presence and minimize the economic impact of the COVID-19 pandemic. Local businesses and artists can apply for the program at digitalmainstreet.ca/shophere to get their online store built at no-cost.
This program goes beyond just main street bricks and mortar locations as it also extends to artists, home-based, and rural businesses who are looking to find additional markets for their goods and services.
"This is just another way we're trying to assist our business community as we focus on recovery," said Mayor Allan Thompson. "ShopHERE is a great initiative to help businesses rethink their approach, have the tools they need to sell online, survive and hopefully thrive in this unprecedented time."
In May, Google Canada announced a one million dollar investment to enable Digital Main Street to expand the program to municipalities across the country, offering more businesses and artists the opportunity to build their own online store.
In order to qualify for the program, a business must be independent (not part of a franchise or chain) and have fewer than 10 employees. Cafés, bars and restaurants with fewer than 25 employees are also eligible.
As part of the ShopHERE program, businesses receive their choice of an online store customized with their specific information and branding. They also receive assistance with setting up and launching their online store and training to support them in areas like digital marketing, shipping and inventory management.
- 30 –
Media Contact:
Strategic Initiatives | Communications
905.584.2272 x.4108 | communications@caledon.ca