Business Profile: Gourmandissimo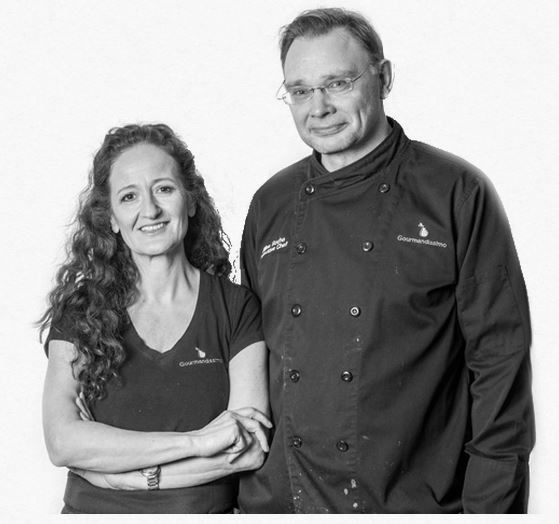 Gourmandissimo is a small inviting shop in Caledon East offering big taste, high quality and excellence in all that they do -- from catering and wedding planning to grab-and-go meals. We sat down with owners Gilles and Adriana Roche to discuss their business journey, lessons learned and their devotion to community.
Tell me about the business.
We opened in 1999. Gilles is a chef and I'm a pastry chef. Our food is all made from scratch and as locally-sourced as possible. In the shop we have pastries, baked goods, chocolate confections and ready-made meals such as soups, pot pies and gourmet-prepared meals. We also carry a selection of local food products like honey and maple syrup.
We have a licensed space upstairs for about 40 people, The Bartlett Room, which can be used for catered meetings or events. We also host wine-pairing dinner nights.
The busiest part of our business is the catering. It's more than just the food, we offer full design and event organization services. We cater a lot of weddings, 35 last year. We are fully booked for weddings this year and booking into 2020.
Our original thought when we came to Caledon was that we would open a restaurant and event space, but the catering was in such demand. Back in 2006 we accepted an offer from the Best Western in Orangeville to partner with them as their exclusive caterers; the restaurant was put on hold.
We have 4 full-time staff plus the two of us and many part-timers; with events we employ up to 30.
We also take on quite a few co-op students. Gilles takes the time to train and mentor every one of them. Several students have gone on to become quite successful chefs.
What does Gourmandissimo mean?
Gilles is French and I'm Italian. Gourmand is French, "a connoisseur of good food" and -issimo is Italian, "utmost, to the highest grade".
Have both of you always been in the food industry?
Adriana: Gilles grew up and trained as a chef in Monte Carlo – he has cooked for royalty. Did you know there's a culinary Olympics? – Gilles was in that when he was in Switzerland and won a silver medal; it is a very big deal.
There was a whole world before he met me [laughs].
I was working in Movenpick hoping to make my way to Geneva and Gilles was in Geneva hoping to make his way west to Toronto.
Gilles: This is the beauty of being a chef, if you want to go somewhere you can. I had options to go elsewhere but I chose Toronto. I wanted to come to Canada mostly because of the French language, thinking it may be easier to settle… then realized they don't really speak French in Toronto. But it is easier here than in the United States. My thought at the time was that I would work on my English there for a year and then go to the States, but… [looking at Adriana]
How did you meet, and end up in Caledon?
Adriana: We were working in the same restaurant; I could speak English, French and Italian so there was a good connection. We got married within two years. We stayed in Toronto and owned a restaurant on Bay Street for over eight years. After our first son was born we decided to leave the city and settle down in a smaller community, which brought us north.
We ended up in Caledon; we rented a place in Palgrave. We looked at various restaurant properties, made an offer on one but the deal fell through. So, there we were with no jobs and a one-year old baby.
To keep himself busy, Gilles started working with my cousin who is a local contractor. He has always liked working with his hands. Our landlords had a strong connection with Theatre Orangeville and we started helping them out with their fundraising. On weekends we would still cater to our old clients in downtown Toronto.
We kept driving by this place and ended up buying it. It was a lot of work, we renovated the house in the back - it was a shack… low ceilings and short doorways – Gilles couldn't even fit in the place [laughs]. We gutted this building and added the extension to the back. It was supposed to be our stepping stone, but we got comfortable with the neighbourhood and our children – now three of them -- were settled into schools. Hard to believe this year will mark 20 years that we have been open.
How did you grow your business?
Adriana: We were new to the neighbourhood, didn't really have any connections and I had enjoyed my dealings with the theatre the past year. Volunteering has always been a big part of my life, so I just started joining various committees and supporting local organizations, the Orangeville Theatre, Peace Ranch, Headwaters Hospital …. We donated a lot of our services and food. You can pay a lot of money for print advertising or you could just get your food in front of people. It gave back both ways.
Gilles: And social media has changed things, too. There was no Facebook then – so you had to get out and network in person.
Adriana: When we opened here I was still wholesaling downtown Toronto with my baked goods for a few years. I would finish an order and Gilles would deliver it in the middle of the night. We were so busy back then doing wholesale, catering, our retail store and the growing family.
We worked seven days a week. Lucky for us, we love what we do and lived so close to work! We were also fortunate to meet many wonderful people who helped us with the kids along the way.
What gives you the most satisfaction about having a business in Caledon?
Gilles: It's a small neighbourhood; You become friends with your customers. We find people here to be very down to earth regardless of how affluent they are. People treat you well.
Adriana: We are very grateful. People are lovely. My job is always unique. When I can go to someone's farm and they are holding a family wedding on the site which has been in the family for generations, it's special. And there are so many fantastic venues in the area like that.
You are obviously very busy. How do you find the time to volunteer? Why is it important to you?
Adriana: I grew up in a "small" area within Toronto in little Italy, but we always gave back. It's how we were raised. It's part of the reason we came here to feel like we were part of a community again.
Gilles: my parents helped many people, part of our weekends growing up was always about giving back. Whatever you put out comes back to you.
How do you like working together?
Adriana: We have been married 29 years this May – which is a big accomplishment considering we work together [laughs].
Gilles: We spend so much time together it's more like a 50-year marriage [laughing].
Adriana: There's a lot of compromises; we complement each other well.
What's the best advice you can give about operating a business?
Gilles: Don't spend what you don't have. Keep it simple and grow slowly.
Adriana: Work hard, be dedicated and be passionate, but go to school, get proper training and do a business course. You have to know both aspects to be successful. Get to know your business. I took accounting, business, and wine courses. I did flowers in the beginning; my parents had a flower shop. Gilles is quite handy at fixing things, building and repairs, besides being an awesome chef!
Gilles: Do as much as you can yourself – paying someone else for every little thing costs too much.
What do you find most challenging about being in business?
Adriana: Definitely staffing. It's part of the reason we decided not to have a restaurant – you need experienced, reliable staff. It's not all about us, without a great extended team it is too challenging. I am very grateful for the staff that have helped us along the way.
Are you still growing the business? What does your next chapter look like?
Adriana: It depends on our family. It looks like our son may be interested in culinary. Keep it simple, sure, but I still look at properties or venues …. Not sure Gilles is onside with that [laughing and looking at Gilles].
Gilles: We do like to travel and have been fortunate do some when we can.
Adriana: We did make an offer on another place for a restaurant, but the timing didn't work out. Things happen for a reason – so many other great opportunities have come our way since that time. I'm so grateful and I'm learning to be content with that.
Gilles: We don't see changing much more than what we are doing.
We have been approached with restaurant opportunities, but it's a different lifestyle – it's unpredictable, food ordering is a challenge, it's difficult – you give up all your weekends and nights. I prefer the control of catering.
Adriana: I love baking, I talk about retiring and baking. My plate is pretty full so I can't do all the baking myself here anymore, but I still do the wedding cakes, and some of the fancier pastries. If I had the time I'd be baking a lot more and experimenting with new, healthier options. I would also love to empower children to learn to cook from farm to table.
What are your most memorable moments?
Gilles: There are lots.
Adriana: We did a wedding on a tree farm – the guests were in the barn, we were in a tent and there was a tornado close by, the tent was moving, things were flying, a massive tree came down a few feet from the tent… we couldn't believe it - the guests were oblivious to the conditions outside – but it passed and we were able to get it all cleaned up and everyone their meals. In catering the show must go on!
We'll never forget that.
Who knew that this type of business could be so dangerous!
Gourmandissimo is located at 16023 Airport Road, Caledon
905-584-0005 | https://www.gourmandissimo.com/