Business Opening: BOLTS Plus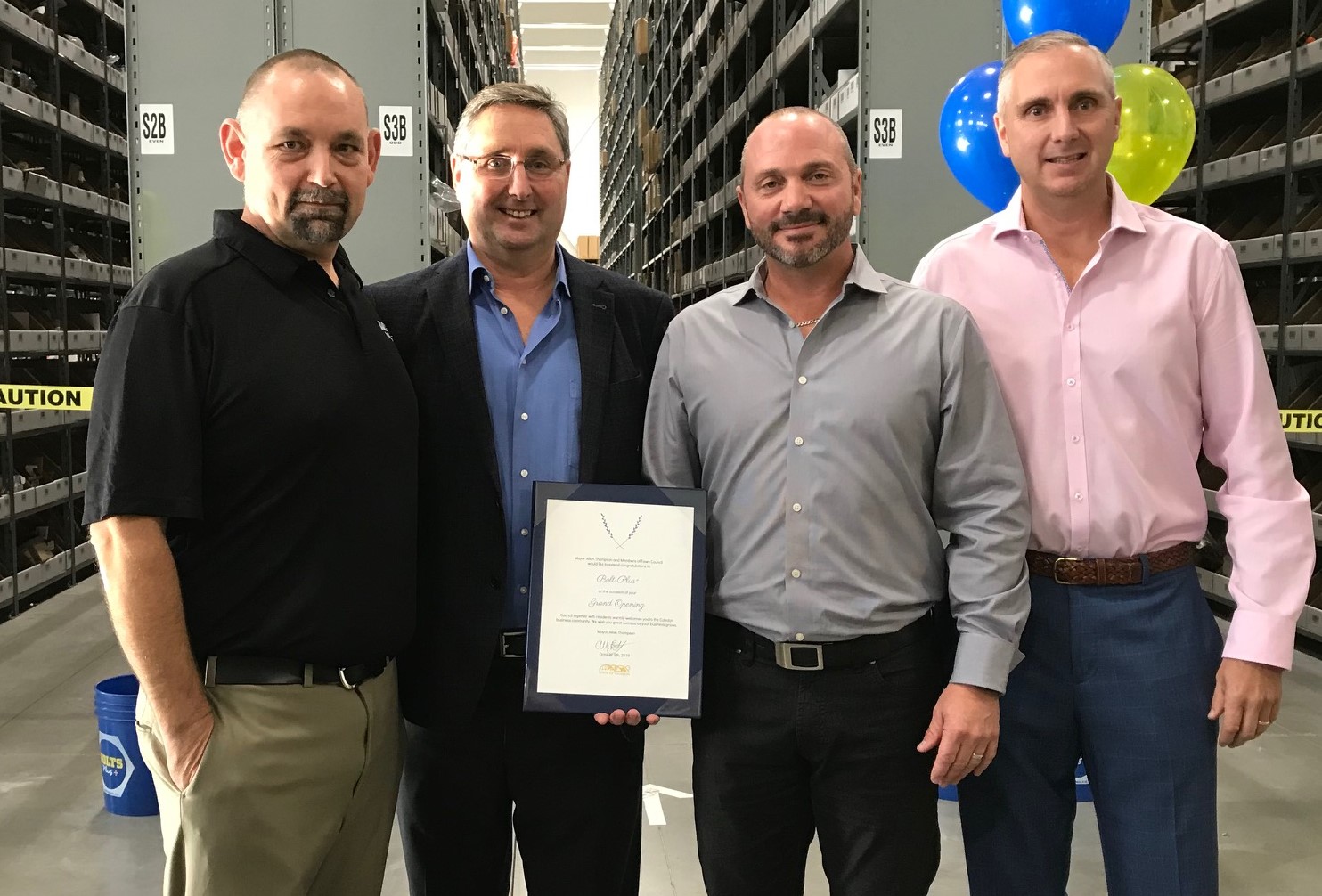 Recently, Brian and Glenn Wood, Shawn Innis and Jay Mason proudly celebrated the grand opening of their fourteenth location of BOLTS Plus here in their home town. We asked them to tell us more about the business.
Give us some background, where did it all begin?
The nucleus of BOLTS Plus is a group of four energetic partners (Brian and Glenn Wood, Shawn Innis and Jay Mason) our association stretches back to growing up in Caledon. Coincidentally, following graduation we all worked in the industrial and fastener market.
BOLTS Plus was founded in October 2003 and opened its first location in Brampton March of 2004.
In just 15 short years, BOLTS Plus has passed two major milestones. We've introduced our one-stop retail-style concept to thousands of local industrial supply customers and experienced our expansions.
We now have outlets in 14 locations across Southern Ontario, we have quickly established ourselves as a single-source supplier for everything from hard-to-find fasteners and safety supplies, to industrial maintenance products and tools.
Tell us about your business, what do you offer here?
We like to refer to the store concept as a one-stop source. We are committed to stocking the entire line of the suppliers we represent. It means we have product in stock when it's needed, and often that's a hard to find size or other item that most businesses like ours don't carry; things like 16" long bolts, or left-hand threads.
We realize most companies are structured to work on a Just-In-Time basis, which makes timing even more important than in the past. With strict cost controls and the challenges to make every shift profitable, break-downs and delays can have notably negative effects on a manufacturer's bottom line. We know the importance of meeting needs and we know it's crucial to do it in a time frame that makes a difference.
Maintaining our stature as a single-source, full-service means that new items are constantly arriving. Today, all BOLTS Plus locations offer everything from abrasives, adhesives and lubricants, to several grades of chain, safety supplies, tools and work lights, to hand cleaners, flashlights and springs – and of course screws, washers, nuts, and bolts.
How do you stay current with what's happening in your industry?
The management group at BOLTS Plus has a combined total of more than 200 years of experience and each brings a wealth of knowledge and understanding of the industry.
We maintain constant contact with our customers and suppliers.
Staying in touch with what's happening in the industry is another benchmark of the management style at BOLTS Plus. Regular visits to trade shows throughout North America to see new products and catch trends is only a part of the planning that goes into a constantly expanding and often changing line of products.
How do you maintain great customer service?
The entire crew at BOLTS Plus, which has now grown to over 95 people, is dedicated to a high level of service and the desire to ensure the customer is happy. We pride ourselves on having answers when they're needed. With a daily delivery service and a large selection of products.
We thrive on service. When you dial our number, the phone will be answered by someone who is helpful and knowledgeable, not an automated system. We like to be available to answer questions and make suggestions. In the rare case that we don't have what a customer needs, we're happy to source it for them and get it to them as quickly as possible.
We also keep our customer base informed. To say thanks and show our appreciation to clients who frequent all locations, we have established regular Customer Appreciation events that center around a barbeque and have the added feature of demonstrations and product introductions from major suppliers.
We have the luxury of seeing new items at trade shows and get samples from our suppliers. Without these events our customers often wouldn't see these new products in the store until months later. This way they can touch and try things upfront.
We're always looking for good people to come work with us and we're always looking for new opportunities. The next BOLTS Plus is always right around the corner.
BOLTS Plus is located at 8800 George Bolton Pkwy, Bolton | https://boltsplus.ca