Aimee Alabaster: It's all about community and learning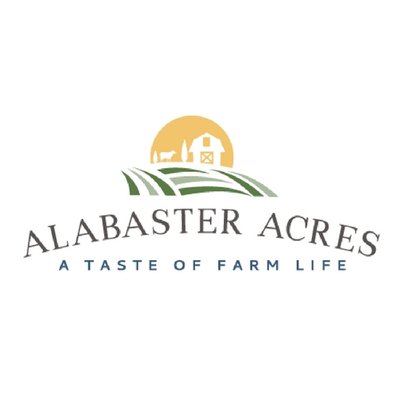 On the north edge of Caledon Village, a 1000 foot long private driveway on Highway 10 leads to Alabaster Acres and Aimee Alabaster's farmhouse that she tells us is almost as old as Canada itself.
Surrounded by expansive farmland, Alabaster Acres is situated on about 100 acres and backs onto woodland providing privacy and a view of tall gorgeous trees.
We recently met Aimee Alabaster at her farm where she shared her experience about starting a business venture in Caledon.
Tell us about Alabaster Acres:
We consider ourselves an educational farm, and we offer many different farm experiences such as workshops and demonstrations for all ages. We are best known for our Farm Fresh Adventures for Kids program which provides hands-on farm and livestock experiences for curious kids.
Every weekend in the summer is a different theme; from goat day where children can groom the goats and clip their hooves, to calf day where children can bottle feed calves. In an 8 week cycle, we can come up with different ideas without duplicating any of them.
There is a wide range of seminars available for both kids and adults, like growing herbs for your kitchen, making natural skin care products with essential oils, canning organic pasta sauces, raising backyard chickens, learning how to process rabbits, geocaching, survival skills and more.
Tell us about your journey from the corporate world to running a farm in Caledon.
We are reformed city slickers. We had a moment of epiphany one summer night about 5 years ago over a bottle of wine after a particularly challenging period in our corporate world. We asked ourselves what we would do with our lives if money and bravery were not obstacles which hinder most of us from following our dreams.
In the city, we lived in a condo without so much as a pet or a houseplant but I really wanted my kids to experience freedom and to be able to teach them about real life and growing our own food. I wanted them to have hands-on skills that would serve them well in life to be self-sufficient. That is where the idea was born but I knew it was going to take a lot of research to turn that dream into a reality.
I am a big ideas person but we started out small by renting a place in Brampton that was the initial test run for us. That first year we began with rabbits and chickens and built raised bed gardens where grew 100 varieties of food. I loved it and it wasn't long before I had visions of raising our own pork, beef and getting a family milk cow.
What's your vision for Alabaster Acres?
We want to be a resource for the community.
We have been here just shy of two years and the first year was all about, settling in, fixing or installing infrastructure and learning, we've relied on "YouTube University" a lot.
Now we are set up and the goal is to make Alabaster Acres as communal as possible, through activities such as farm stays, educational workshops, providing gourmet food and cooking experiences, hosting interesting events, and showcasing products from other wonderful businesses and farms in the community.
What inspires you?
Personally, I am a lifelong learner. I like to pass the information I have learned on and encourage people to pursue their dreams. I love inspiring people. Life is full of beautiful opportunities, and once you open yourself up, beautiful things come your way.
Can you share a memorable moment (or moments) with us?
It's the wonder in children's eyes when they learn something new, watch an animal give birth or get dazzled by new experiences. There are plenty of quirky memorable experiences on a farm from animals getting loose to snakes in the basement, to protecting the chicks from a fox, and then, of course, there is our very talkative farm mascot, a donkey named Forrest. He's supposed to protect the herd but he's really just a comedian.
Why did you choose Caledon?
When we started looking for properties, we wanted a place close to the city and one that was accessible. This farm was the first place we visited in Caledon and we just knew, this was it, this is where we wanted to settle.
I love this house along with all its quirks and the kids have so much to do; they can climb trees, build things, and enjoy the experience of playing outdoors. Everybody is so supportive here.
We just need to build more opportunities for the community and its purveyors to get together.
What are your future plans for Alabaster Acres?
When someone asks me what we do here, I say everything!
We have just created a unique 2000 square foot event barn space and later this spring we are launching our glamping (glamourous camping) experience so people can stay at the farm, enjoy the outdoors, relax and have a unique but authentic visit.
It will be a very social and communal experience. We might do maple syrup in the future and we've thought about getting a big screen to create an outdoor movie spot, my partner is playing with the idea of starting a cowboy school. Who knows?
In the event barn, I am planning to encourage a collaborative workspace for craft-based activities. I want to introduce the idea of holding monthly workshops where we can all take turns hosting it. The whole idea behind Alabaster Acres is community and learning. I want to make the farm accessible to everyone.
About:
Alabaster Acres is a family run farm in Caledon Village, Ontario, which is located in Headwaters, a 2,534 square kilometer quilt of genuine Ontario country, less than an hour from Toronto. They specialize in providing hands-on farming experiences, hosting creative events and raising heritage breeds of livestock.
www.alabasteracres.com | info@alabasteracres.com | 519.217.1117