CBM - Caledon Quarry
The Town has received a proposed Official Plan Amendment and Zoning By-law Amendment application for a quarry.
The quarry is a Class A, below-water table quarry, meaning that the proposal is to remove more than 20,000 tonnes of bedrock aggregate annually, from below the water table. Based on the application received, the proposed tonnage limit for the proposed CBM Caledon Pit / Quarry is 2.5 million tonnes per year and on average CBM anticipates shipping approximately 2.0 million tonnes per year once operations are in full production. The application also indicates removal of the rock in the quarry will include blasting using controlled explosives.
Current Status
Planning Act Applications (Official Plan Amendment and Zoning By-law): In circulation and under review
Aggregate Resource Act Licence Application: On April 6, 2023, the Town was informed that the applicant has submitted the required Licence application to the Ministry, which has been assigned an application number: #626600. The Ministry has directed the applicant to initiate public notice of the licence application in accordance with the Ministry's requirements.
A Public Meeting is scheduled for June 20, 2023 | Meeting start time: 7:00 p.m.
Location: Caledon East Community Complex - Hall A and B. 6215 Old Church Road, Caledon, ON L7C 1J7.
Property Description
The subject lands include multiple properties including 18667 Mississauga Road, 18722 Main Street, 0 Main Street, 18501 Mississauga Road, 1055 Charleston Sideroad, 18221 Mississauga Road, 0 Charleston Sideroad,1455 Charleston Sideroad, and 1420 Charleston Sideroad, Ward 1.
Town File Number(s): POPA 2022-0006 and RZ 2022-0010
Project Name: Glen Schnarr and Associates on behalf of CBM - Caledon
Location - Multiple Addresses, Ward 1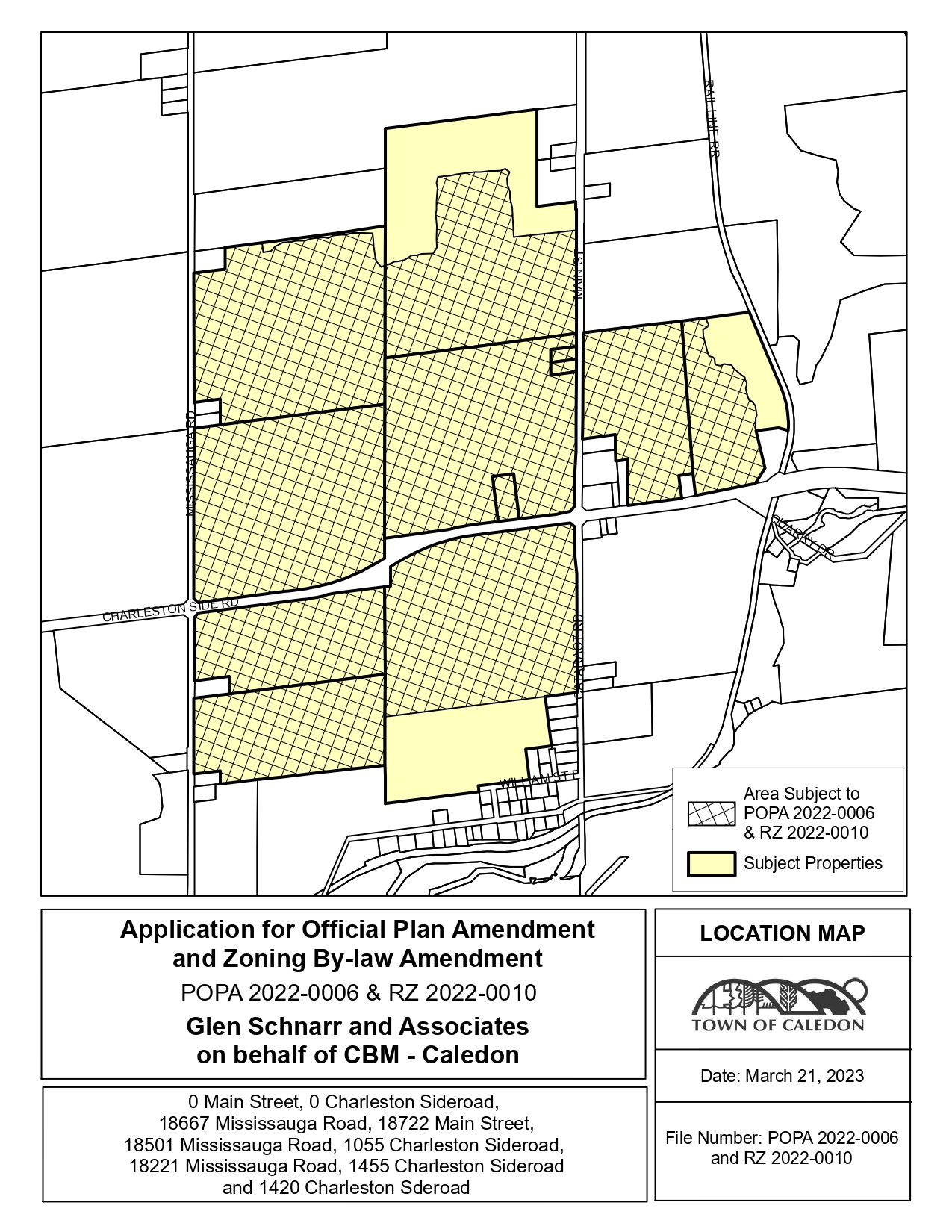 Notices and Frequently Asked Questions (FAQ's)
Application Material and Information
Official Plan Amendment
The Official Plan Amendment application proposes to redesignate the lands in the Town Official Plan from General Agricultural Area, Rural Lands and Environmental Policy Area to:
Extractive Industrial B to permit above and below water table aggregate resource extraction; and,
Environmental Policy Area to protect the existing tributary (watercourse) in the north-west corner of the site.
Zoning By-law Amendment
The Zoning By-law Amendment application proposes to rezone the lands from Agricultural (A1) and Environmental Policy Area 2 Zone (EPA2) to Extractive Industrial – Exception XX (MX-XX) and Environmental Policy Area 1 Zone – Exception 487 (EPA1–487). The Extractive Industrial zone would permit the quarry and extraction, while the EPA1–487 zone allows the area to be licensed but no extraction permitted. The EPA1-487 zone aligns with the proposed Environmental Policy Area to protect the existing tributary in the north-west corner of the site.
Material Submitted
Hydrogeological Assessment - Please refer to Water Resource Study Parts A, B and C
Lead Planner
Sean Kenney
Senior Planner, Development
905-584-2272 x.4199
cbmapplication@caledon.ca
Additional Information
For more information about this matter, or to provide comments, feedback or ask questions, please contact the Lead Planner at 905-584-2272 ext. 4199 from Monday to Friday, 8:30 a.m. to 4:30 p.m.