0 Mount Hope Road
The Town has received proposed Draft Plan of Subdivision and Zoning By-Law Amendment applications.
Current Status
Property Description
The subject lands is located at 0 Mount Hope Road, on the east side of Mount Hope Road, south of Highway 9.
Town File Number(s): 21T-20002C & RZ 2020-0005
Project Name: Castlemore Corporation (Triumbari)
Location: 0 Mount Hope Road, Ward 4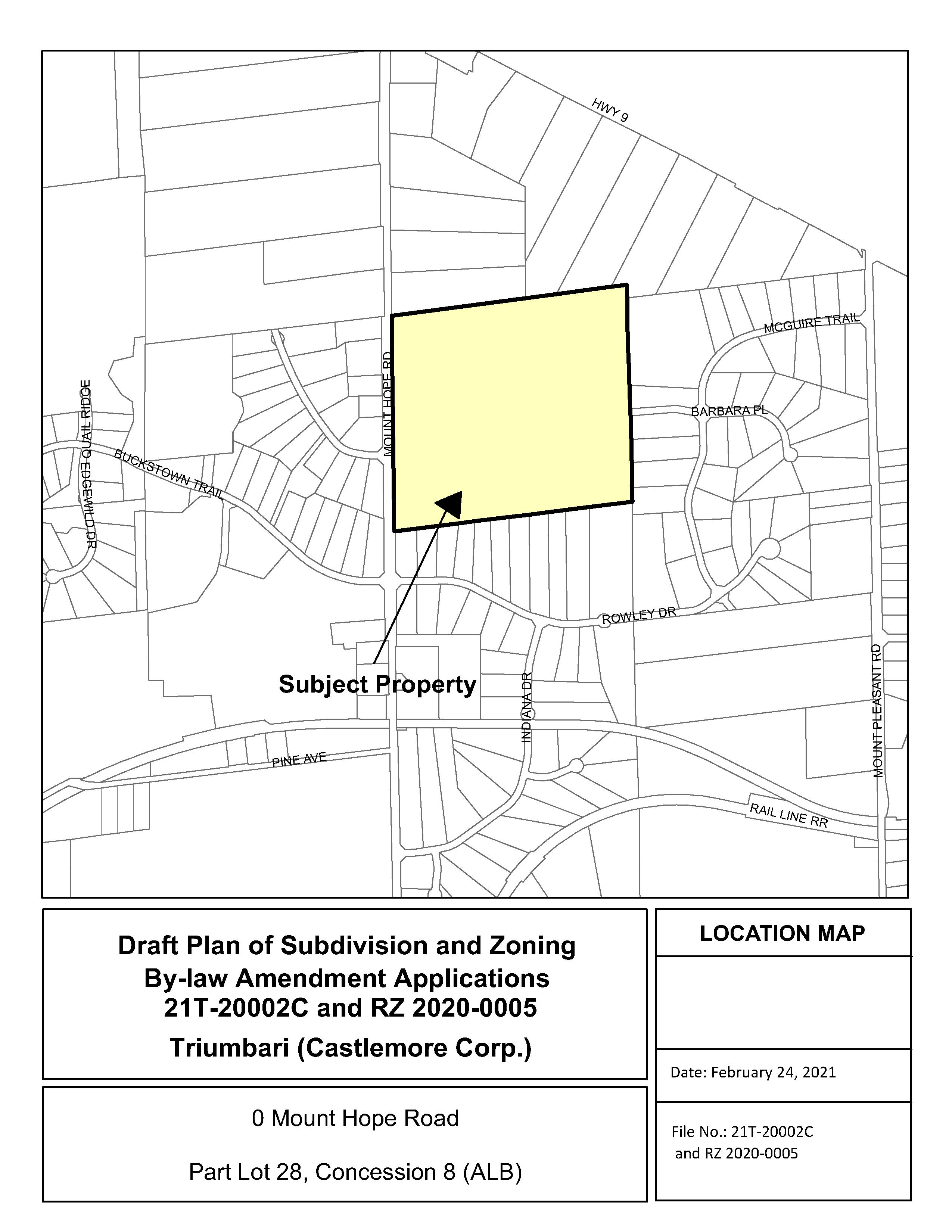 Draft Plan of Subdivision
The proposed Draft Plan of Subdivision consists of 29 estate residential lots with structure envelopes, an environmental block, new roads and a new road connecting the subdivision to the east to Mount Hope Road.
Zoning By-law Amendment
The proposed Zoning By-law Amendment proposes to amend the zoning from Rural – Oak Moraine (A2-ORM) and Environmental Policy Area 2 Zone – Oak Ridge Moraine (EPA2 – ORM) to Estate Residential – Exception XX – Oak Ridges Moraine (RE-XX-ORM) to include site specific provisions for building and structure location and natural area restrictions.
Updates and Notices
Lead Planner
Valerie Schmidt, MCIP, RPP, GSP Group
On Behalf Of Development Review Services, Planning Department, Town of Caledon ​
519-569-8883
vschmidt@gspgroup.ca
Additional Resources
For more information about this matter, or to provide comments, feedback or ask questions, please contact the Lead Planner at Town Hall from Monday to Friday, 8:30 a.m. to 4:30 p.m.