Villalago Residences
The Town has received this proposed Draft Plan of Subdivision, Draft Plan of Condominium, Zoning By-law Amendment and Site Plan applications.
Current Status
The Zoning By-law Amendment is in full force and effect
The Plan of Subdivision has been registered
The Site Plan has been approved
The Draft Plan of Condominium is draft approved and the applicant is clearing conditions.
Property Description
The subject lands are located at 9023 Fifth Sideroad, east of Highway 50, north of the CP Rail Line and south of Queensgate Blvd.
Town File No.: 21CDM-16002C
Related File No.: 21T-16003C, RZ 16-06
Project Name: Treasure Hill on behalf of Villalago Residences Inc.
Location: 9023 Fifth Sideroad, Ward 5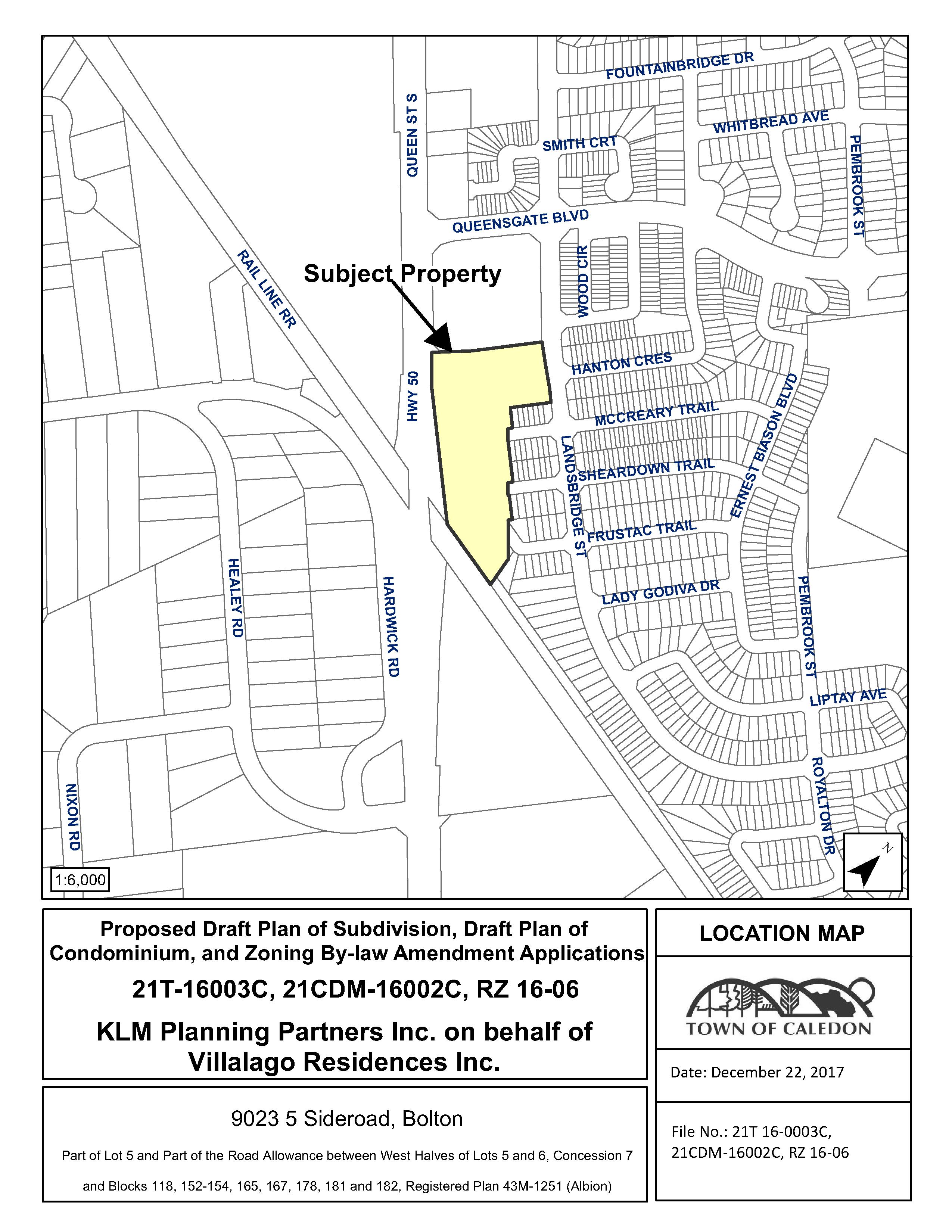 Plan of Subdivision
The Town of Caledon received applications to allow for one single detached dwelling and 14 freehold townhouse units, which would be accessed by a single public road connecting Queensland Crescent and both Stella Crescents, and a 0.062 ha (0.15 ac) park and a condominium block consisting of 104 common element townhouse units accessed by a network of private roads.
Plan of Condominium
Updates and Notices
Notices
Notice of Application - August 11, 2016
Material submitted
Draft Plan of Condominium
If a study isn't available online, you can view the documents by appointment at Town Hall, in the Planning and Development Services Division.
Lead Planner
Cristina Aquino, Senior Planner
Development and Design
905.584.2272 x. 4064
cristina.aquino@caledon.ca
Additional resources
For more information about this matter, or to provide comments, feedback or ask questions, please contact the Lead Planner at Town Hall from Monday to Friday, 8:30 a.m. to 4:30 p.m.